We're three weeks and a day away from election day. Handicap the big races. Governor, lt. governor, treasurer, Congress (6th Dem and 8th GOP).
UPDATE: New Rasmussen poll shows Topinka every Republican dropping.
The governor has nonetheless gained ground since our last poll, when he did not reach even 40% support in a match-up with the strongest Republican candidate, State Treasurer Judy Baar Topinka.

Blagojevich now leads Topinka 42% to 36%. He leads businessman Jim Oberweis 49% to 37%, leads businessman Ron Gidwitz 47% to 33%, and leads State Senator Bill Brady 47% to 29%.

Though the governor is faring better, too many voters are leery of him for political comfort. Only 37% view him favorably, while an outsized 53% view him unfavorably. As for the job Blagojevich is doing, only 38% approve; 59% disapprove. […]

Topinka, currently seen as the frontrunner for the GOP nomination, is viewed favorably by only 37%. Forty-one percent (41%) view her unfavorably–an 11-point jump since our last survey. That may be the result of sniping from the other Republicans.

About the same percentage, 36%, view Oberweis favorably, with 37% viewing him unfavorably and 28% not sure. Gidwitz and Brady are thus far known by even fewer voters.
Thanks to a commenter for the link.
UPDATE: It appears that Oberweis and Gidwitz also dropped. This is from last month's poll [this month's results in brackets]:

Blagojevich is tied with Ron Gidwitz at 40% [47-33]. The Governor holds a very slight lead over Jim Oberweis, 43% to 39%. [49-37]
They didn't poll Brady last month.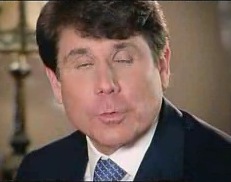 Sorry, couldn't help myself.
88 Comments







































































































































































































































































Sorry, comments for this post are now closed.