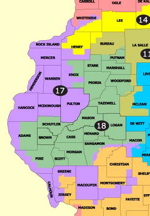 The QC Times has the scoop.

U.S. Rep. Lane Evans, D-Ill., is endorsing his district representative, Phil Hare, to replace him on the Democratic ticket in the 17th Congressional District this fall.

Jerry Lack, an Evans aide and a suitor for the job himself, said Evans informed him of his decision Thursday. As a result, Lack said, he is backing out of the race and will help Hare. "I was planning on running and now I'm not," he said. "It was a difficult decision for Lane, but I respect it and I'll be working to help Phil out."

Evans announced Tuesday that he will not seek re-election this fall because of the need to focus on his health. He has been battling Parkinson's disease for more than a decade. He will serve the rest of his term to the end of the year.

Evans spokesman Steve Vetzner confirmed the endorsement. "Phil has been with him since day one. He's been his right-hand man and he's the best person to build on Lane's legacy," Vetzner said.
[Hat tip to a sharp-eyed commenter]

Rumor has it that Rahm Emanuel has his own candidate. You'd think he'd learned his lesson about this stuff. If the Rahminator was such a big issue in DuPage, imagine what the reaction would be downstate.
22 Comments

































































Sorry, comments for this post are now closed.