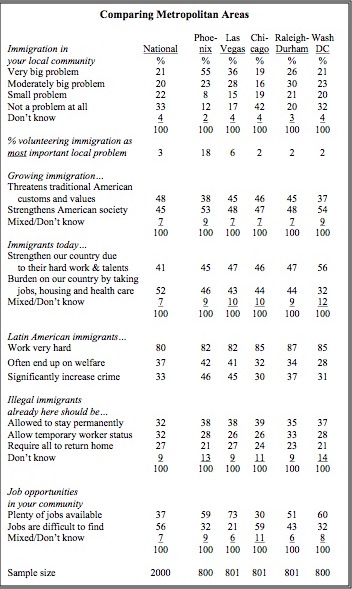 The full report can be found here. And here's the Tribune's take:

Four in 10 Americans believe that immigrants strengthen the U.S. with their hard work and talents, but an even bigger portion say immigration saps job and housing availability, a major new study has found.

As lawmakers battled over competing immigration reform bills on Capitol Hill, the Pew Research Center and Pew Hispanic Center in Washington, D.C., released a survey Thursday that shows a country still deeply ambivalent about newcomers.

Chicago, the survey found, is even more divided.

Of the five metro areas highlighted in the Pew study, Chicago is among the most tolerant of immigrants, with more people embracing newcomers and fewer interested in penalizing illegal immigrants.

"Chicago has a proud legacy of being built by immigrants," said Marissa Graciosa of the Illinois Coalition for Immigration Rights. "This is a city that does not have amnesia about where its roots come from."

At the same time, however, Chicagoans were more pessimistic than most about the effect of immigrants on the economy, with 4 in 10 area residents saying their biggest concern about illegal immigration is that it hurts American jobs—higher than Las Vegas, Phoenix, Raleigh-Durham and Washington, D.C., and higher than the rest of the country
Discuss, but be warned that any racist comments will be deleted and those making such comments will be banned from posting here forever. I mean it. Don't even think about pushing the envelope.
53 Comments






























































































































































Sorry, comments for this post are now closed.