Here it is. (pdf file)
In order to conceal the expenditure and conversion of State resources for the benefit of political campaigns, defendant implemented a procedure by which employee salaries were paid in part by HRCC and by the use of compensatory leave. Defendant awarded compensatory leave to certain Minority Leader's Office staff in order for those staff members to work on political campaigns while on paid absences from the State. Those employees were not authorized to use such compensatory leave for purposes other than campaign work. Defendant knew that the partial HRCC payments and the compensatory leave did not fully account for the campaign work performed by State employees.

Defendant also knew and it was reasonably foreseeable to him that State employees, supervised by defendant, submitted travel vouchers to the State in which the employees falsely claimed travel expenses accrued as official State business, when in truth and in fact, the employees' travel was related to political campaigns. Defendant signed, and thereby approved, such travel vouchers, including a voucher that caused the State to mail payment to a State employee on or about June 8, 2000. […]

In or about 2000, in the Northern District of Illinois and elsewhere, defendant did knowingly conspire with Roger Stanley and others known and unknown to commit extortion affecting commerce, namely to obtain money from a Real Estate Partnership, with the partnership's consent, having induced said consent under color of official right. […]

Roger Stanley, a partner of the Real Estate Partnership, agreed to provide, and did provide, a consulting job paid by the Partnership to an individual campaigning as a Republican candidate for a Illinois House seat in downstate Illinois (Candidate A). The purpose of the consulting job was to generate necessary income for Candidate A while Candidate A was campaigning for office. In connection with the campaign assistance to Candidate A, defendant TRISTANO agreed to assist the Village's efforts to obtain the State grants, and did in fact recommend, as Chief of Staff to the Minority Leader, that discretionary grant funds be awarded to the Village. The State awarded to the Village approximately $1.3 million in grants funding the real estate development in or about 2000. […]
- Posted by Rich Miller 14 Comments


Christine Cegelis is starting to look more and more like Jim Oberweis every day.

Christine Cegelis will not endorse Tammy Duckworth, the winner in Illinois's 6th Congressional District Democratic primary, because she has reservations about Duckworth's positions on universal healthcare and free trade, a source close to Cegelis's campaign said.

Duckworth, a wounded veteran of the Iraq war, defeated Cegelis by 3 percentage points in last week's hotly contested primary. Cegelis, a liberal Democrat, won 44 percent of the vote against Rep. Henry Hyde (R-Ill.) in 2004.

On Saturday, Illinois Democrats held a unity breakfast attended by Duckworth, party officials and Cegelis supporters who vowed to help Duckworth. Cegelis did not attend.

Duckworth had favored universal health insurance but changed her tune, advocating a more incremental approach, said the source, who spoke on condition of anonymity.

The source asserted that Cegelis believes Duckworth has backed away from her opposition to the Central America Free Trade Agreement that the House and Senate passed last year. Despite that perception, Duckworth won the Illinois AFL-CIO endorsement.
It's tough to lose. A real stone drag. But we can often tell more about how a person loses than how he or she won. Cegelis is showing us a lot here.
If you run as a Democrat or as a Republican, that means you are a Democrat or a Republican and you are obliged to accept the will of the voters and then do what's right for your party. If you're not a party member, run as an independent.
Cegelis thought she owned the right to Henry Hyde's seat. She found out the hard way that nobody owns anything in politics. It has to be earned. And, so far, she has earned only scorn.
- Posted by Rich Miller 76 Comments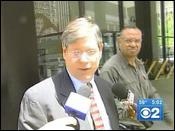 Fox News Chicago is calling around asking for comments from people about Mike Tristano pleading guilty today and allegedly implicating Rep. Lee Daniels. Tristano is Daniels' former chief of staff. More details later.
UPDATE: I just called the US Attorney's office and they said they'll fax me the agreement in about a half hour. I'll post it then. So check back sometime before noon.
UPDATE 2: The Sun-Times story is up.

Michael Tristano, who was the top aide to former Illinois House Minority Leader Lee Daniels, pleaded guilty this morning to diverting at least $128,000 in state resources for political purposes.

Tristano, 58, is certain to get jail time under a plea deal with the government and the feds cut that deal on the basis that he cooperate with them in other investigations. He'll get a break on jail though if he cooperates - up to 20 months instead of up to 37 months, prosecutors said. […]

Daniels has never been charged but Tristano's plea agreement indicates: "In both his capacities as Chief of Staff and Executive Director, defendant reported to and took direction from Lee Daniels."

Tristano used state employees from Daniels' staff to do political work on targeted campaigns, according to the plea agreement.
UPDATE 3: The plea agreement is posted here.
- Posted by Rich Miller 19 Comments


- Posted by Rich Miller Enter your password to view comments


It looks like the holdout juror was kicked off.

The family of an ousted juror is rallying to her defense, saying she is a good mother who wanted to stay on the jury.

As CBS 2's Joanie Lum reports, Evelyn Ezell's son says his mom feels the odds are stacked against former Gov. George Ryan.

Dismissed juror Evelyn Ezell was not available at her South Side home, but off-camera, her 23-year-old son did talk about his mother's experience.

Marvin Brown says his mother "feels sorry for George Ryan. Now that she's gone, no one's on his side."

The two jurors were dismissed for concealing their criminal history during jury selection.

Both said they had never been charged with a crime.
Emphasis added.
- Posted by Rich Miller 7 Comments


We have tons of comments on yesterday's retirement announcement by Congressman Lane Evans. Time for a fresh thread. Your thoughts and predictions, please.
Here is his official announcement:

This is a tough day for me. I am announcing that I will not run for reelection and will retire at the end of my current term in the U.S. House of Representatives.

When I announced in 1998 that I had Parkinson's Disease, my doctor said that this condition would not interfere with my work and that I would be able to perform at a high level for a number of years. That window of opportunity is now closing.

I fully expected that I would continue my work for the foreseeable future following this current break from the office. But I have come to recognize that the time needed to address my health makes it difficult to wage a campaign and carry out my work as representative. I will return soon and to the best of my ability complete the important work of this term in my roles as representative and Ranking Member of the House Committee on Veterans' Affairs.

This decision is especially tough because this job means so much to me. I believe strongly in serving people and working to make a positive difference in their lives. Every day has been rewarding and I'm proud of what I've been able to accomplish and the fights I've made.

I thank my family and everyone who has worked with me — great friends, terrific colleagues, a dedicated staff, fellow vets. And I appreciate the support of people I never met before who would ask how I was doing and tell me to keep up the good fight. I'll be doing that in the weeks and months ahead and look forward to thanking every one of you personally for all you have meant to me.

To my constituents and veterans across this country, it is an honor and privilege to represent you.

Semper Fi,

Lane Evans
- Posted by Rich Miller 41 Comments


This question was adapted from a reader suggestion.
Come up with new slogans for the Blagojevich, Topinka and Meeks 2006 fall campaigns.
- Posted by Rich Miller 16 Comments


The saga continues.

State Sen. James Meeks asked a former Republican gubernatorial candidate to back his possible bid for governor Tuesday, while Mayor Daley defended Gov. Blagojevich's record on behalf of African Americans after an ultimatum from several black aldermen.

Flirting with a third-party run for governor, the South Side pastor approached conservative state Sen. Bill Brady (R-Bloomington) about supporting his potential campaign, but he got a thumbs-down from the third-place finisher in last week's GOP primary.

"I've already committed my support to Judy in writing, and I'm a man of my words," Brady said, referring to Republican gubernatorial nominee Judy Baar Topinka. […]

Undaunted, Meeks hinted that his political courtship of conservative Republicans may not stop with Brady and could extend to the GOP primary's runner-up, Aurora dairy owner and investor Jim Oberweis.

"I'd be glad to have a conversation with Mr. Oberweis. I'd be glad to have a conversation with everybody who believes in the right to life and the sanctity of marriage," Meeks said.
I've talked to Meeks and he seems pretty darned serious about this run. I had a piece on this in this morning's Capitol Fax, now let's hear your thoughts.
- Posted by Rich Miller 23 Comments


The Rockford Chamber of Commerce got a glimpse of the state's partisan divide this week.

The rhetorical fireworks erupted when Rep. Dave Winters, R-Shirland, showed up at a meeting the class had with Illinois Transportation Secretary Tim Martin to discuss Rockford-area projects. When Martin completed a pitch for the governor's capital plan, he invited Winters to add his own comments.

Winters, who said the group invited him to the meeting, obliged and proceeded to counter — point by point — the Democratic governor's agenda. Whereas Martin said legislators should embrace the governor's plan, Winters said the governor failed to seek input from Republicans.

Martin and Winters soon were shouting over each other. Martin insisted Blagojevich went out of his way to support road projects in Republican districts. Winters implied the governor can't be trusted; he noted lawmakers made Blagojevich detail his commitments in unprecedented memos.

Mark Kolaz, a top aide to the governor who accompanied Martin, tried to break it up.

"We came here out of courtesy to your group," Kolaz said. "We did not come here to have the governor bashed by the representative."
I don't care who he is, an appointed department director should not be shouting at a state legislator in front of his own constituents. Not cricket. Martin has been sharply criticized for his arrogant attitude (mostly by African-American legislators), and that may have been on display this week.
- Posted by Rich Miller 18 Comments


The governor appears to have a memory problem.

Gov. Rod Blagojevich says he didn't know a top Nation of Islam official before he appointed her to serve on an anti-discrimination commission, but in a letter disputing his comments, the official says she met him twice before she was named to the commission.

In a March 2 letter to Blagojevich, commission member Claudette Marie Muhammad said she was "very, very, very disappointed" that the governor told reporters he was only recently aware she was on his Commission on Discrimination and Hate Crimes. Blagojevich made the remarks earlier while refusing to dismiss Muhammad in the wake of a controversial speech by Nation of Islam leader Louis Farrakhan. Five Jewish leaders quit the panel in response.

"Mr. Governor, your comment stating that you were unaware of my religious affiliation and the fact that I was a top aide to Minister Farrakhan is not true," wrote Muhammad, who did not return telephone calls about the letter recently obtained by the Tribune. "You and I spoke. We took pictures … I have written to you numerous times, all the letters of which were on our Nation of Islam stationery and, when I signed my name, I always indicated `Chief of Protocol to the Honorable Minister Louis Farrakhan' as my title." […]

An aide to the Democratic governor said he meets and appoints so many people that he can't possibly be expected to remember them all.
Read the whole thing. The photographs don't appear to be posted online anywhere, but I'm sure they'lll surface soon. The photo and a video story from CBS2 can be found here.
- Posted by Rich Miller 17 Comments


It never ends.

Illinois Auditor General William Holland said Tuesday he will forward to state and federal investigators a scathing audit accusing state transportation officials of mismanagement and questionable spending for public relations and minority recruitment on the Dan Ryan Expressway reconstruction project.

Holland's audit of the Illinois Department of Transportation, first detailed by the Tribune, questioned nearly $500,000 in expenses and billings by politically connected advertising firms dealing with community outreach, as well as an additional $200,000 for minority support and employment in the early stages of the project.

The audit also questioned the effectiveness of recruiting minority and female workers for the project. In the last half of 2005, the state paid $348,000 to Target Group for equal-employment opportunity support, but the firm recruited only five workers, auditors said. Holland also questioned $150,000 in payments to the firm, saying it lacked backup documentation. […]

Instead of a normal procedure in which a selection panel ranks potential contractors, auditors said they discovered an e-mail indicating that Robin Black, formerly IDOT's chief of staff, played a major role in how E.Morris Communications and Universal MazJac Enterprises Inc. were scored.

"After my discussions with Robin, this is what I came up with for points. Does this look OK?" John Werthwein, an operations analysis manager in IDOT's bureau of budget and fiscal management, wrote to three selection panel members in an e-mail obtained by auditors. Black was a member of the selection panel, but Werthwein was not.
The full report can be found on this page.
The Sun-Times has more.

While awaiting an appointment at the Capitol, IDOT Secretary Tim Martin declined to answer any questions about Holland's audit without a spokesman present, saying there was no one there to protect his "interests." […]

Holland questioned a $3,494 IDOT payment to Ashley for Morrow's health insurance premiums. There were numerous instances when the state was overbilled for Morrow's services, including last March when he submitted time sheets reflecting 66 hours of Ashley work. IDOT was billed for 152 hours at a cost of $4,539.

Ashley submitted a $26 voucher to the state to cover a half-hour conversation Morrow had with a firm concerning tax appeals and low-interest loan programs — issues that did not appear to have anything to do with work notifying the public about the Dan Ryan and Kingery projects.

Ashley sought a $105 reimbursement for an employee who spent two hours of her time attending a "Women in Transportation Dinner" honoring former IDOT chief of staff Robin Black, who resigned last year.

The company also submitted more than $25,000 in questionable billings for the purchase of promotional items and involvement in the Billiken parade and $220 in billings for 1,080 custom tattoos that Holland said were shipped to the office of Ald. Dorothy Tillman (3rd).
- Posted by Rich Miller 14 Comments


· Sen. Hendon apologizes to Sen. Axley.
· Lane Evans retirement story.
· Protesters march outside Topinka campaign headquarters
· HIV test bill goes to guv
· Lawmakers target careless smoking.
· Debate over tax cap may stall extension vote
· Marin: Clout seems to suit Victor Reyes just fine
· Richards: Meeks' run for gov would fire up campaign
· Hunter: Time for Blago to step up on abortion threat
· Bill would take drivers' licenses from teens that skip school
· Group wants to block LDC reopening
· Geese in Illinois are sitting ducks. No more quotas.
· "A lot of homeowners in Chicago are going to get an unpleasant surprise from Cook County Assessor James Houlihan in a few weeks."
· "Legislation that would grant Fairmount Park a tax break worth almost $1.4 million a year has passed both houses of the Illinois legislature and awaits the signature of Gov. Rod Blagojevich."
· Rockford Park District pushes for stalled grant money
· Convention bureau puts gag on staff
· Ryan jury told to start over
- Posted by Rich Miller 5 Comments


Things are gonna get interesting very fast.

WASHINGTON — Rep. Lane Evans, who has battled Parkinson's disease for more than a decade, has told fellow Illinois Democrats here that he intends to announce his retirement from Congress.

Evans, who was hospitalized for a brief period in February, had not cast a vote in the House since Feb. 14 and had not reported to work in his Washington office for more than a month. He began informing members of the Illinois delegation today and plans to make a public announcement as soon as this afternoon. […]

A spokesman for Evans could not immediately be reached for comment. But three officials from the Illinois delegation confirmed that Evans, 54, had told party officials of his decision to retire.
Who do you think will be slated? Maybe this guy? Or maybe Ted?
UPDATE: Comments closed. Go here to continue the discussion.
- Posted by Rich Miller 88 Comments


I missed these earlier and rather than do yet another update, I figured I'd give the links their own posts.
· Charlie Johnston: "The hot rumor flying around Springfield and Chicago yesterday was that State Sen. James Meeks and Jim Oberweis were going to team up in a third-party run for governor and lite guv."
· Cal Skinner: "The End of the (Political) World As We Know It?" Read the whole thing. Very good stuff.
· Tom Roeser: The idea, propounded by the minister-pol, that State Senator James Meeks would be attractive to social conservatives and thus could get votes beyond the African American community as the nominee of an "Honesty and Integrity" third party is ridiculous. Meeks is proposing an income tax hike to cover a $1 billion hike in educational spending and supports further gun-control. These don't go hand-in-hand with social conservatism, a philosophy that needs a perfect four-pro-life, anti-special favoritism for gays, anti-gun control and no new taxes in order to be effective. But if his candidacy really got going, it would depress Blagojevich's numbers, that's for sure…
· How many aldermen met with James Meeks yesterday? Tribune says 9. Sun-Times says "about a dozen." ABC7 says 14.
· NBC5 has posted an online poll asking whether Meeks should run for governor.
· New SurveyUSA numbers. Durbin, 48 percent job approval, 40 percent disapprove. Obama, 70 percent approval, 25 percent disapprove. Trendlines here and here.
· Hiram: Democratic unity in DuPage, part 1 and part 2.
· "An effort to stop radical anti-gay protesters from disrupting soldiers' funerals is hung up in the Illinois Senate, as proponents wrestle with union concerns that the law could be used to curtail legitimate labor protests by cemetery workers."
· The Ten Commandments for CTA riders
· 11th Hour disagrees with Leach on seatbelt stuff.
· Primary colors.
UPDATE:
· Huh?

Visitors to Illinois' capital city last week might have been wondering if they'd taken a wrong turn somewhere in Iowa. Flying atop a state historic building under construction across the street from the busy Abraham Lincoln Presidential Library and Museum was a University of Iowa Hawkeyes flag.

The flag flapped in the spring breeze for at least a couple of days before state officials discovered it and had the banner removed over the weekend. "When we found out about it, we immediately contacted the contractor and had them take the flag down," said David Blanchette, spokesman for the Illinois Capital Development Board. "Only U.S. and state flags should be flying on top of state buildings, whether under construction or otherwise.
UPDATE 2:The capital bill has been on the ropes since before the governor unveiled it, so this isn't really a new revelation, but at least he's on the record.

A key state lawmaker cast more doubt Monday on the future of a long-sought road and school construction program.

Senate President Emil Jones, D-Chicago, put the chances that a $3.2 billion building program would win General Assembly approval this spring at "maybe 50 percent."

That assessment is the latest sign that Gov. Rod Blagojevich's plan likely will be postponed for another year as lawmakers head toward a mid-April, election year adjournment.

Blagojevich has been unable to convince Republicans to support the package, which must be approved by a three-fifths majority of lawmakers in both the House and Senate.

The program would earmark $2.3 billion for road and bridge construction projects, $425 million for mass transit and $500 million to help local school districts replace crumbling schools and add classrooms.
- Posted by Rich Miller 11 Comments


Every now and then I run out of ideas for our question of the day. Today is one of them. On days like this, I usually ask what questions that people would like to see here. Let's do that again.
- Posted by Rich Miller 41 Comments


Oy.

A federal judge announced Monday that she has dismissed two jurors from former Gov. George Ryan's racketeering and fraud trial and added that she is still trying to determine whether the stalled jury deliberations can be restarted.

"I haven't made any final decisions about whether we will be able to proceed," U.S. District Judge Rebecca R. Pallmeyer told reporters after dismissing the two jurors.

Pallmeyer said that if she decides to avoid a mistrial and push ahead, she plans to call the jurors back into the courtroom, give them a fresh set of instructions and start deliberations from scratch. The plan could add weeks to the trial, which is now in its sixth month.

And restarting the trial apparently would require replacing the two jurors with alternates - something Ryan's attorneys oppose.

Pallmeyer said, however, that she wanted to go ahead with the trial if she felt that the jury would be able to deliberate fairly.
If we're not heading for a mistrial, then the appeals of this decision could mean Ryan never serves a day in prison. Then again, federal defendants often have to serve time while awaiting appeal.
And the Tribune explains how it broke the story.

Reporters frequently interview jurors after a case ends and the jurors are dismissed from duty. In preparation for a verdict, Tribune reporter Ray Gibson was checking computer databases for information about the jurors. He was not looking for criminal histories but was interested in the jurors' political affiliations.

On the first screen of links to records for one juror, Gibson came across a 1995 felony conviction for aggravated DUI. The charge indicated the man had prior DUIs as well.

Police reporter David Heinzmann then located court and criminal records for the man, and Gibson and federal courts reporter Matt O'Connor matched information from those records with the answers given by the juror on his jury questionnaire. By Wednesday night, it was clear to the reporters and their editors that the records indicated that it was the same man.
UPDATE: I don't know how I missed this, but NBC5 reporter Phil Rogers is blogging the trial.
- Posted by Rich Miller 14 Comments


Sen. James Meeks is moving further, faster than most people predicted.

A big show of support Monday for a Democratic state senator who is considering a bid for Illinois governor. James Meeks met with more than a dozen of Chicago's African-American aldermen. The aldermen say they would support Meeks if he ran for governor as an independent.

The possibility of South Side pastor-politician James Meeks running for governor as an independent is now more than whisper. Meeks met with 14 of Chicago's 19 black aldermen Monday morning, and the result of that meeting exposed what could become a huge crack in the Democratic party's foundation.

"The African-American vote will not be taken for granted," said Meeks.

Following their closed door meeting with the Reverend Senator Meeks, the aldermen and several state representatives expressed their dissatisfaction with Democratic governor Rod Blagojevich.

"We're meeting now to see if we want to get rid of him or how we're going to get rid of him or how soon," said Ald. William Beavers, 7th Ward.

"He's not delivered any goods to our community and we're going to figure out a way to get rid of him or get a piece of the pie," said Ald. Anthony Beale, 9th Ward.
The Tribune has more complaints.

"There is a feeling amongst the group there is just not enough coming from [Gov. Blagojevich's] office," [Ald. Ike] Carothers said. "We're talking about programs for job training, programs for ex-offenders, all kinds of social programs, summer jobs, that really are needed more in the African-American community than anywhere else."

Brookins complained that after two African-American girls were killed by stray gunfire in Englewood recently, Blagojevich "showed up, made a TV cameo appearance, but there is no real commitment to helping fix that particular problem."

"The guys who are running for these top offices can no longer discard our community," said Ald. Ed Smith (28th). "They have to talk to us."
And NBC-5 had a story yesterday about Meeks' Sunday sermon. Check out the video here.

State Sen. James Meeks preached before his church congregation of thousands on Sunday that he might be considering a run for Illinois governor.

Meeks' challenge to white voters could grow into a very big problem for Gov. Rod Blagojevich.

"Come on with me white churches … Call me and tell me to run for governor," Meeks said. "White people who believe in Jesus, call me and tell me to run for governor"

Meeks is an Illinois senator in the 15th District. He is counting on an anti-abortion and anti-gay marriage platform to appeal to conservative white Christians.

"If I do run and there are two people in the race who both are not standing for morality, if I don't have every white Christian vote in the state of Illinois, I will stand on top of the Sears Tower and call every one of ya'll racist," Meeks said from his pulpit.

When asked whether he would run, Meeks said he would make the decision after the public got a chance to hear his challenge.
UPDATE: NBC5 has a new story online. No text yet, but the video is here.
- Posted by Rich Miller 23 Comments


Once again, the governor brazenly uses taxpayer dollars to promote his re-election campaign.

Each of the state's roughly 2,700 pharmacies would be required to post a sign with Gov. Rod Blagojevich's name on it that details what options customers have in buying contraceptives under a proposal the governor announced Monday.

Blagojevich's plan comes during an election year in which he is pushing health-care issues, and it follows a controversial order he put into place last year requiring pharmacies that sell contraceptives–including the morning-after pill–to dispense them without delay.

Blagojevich said this newest order, which would take effect around Labor Day, is aimed at pharmacists who have lied when telling women that contraceptives are not in stock. On Monday, the state agency that regulates pharmacies filed a formal complaint against one Downstate pharmacist, alleging that she tried to skirt the rule in January by telling a customer that the morning-after pill was not available when it was. […]

At a Monday news conference, Blagojevich presented a prototype of a sign that the state would like to see pharmacies post, which included the governor's name at the bottom.

A spokesman for Republican Judy Baar Topinka, who will face Blagojevich in the November election, said Topinka agrees with Blagojevich's concept. But spokesman David Loveday noted that the governor might be violating the spirit of ethics legislation intended to crack down on the use of taxpayer dollars for political purposes. "A sign with a number on it to call is one thing, but like everything he's done, if the signs go up around Labor Day, that close to the election, that will raise a question about what the real purpose is," Loveday said.
And before you say anything, yes, everybody does it, but this is the same guy who led the charge against using state funds to advertise incumbents.
UPDATE: And then there's this.

State auditors are questioning nearly $500,000 paid to advertising agencies retained by the state to inform motorists about the Dan Ryan Expressway reconstruction project that starts Friday, according to documents obtained by the Tribune.

The audit documents, obtained through sources at the Illinois Department of Transportation, say little or no documentation backs up thousands of dollars in taxpayer money paid by IDOT to politically connected ad firms to sponsor events such as the Bud Billiken Day Parade and Today's Black Women Expo. The auditors questioned how those events helped educate drivers on how to steer clear of the massive $600 million highway project.

Taxpayers also paid $25,000 as reimbursement for sweat suits, polo shirts, T-shirts, pens, bracelets and key chains with no documentation that the items were ever purchased, the audit documents said.

Another $150 covered the costs for an ad agency official to attend a dinner honoring Robin Black, who had been IDOT's chief of staff. Black, who resigned in December, signed off on many of the payments in question, auditors noted.

The public also paid former state Rep. Charles Morrow (D-Chicago) $23,566 in questionable reimbursements for insurance premiums and alleged overbillings for work at an advertising agency, auditors said.
- Posted by Rich Miller 13 Comments


· I'm not saying that Sen. Hendon's remarks were appropriate. They were clearly out of line and inappropriate for the state Senate. He should apologize. But I can't help but wonder whether at least a little bit of the uproar has to do with the fact that he's a black man and Sen. Axley is a white woman.
· Quote of the month: (Gov. Rod Blagojevich) ran the most cynical campaign I've ever seen and turned off more people than I've ever seen turned off. Here's a guy who says there's no campaign; he's too busy governing to campaign. But he's not too busy to cut 15 commercials and spend a million and a half dollars on ads. Mr. Testicular Virility could not get it up for one debate or one forum with Mr. Eisendrath. Now he's challenging Judy Baar Topinka to 10 debates. Maybe he had his political Viagra this week. (Andy Shaw on "Chicago Tonight, the Week in Review.")
· Blagojevich emerges from hiatus
· Trib asks, "Will the pols ground Peotone?"
· "Nearly a week after voters went to the polls, Cook County election officials Monday afternoon were poised to declare 100 percent of precincts reporting."
· GOP officials ready to go 'full throttle' against Bean
· Gov wants tax credits to help vets find jobs
· FEMA still hasn't gotten back to Springfield on what–if any–federal assistance it should expect for tornado recovery.
UPDATES:
· Proving once again that he has no sense of humor, Edwin Eisendrath didn't like my Sun-Times column. (Scroll down.)
· Animal Farm cranks out the copy today. Good stuff.
· Leach is completely unimpressed with Topinka's response to the seat belt thing. Make sure to read this today.
- Posted by Rich Miller 33 Comments