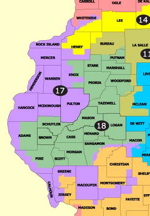 The QC Times has the scoop.

U.S. Rep. Lane Evans, D-Ill., is endorsing his district representative, Phil Hare, to replace him on the Democratic ticket in the 17th Congressional District this fall.

Jerry Lack, an Evans aide and a suitor for the job himself, said Evans informed him of his decision Thursday. As a result, Lack said, he is backing out of the race and will help Hare. "I was planning on running and now I'm not," he said. "It was a difficult decision for Lane, but I respect it and I'll be working to help Phil out."

Evans announced Tuesday that he will not seek re-election this fall because of the need to focus on his health. He has been battling Parkinson's disease for more than a decade. He will serve the rest of his term to the end of the year.

Evans spokesman Steve Vetzner confirmed the endorsement. "Phil has been with him since day one. He's been his right-hand man and he's the best person to build on Lane's legacy," Vetzner said.
[Hat tip to a sharp-eyed commenter]

Rumor has it that Rahm Emanuel has his own candidate. You'd think he'd learned his lesson about this stuff. If the Rahminator was such a big issue in DuPage, imagine what the reaction would be downstate.
Senate President Emil Jones just announced that the Senate will reconvene on Tuesday.
Here are some more updates, since session is just about finished for the day and I have some time while I'm waiting on some return calls.
· Chutzpah award, from Bernie's column today:

[Alexi] Giannoulias told me he thought his financial background was the key to his win. I said some people thought his TV ads featuring U.S. Sen. BARACK OBAMA, D-Ill., had a lot of effect.

"That's for the political people, the insiders," Giannoulias said. "I mean, it didn't hurt, I'll say that much. And he helped me get my message out. But I think at the end of the day, the message was, let's get someone with financial experience for a financial position."
· Ryan jury seeks transcripts
· Sweeny slams Rep. Winters. Greg strongly disagrees.
· A ten-million-dollar plan to reduce public school class sizes in Illinois won House approval today and goes to the governor for his signature. But even supporters question whether there's money to fund the plan and whether the money wouldn't be better spent in other education areas.
· Gov. Blagojevich's "Less Red Tape" bill wins House approval, heads to Governor's desk for his signature
· State employees would help fund new Amtrak routes, supporters say
· Rep. Reitz joins Century Club
· Roskam interview
· Precinct committeemen — don't give away your vote in 17
· Homeschooling Freedom– Is it ebbing away in Illinois?
· Cheap Trick will name their new album 'Rockford' after their home town of Rockford, Illinois.
· Who will be the Kingmaker?
· State may add 2 daily train trips to Chicago
· Lawmakers close to letting prostitutes sue pimps
This question was suggested by blogger Carl Nyberg.
If Illinois had its own money, who would be depicted on the coins and bills?
I had a little about this in this morning's Capitol Fax, but here is a much longer story.

For the second time in as many days, a white south suburban mayor has called on Gov. Rod Blagojevich to lease 4,200 acres of land to build the long-discussed third airport in the region.

Homewood Mayor Richard Hofeld said in a written statement that Blagojevich's backing of the airport is "the single most important act the governor can do to support the Southland."

"The South Suburbs have been the stepchild of Illinois for too long," Hofeld said. "As a region, we are told to be patient, that our time will come. Well, we're tired of waiting."

Hofeld's announcement comes on the heels of a fiery statement by Country Club Hills Mayor Dwight Welch, who blasted Blagojevich for playing "racial politics" over the airport
And here's another one.

Senate Majority Leader Debbie Halvorson said supporters of U.S. Rep. Jesse Jackson Jr.'s Peotone airport plan must be getting desperate.

Halvorson, D-Crete, was reacting Wednesday to news stories on Country Club Hills Mayor Dwight Welch's statement that Gov. Rod Blagojevich was using "racial politics" in the proposed Peotone airport debate.

Blagojevich is refusing to partner with predominantly black southern Cook County towns that back Jackson, D-Chicago, and he's trying to appease the mostly white Will County communities, Welch said in published reports.

"It has absolutely nothing to do with race," Halvorson said from Springfield. "It never has. What a shame they have decided to play the race card. I'm offended by that."

Halvorson said she is continuing to try to get a development district bill passed in the Legislature that would protect the communities closest to the airport site, which is completely located in eastern Will County.

The Senate has already passed the bill and it's waiting for a vote in the House. Halvorson said the Legislature's session could be extended past the current April 7 adjournment date, which would make a vote on the bill more likely.
Read the whole thing. Pretty intense. You can see Mayor Welch's full press release here.
It doesn't look like the General Assembly will take up this issue before the end of spring session.

The electric deregulation juggernaut that swept the nation in the late 1990s has been replaced by a consumer backlash against energy price increases that threatens to reverse free-market reforms.

Lawmakers from Maryland to Montana worry that the deregulation movement they once embraced has failed to deliver the benefits they promised to constituents.

About a third of the 23 states that passed restructuring laws have revisited or delayed those plans, and some - including New Mexico, Arkansas and Nevada - have passed legislation repealing deregulation laws. Some, like Michigan, deregulated in a way that resulted in smaller rate increases, while others are operating under rate caps put in place years ago and haven't felt the effects of unfettered markets.
Capitol Fax had pretty much this same story yesterday.

He co-chairs the governor's re-election campaign, but House Speaker Michael Madigan isn't sold on the governor's budget proposal.

Rather than work with Gov. Rod Blagojevich's spending blueprint, the speaker has suggested that negotiators start with the existing budget and only add new spending equal to what the state will receive in new revenue.

"It was a suggestion and time will go on," said Steve Brown, a spokesman for the Chicago Democrat.

The development came as the General Assembly heads toward an early, election-year adjournment, which is scheduled for April 7, but could be extended to April 12.

Republicans said Madigan's suggestion was another sign that Democrats are troubled by their own party's governor.
I had this in yesterday's Capitol Fax, and the Daily Herald picked it up today.

Latino lawmakers are asking Gov. Rod Blagojevich to abandon his call to give tax breaks to the parents of college students with good grades, saying it would help "higher-income" families while others struggle.

In a letter delivered to Blagojevich's office, the lawmakers say the state should put more money into existing student aid programs based on need rather than "tax breaks for the parents of well-off children who happen to earn good grades their freshman and sophomore years."

The letter was signed by state Sens. Miguel del Valle, Tony Munoz, Martin Sandoval and Iris Martinez, all Chicago Democrats.
· What he said.
· The head of a Chicago public relations firm highlighted in a scathing state audit called the report "a blatant lie" that grossly inflated undocumented billings by her firm to the Illinois Department of Transportation.
· Sun-Times hits IDOT on audit.
· Pantagraph raps Blagojevich for pharmacy signs.
· Sen. Ira Silverstein (D-Chicago): "I don't think [Gov. Blagojevich] is going to sail to victory. I think it is going to be a very tight election. It depends on what happens in the next couple of months, if the Feds do any type of investigation of his administration."
· "Chicago police officers were on hand as a huge street fight spilled into City Hall Wednesday afternoon." Didn't look like much of a fight to me.
· Yet another breathless lede.
· Son says Stroger is talking, exercising
· What the heck is going on in Kane County?
· Businesses called on to lobby for train line
· Lawmakers may rename beach to honor Geo-Karis
· Calumet City: "Tear down this wall!"