GUILTY
Monday, Apr 17, 2006 - Posted by Rich Miller
CBS2 reports that both defendants, George Ryan and Larry Warner, are guilty on all counts.
[I've reversed the order of the updates to put the most recent one at the top.]
UPDATE 51: The final, final update (I hope). The Tribune's editorial is already online.

Through his actions and inactions, George Ryan essentially destroyed the Republican Party in Illinois. He also destroyed himself.

This was a man acclaimed by many people for his moratorium on capital punishment-congratulated by world leaders such as Nelson Mandela, honored by the lighting of the Coliseum in Rome, nominated for the Nobel Peace Prize.

Yet this also is a man hounded from office because, by the end of one term as governor, the stench of corruption on his watch rendered him untouchable. The people of Illinois, though long inured to their state's culture of political sleaze, saw his re-election as intolerable.
UPDATE 50: OK, just one more. This post from another publication shows why predictions about this kind of stuff should be avoided by even the most astute observers (and they have some good ones over there):

[The chance that] George Ryan is found guilty on all counts: 5 percent. The volume of counts is a prosecution strategy, yet some reporters have taken the bait.
UPDATE 49: That's it for me for today. If you find any other updates, put them in the comments section.
UPDATE 48: IIS: ISU expert says Ryan verdict not likely to result in more ethics reform (listen here)… Also, Mike Lawrence reacts (listen here).
UPDATE 47: Crain's:

Jurors also indicated that deliberations were still in a preliminary phase when U.S. District Court judge Rebecca Pallmeyer dismissed two of them several weeks ago. That could be crucial because defense attorneys are almost certain to claim on appeal that Ms. Pallmeyer should have declared a mistrial rather than replacing the two jurors.
UPDATE 46: TIME Magazine:

Now that the verdict on Ryan is in, it is sure to play a role in this year's gubernatorial race. Current Gov. Rod Blagojevich will likely say it proves that the Democrats are the only party capable of protecting the integrity of state government. Meanwhile his opponent, state treasurer Judy Baar Topinka, will probably argue that Blagojevich, whose administration is also being probed, is definitely not the man for that job. "We'll see the commercials very soon," said Roosevelt University political scientist Paul Green. "Each will manipulate this for their own purposes." Just as history shows so many Illinois politicians, like Ryan, have done with their own elected positions.
UPDATE 45: Fritchey Calls for Immediate Passage of Ethics Bill

In the hours following the guilty verdict in the corruption trial of former Governor George Ryan, State Representative John Fritchey (D-Chicago) is calling for the immediate passage of House Bill 4073, legislation that would significantly reduce the corrupting influence of campaign contributions on the awarding of State contracts, commonly referred to as the "pay-to-play" system. An initiative of State Comptroller Dan Hynes, Rep. Fritchey introduced the bill over a year ago with bipartisan support in both chambers of the General Assembly.

Specifically, the bill prohibits those holding contracts over $25,000 from making a political contribution to the officeholder who awarded the contract. The bill further requires, as part of the procurement process, bidders on state contracts worth more than $10,000 to disclose all campaign contributions to the officeholder awarding the contract for the prior two years. The contribution ban would be in effect for the length of the officeholder's term or for two years past the completion of the contract, whichever is greater.
UPDATE 44: Pat Collins:

"Unless and until the state, city and county learn there are victims of corruption, there are tangible consequences of corruption, (and) unless and until people who vote understand that there are important consequences in their public officials' acts of dishonesty, this system will not change."
UPDATE 43: Gov. Blagojevich has released another statement. This one is from the campaign.

"The George Ryan convictions prove once more that a culture of corruption and mismanagement was tolerated during his Administration. It is further evidence that the old way of doing things cheated the people of Illinois.

Unfortunately, too many of those who point fingers today had positions of responsibility during the Ryan Administration and were silent before. Governor Blagojevich has made great strides in making government work for people, from improving access to health care to investing more in our schools by cutting government waste and inefficiency. We can't afford as a state to go back to the corruption and mismanagement that gave us a $5 billion deficit and today's verdict."
UPDATE 42: CBS2 has a lot of video links.
UPDATE 41: Daily Herald:

The specter of political lobbying followed Ryan even as he entered the federal building on the way to hear the verdict Monday.

A man standing in the marble hall called to Ryan, saying: "I had lunch with you!" Ryan walked over, chatted a moment and slapped the man on the back.

Afterward, the man — Joel Farber, a Skokie accountant who said he was a lobbyist for the Illinois Park and Recreation Association during Ryan's time in Springfield — said he wished the former governor good luck, and "he took it in stride." Farber said that in his days as a lobbyist he made frequent trips to Springfield and on one such trip had the opportunity to attend a luncheon with Ryan.
UPDATE 40: How do you think this impacts the fall campaign?
UPDATE 39: From the Tribune: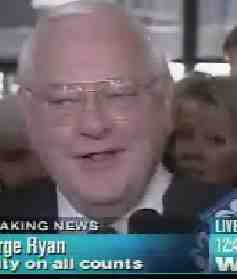 UPDATE 38: Tribune:

House Republican leader Tom Cross, Oswego: "First of all, I think it's a sad day for all of Illinois. It's a huge black eye for our state, and it's sad and disappointing."

Senate President Emil Jones (D-Chicago), a longtime friend of Ryan, released a brief statement through a spokeswoman: "His heart goes out to former Gov. Ryan and his family."
UPDATE 37: No statement yet from Mayor Daley. Maybe nothing until tomorrow.
UPDATE 36: NBC5 has a "brief list of notable Illinois politicians who have had run-ins with the law." Use the comments to remind us of others.
UPDATE 35: WBBM 780 reports that one heckler shouted, "Hey, George, enjoy your new address!" Ryan reportedly seemed confused at first, then stared back when he realized what the heckler meant.
UPDATE 34: Whistleblower Tammy Raynor says she's suprised by the verdict, according to 780. Didn't expect guilty on all counts. Says she's happy to be getting on with her life.
UPDATE 33: Gov. Blagojevich was supposed to have a press conference at noon today, but he canceled it.
UPDATE 32: CBS2's feed is offline for now. Head to WBBM 780.
UPDATE 31: CBS2:

State politicians voiced their opinions today after former Gov. George Ryan was found guilty in his five-month corruption trial.

Gov. Rod Blagojevich said Ryan's conviction "proves that no one is above the law." […]

Blagojevich said the trial proves that the government is "supposed to exist for the good of the people, not the other way around."

And he added that those who serve in government shouldn't do so for the "personal enrichment."
UPDATE 30: Archpundit:

Patrick Collins is a star who may well be the next Patrick Fitzgerald.

If you are under investigation by Fitzgerald and you have done anything wrong, plea now. Really. This is one of the more complex cases I've ever seen and Webb is a damn good defense lawyer–and Webb couldn't even get Ryan off on any of the charges.

In DC, Springfield, and Chicago, there are a lot of people who thought that just maybe Patrick Fitzgerald was overrated. This result will sober them up very quickly.

Finally, given the jury problems there are some very serious issues for appeals. I don't know which way they will go, but it is certainly possible that a new trial will be ordered. I imagine if that happens, Ryan and Warner will plea. If not, they will be in prison, possibly for the rest of their lives.
UPDATE 29: All parties waived jury hearing on forfeiture. Will be determined by the judge.
UPDATE 28: Pat Collins: Winston & Strawn had more people assigned to this case than the feds did.
UPDATE 27: AP photos.
UPDATE 26: Crain's:

The investigation played a major role in the 2002 gubernatorial election, with Democrat Rod Blagojevich arguing it was time to end a Republican culture of sleaze and restore ethics to state government.

Since then, however, the Blagojevich administration has itself been under federal investigation of alleged pay-to-play activities.

Both Mr. Blagojevich, who is running for reelection, and his GOP challenger, state Treasurer Judy Baar Topinka, are expected to make an issue of ethics reform in this year's election.
UPDATE 25: Ryan's full statement.
UPDATE 24: Tribune flash media history of Ryan's long saga.
UPDATE 23: Tribune photos.
UPDATE 22: One of the G-Men just said that until voters wake up to corruption nothing will change in Illinois.
UPDATE 21: AP:

Customers at a tavern in former Governor George Ryan's hometown of Kankakee say they're shocked that a federal jury in Chicago found Ryan guilty of all the charges against him today.

The customers at The Landing Bar and Grill say they figured the jury would convict Ryan of some of the charges, but not every charge in the 22-count indictment. Co-defendant Larry Warner was also convicted of all the charges against him.

Rhonda Bouchard says she thinks Ryan was guilty of at least some of the charges. But she also wonders if — with the dismissal of the jurors and all the chaos surrounding the trial — Ryan got a fair trial. She says that maybe after five months maybe the jurors just decided to convict Ryan of all the charges to get things over with.
UPDATE 20: The Daily Herald has a list of the charges online (pdf file).
UPDATE 19: Patrick Fitzgerald: "Charges involved were very serious and the corrupt conduct was very disturbing."
UPDATE 18: CBS2:

As the two men stood in the bathroom of the Dirksen Federal Building, former Gov. George Ryan told CBS 2's Jon Duncanson what he's really disappointed with is the media.

They got it wrong, he said. They were looking for something "sexy" to put on their front pages, he said.

As Ryan and his wife, Lura Lynn, took a slow walk this morning to the Dirksen Federal Building where they awaited a verdict in his corruption trial, the former governor tried to make a joke to the group waiting outside, Duncanson reports.

"Good morning, quiet group in here," Ryan said.

No one returned his greeting.
UPDATE 17: "Not hard at all" to restart deliberations, juror says.
UPDATE 16: Prosecutors about to speak.
UPDATE 15: CBS2 has spoken to a juror who wished that Ryan had testified on his own behalf. He also reportedly said there was "no smoking gun," no one thing that convicted Ryan. He added that he "did not buy" Dan Webb's description of Ryan as a hands-off governor.
UPDATE 14: Alternate juror says he wasn't aware of Ryan's work on capital punishment.
UPDATE 13: Jury forewoman says no juror was holding out for an innocent verdict during deliberations. "Not that I recall."
UPDATE 12: Rev. Scott Willis: "Gratefully surprised by the verdict."
UPDATE 11: Topinka statement:

"Today is a sad day for Illinois. This trial and subsequent verdict exposed abuses of power, ethical lapses, failures in judgment, and a pattern of corruption in Illinois government.

"Now that the jury has spoken, it's time for all of us to move forward with a renewed commitment to honoring the public's trust by upholding the highest standards of honesty and integrity in government.

"We can begin that process by ending pay-to-play politics, eliminating no-bid contracts, restricting the influence of lobbyists, and increasing transparency in political campaigns and the business of government. Most importantly, we can lead by example in promoting a culture in Illinois that celebrates accountability, openness, and the truth."
UPDATE 10: AP:

"I believe this decision today is not in accordance with the kind of public service that I provided to the people of Illinois over 40 years, and needless to say I am disappointed in the outcome," Ryan said. "But I feel confident in our appeal, and there will be an appeal."

Ryan's lead attorney, former federal prosecutor Dan K. Webb, zeroed in on U.S. District Judge Rebecca R. Pallmeyer's decision to bring in two alternates and restart deliberations after dismissing two jurors eight days into the original deliberations.

"We're going to begin working immediately on post-trial motions to try to get this verdict overturned," Webb said.
UPDATE 9: CBS2 reports that Ryan was met with hecklers when he left the building, with at least one person shouting, "You got what you deserved!"
UPDATE 8: AP: "Ryan sat stone-faced as the verdict was read."
UPDATE 7: Jury is speaking now.
UPDATE 6: People, I've had to delete several comments so far today and I don't have time to babysit. From now on, if your comment is deleted you will automatically be placed in comment moderation for at least the rest of the day. Thanks.
UPDATE 5: George Ryan: There will be an appeal.
UPDATE 4: Dan Webb: "I'm very disappointed in the verdict… We're going to begin immediately on post-trial motions… appeal…" much of the previous jury trouble is under seal, which will be lifted soon.
UPDATE 3: George Ryan is expected to make a statement soon.
UPDATE 2: Sentencing date August 4th.
UPDATE: Not much there yet, but The story is now up, so check this link for Tribune coverage. The AP report is up at the Sun-Times.
81 Comments


















































































































































































































































Sorry, comments for this post are now closed.