…Or anywhere else in Illinois for that matter.
I just stumbled across Chatham County Line this morning while reading the songs: Illinois blog.
Man, are they good. Most modern bluegrass music is just too whitebread and "safe" for my ears. But as the songs: Illinois blogger points out, Chatham County Line's members think of themselves as more of a rock band than a bluegrass group.
The band's sound is much more raw than most bluegrass bands around these days, which probably explains why they don't want to be associated with that genre. I don't care what they call it, I love this sound.
Check out some videos from a live performance here. But be prepared to turn up the volume. You can find links to their recordings there as well.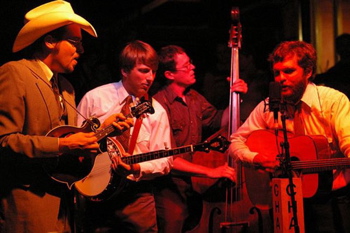 8 Comments























Sorry, comments for this post are now closed.