Reform and renewal.

Democratic Gov. Rod Blagojevich used a Chicago public school to tape attack ads against his Republican challenger despite a city school ethics policy that prohibits political activities on school grounds.

The ads, taped at Waters Elementary School near Blagojevich's home on the Saturday after the March 21 primary election, feature the incumbent governor appearing at what is described on screen as a town hall meeting. In the commercials, Blagojevich criticizes Republican opponent Judy Baar Topinka's positions on assault weapons and raising the minimum wage.

Peter Cunningham, a Chicago Public Schools spokesman, said this week the ethics policy does not explicitly prevent political commercials from being filmed in public schools, but he acknowledged that "it's probably wrong to do."

"The ethics policy appears to discourage it, and we've shared that with the principal," Cunningham said. "It's skirting the ethics rules."

The ethics code was adopted by the School Board in June 2004 as a result of a state ethics reform law championed by Blagojevich.

The code states: "Employees shall not intentionally misappropriate any board property or resources by engaging in any prohibited political activity for the benefit of any campaign for elective office or any political organization." In addition, the ethics training for public school employees for the current school year notes, "CPS buildings and offices are politically neutral."
[Emphasis added.]
Meanwhile, columnist Ray Hanania is already sick of the guv's negative ads.

If Gov. Rod Blagojevich wanted to convince Illinois voters that he is the better candidate for the office he now holds, he is doing a poor job.

His constant, ugly, mud-filled, issueless advertising attacks against his Republican challenger Judy Baar Topinka are nauseating. They're not even intelligent and they certainly don't even sound accurate. […]

One of the attack ads actually sounds like a big lie, the one about how Topinka, the state treasurer, allowed the state to not fund the state pensions so they could use the money for other, budget needs, is ridiculous.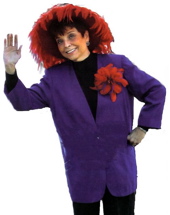 And Eric Krol is not impressed at all with Topinka's post-primary effort.

Judy Baar Topinka apparently didn't learn many strategic lessons from the Bush administration's experience in Iraq.

The U.S. invasion was a relatively easy triumph, but Bush was roundly criticized for not having a solid post-victory plan for stability.
Also, ArchPundit isn't thrilled with JBT's gas tax idea.

This idea is about as useful of opening up ANWR, which despite a Hastert's whining as of late, wouldn't actually affect world oil supply by much
UPDATE: Topinka campaign press release:

DuPage County State's Attorney Joe Birkett said this morning's revelation in the Chicago Tribune that Rod Blagojevich's campaign attack ads are not only fake, but illegal, symbolizes his tenure as Governor.

"Fake and illegal. It's the story of the day and the story of the last three years under Rod Blagojevich," said Birkett, running mate for GOP gubernatorial nominee Judy Baar Topinka, the state Treasurer.

Birkett called on the Blagojevich campaign to produce evidence that it reimbursed taxpayers for school expenses incurred while filming the commercial. […]

Earlier this week, state Auditor General Bill Holland, a Democrat, found Blagojevich's administration in massive violation of that same act Blagojevich and Quinn bragged about passing.

Holland's audits also found massive waste, fraud and abuse for the second year in a row at Blagojevich's Central Management Services Agency, the clearinghouse for many state contracts.
24 Comments







































































Sorry, comments for this post are now closed.