Gov. Blagojevich has the tollway board pretty much locked, down, which is why this story is such a surprise.

In an unusual move, a tollway board member on Thursday took issue with a politically connected firm winning a multimillion-dollar consulting contract. […]

Tollway board member Ronald Materick of Oak Brook objected to hiring McDonough and Associates for $1.7 million to plan Tri-State widening near O'Hare International Airport. A list compiled at the earlier request of board members shows McDonough drew the most tollway consulting work during the last three years — nearly $20 million.

"I know these are politically connected firms," Materick said of the list. "It causes other firms to be less interested in competing." […]

Materick voted against the contract, an oddity on a board where all the members are appointed by Gov. Rod Blagojevich. Materick could not be reached for comment after the meeting.

The company and its owner have donated more than $61,000 to Blagojevich since 2002. The company did not return phone calls Thursday. […]

Meanwhile, the tollway re-hired IGOR, The Watchdog Corp. of Tinley Park on a three-year, $3.2 million contract for I-PASS packaging, delivery and promotion at more than 200 Jewel grocery stores. IGOR has donated $76,000 to Blagojevich's campaign. Its lobbyist is John Wyma, Blagojevich's former congressional chief of staff and 2002 gubernatorial campaign director. The new contract comes after two years of no-bid extensions on an original $150,000 deal in 2003 that jumped to $7 million by 2006.
And then there's this:

Contractors rebuilding toll plazas on Interstate 90 need more than $3 million more than expected to finish their projects thanks to hastily-crafted construction.

The Illinois State Toll Highway Authority board approved change orders for all plazas on I-90, including a $1.7 million increase to the contract to rebuild the Elgin toll plaza. […]

The authority wants open-road tolling available at every plaza by this fall.

But the hurry to get the construction done fast meant that the toll authority was not ready with some aspects of its engineering. For instance, the Elgin, River Road and Devon plazas need more electrical work than the bids originally specified because the board wanted to get the bigger job of adding lanes started.
Gee, I wonder why they want the new lanes completed, along with their giant Brought to you by Rod Blagojevich signs, by this fall?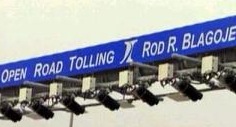 19 Comments
























































Sorry, comments for this post are now closed.