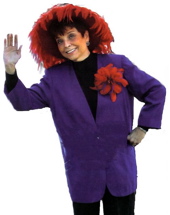 My Sun-Times column runs today.

I have this image in my head of Judy Baar Topinka that I can't shake. It came to me after she won the Republican gubernatorial primary last month and it won't go away.

She's a zombie monster.

I don't mean that literally. It's not like I expect to see her wandering the streets chewing peoples' faces off. I mean politically.

As any horror film buff knows, it isn't easy to kill an undead zombie monster. The heroic victims try and try, but nothing seems to work at first.
27 Comments
















































































Sorry, comments for this post are now closed.