This story leads to a little fun with Google.

Six months after buying the largest parcel of vacant land near the Loop, an Iraqi-born billionaire is putting up for sale a key piece of the property, which has defied development despite the torrid downtown residential real estate market. […]

Chicago-based U.S. Equities Realty LLC and Eastdil Secured LLC of New York have been hired to market the 17-acre parcel, says Michael Rumman, CEO of Heritage Development Partners LLC, which manages the project for a London affiliate of General Mediterranean Holding S.A., a conglomerate owned by investor Nadhmi Auchi. The parcel being marketed is slated to have about 670,000 square feet of retail and up to 2,000 residential units.

Iraqi-born billionaire Nadhmi Auchi is selling 17 acres at the north end of the former Rezmar site in the South Loop. […]

It is another setback for the star-crossed proposal, which was announced in early 2001 but has been ensnared by a series of obstacles: the breakdown of a deal with retailer Ikea, financial troubles, and controversy surrounding Democratic fund-raiser Antoin "Tony" Rezko, who retains an interest in the site. […]

Chicago-based Heritage, which is co-owned by Messrs. Rumman and Rezko, took over management after General Mediterranean paid $131 million for the site to a partnership led by developer Daniel Mahru and Mr. Rezko, an entrepreneur with ties to Gov. Rod Blagojevich.
Rumman also worked for Blagojevich as the embattled director of CMS.
Blagojevich knows Auchi as well.

Rod Blagojevich, Illinois' governor, said that his state "welcomes General Mediterranean Holding's (GMH) investments, and is ready to provide the necessary means for them to succeed.

A welcoming reception was held for Mr Nadhmi Auchi Chairman of GMH, who is touring the United States.

"Illinois is an important investment opportunity for big companies," said Blagojevich.

Ministers from State of Illinois, businessmen, and congressmen were also present in the dinner held in his honor.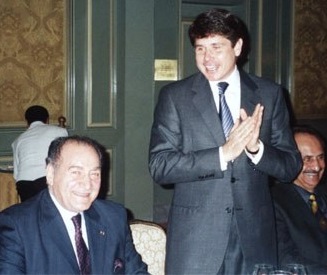 4 Comments











Sorry, comments for this post are now closed.