[Bumped up because the post was getting lonely underneath that mountain of budget stuff.]
Unlike our last installment, this only looks like satire.

Rutherford high-fived all the candidates, then, realizing he failed to introduce Tazewell County State's Attorney Stu Umholtz, the candidate for attorney general, rushed back to the podium and startled Umholtz by saying, "On your feet. Stu Umholtz."

Umholtz laughed and said Rutherford also forgot to introduce him at the previous stop in Macomb. Turning serious, he said DuPage County State's Attorney Joe Birkett, the Republican candidate for lieutenant governor, should have been elected attorney general in 2002, rather than Democrat Lisa Madigan.

Umholtz said of himself and Birkett, "We don't just talk about public corruption … we deal with it. Under (Lisa) Madigan, public corruption has not only continued, it has flourished."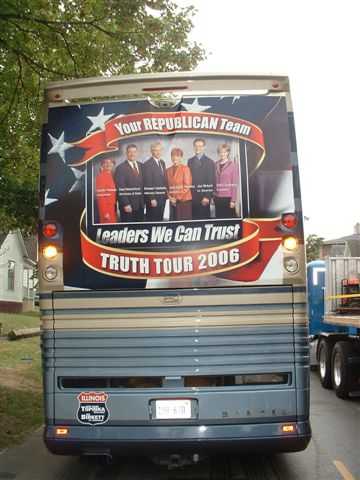 11 Comments
































Sorry, comments for this post are now closed.