These are amazing numbers.

The number of foreign-born U.S. citizens jumped by nearly 38 percent in the suburbs over the last five years — leaping almost 50 percent in DuPage County alone and doubling in Will and Grundy counties, according to an analysis of Census information by a pro-immigrant group.

Calling it "a fundamental sea change of where immigrant citizens are living," the Illinois Coalition for Immigrant and Refugee Rights argues the changes have far-reaching political ramifications. […]

Most important politically is the rise in the number of immigrants who have become U.S. citizens, making them eligible to vote. In the last five years the number of naturalized citizens in Illinois rose 23.1 percent, to 736,161.

But the real growth has been in the suburbs.

While Chicago only experienced a 4 percent increase in naturalized citizens of voting age during the period, the suburbs saw a boom of 37.5 percent.

The 48.2 percent rise in DuPage County means that 14.4 percent of its voting age population are naturalized citizens. In Will and Grundy counties, the number of adult naturalized citizens doubled, making them 6.3 percent of the total voting age population.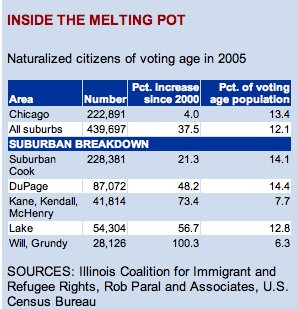 Read the full report here, and read the full press release here.
8 Comments























Sorry, comments for this post are now closed.