Gone?
Thursday, Aug 31, 2006
Expect to hear a lot of cursing and moaning soon from just about every ex frat boy in the state.

After 80 years, Chief Illiniwek on Saturday will begin what is likely to be his last year of dancing at University of Illinois football games, university sources said.

The chief, who will appear at the season opener at Memorial Stadium in Champaign, will also dance at home basketball games this winter.

But after that, he will no longer be an official university symbol, the sources said
The Sun-Times also has a timeline of the Chief's existence. According to the paper, the mascot was created in 1926.
My father once gave me a very old edition of The Illio, the official U of I yearbook, that he bought somewhere. My copy is from 1921, five years before the Chief was "created." Back then, one of the officially sanctioned "inter-fraternity junior social organizations" on campus was the "Klu Klux Klan." Here's a scan: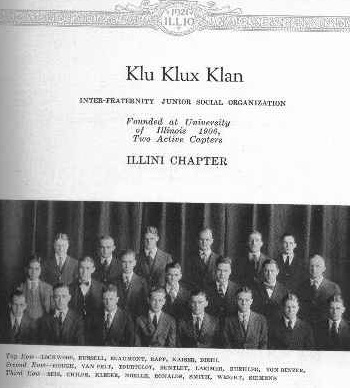 Am I equating the Chief's creators with the U of I chapter of the KKK (which I doubt is even the "real" KKK because it's spelled differently, but you get the idea)? No. But it's important to realize that there was pretty much no such thing as racial sensitivity back then. I doubt anyone cared in the 1920s if the Chief caused offense. We're supposed to be different now.
Also, I'm perfectly aware that some Illini fans are gonna get all kinds of upset at me for this. So, again, I'm not equating the U of I's officially sanctioned KKK chapter with the Chief. But I am suggesting that we should use it to think about the racial mores of the time period in which that currently racially controversial mascot was created. That way we might better examine the legacy that era has bequeathed us.
88 Comments







































































































































































































































































Sorry, comments for this post are now closed.