· "The Messiah" visits Metropolis and engages in a little "Do as I say, not as I do" schtick. [Emphasis added, "Messiah" reference explained here.]

Illinois Senator Barack Obama warns citizens at his 50th Town Hall meeting about gas guzzling. It was among many points made to the standing room only audience at the Metropolis Community Center. Obama spoke on everything from DC politics to global warming. He says part of the blame for the world's higher temperatures rests on gas guzzling vehicles. Obama says consumers can make the difference by switching to higher mileage hybrids. Today the Senator said, "It would save more energy, do more for the environment and create better world security than all the drilling we could do in Alaska."

After the meeting… Obama left in a GMC Envoy after admitting to favoring SUV's himself.
· As I noted in Morning Shorts today, Phil Hare's new website is up and running, if somewhat content-free. But a commenter pointed out that Phil's photo on the front page is a bit bizarre. I really do like Phil, but he absolutely must get a new web consultant. Just look at this monstrosity of a graphic: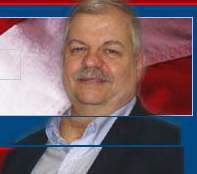 · Birkett fundraising event features a skit with two (count 'em) public displays of man-on-man affection. But a conservative commenter thought it was the funniest part of the show. I'm not sure which point amuses me more. [OK, she said most memorable, not funniest. That makes more sense.]
· Flashback. This week, the governor compared himself to Abraham Lincoln. Last year, he compared his fight against violent video games to the push for child labor laws a century ago.
· UPDATE: Oops. Almost forgot my favorite funny during the past couple of days. From The Daley Show:

Illinois guard units to patrol Wisconsin border

SPRINGFIELD (ap) - Illinois has promised National Guard troops to fight unwanted Cheeseheads, Gov. Rod Blagojevich's office said Monday.

About 200 Army and Air National Guard personnel will be deployed in 2007 as part of their annual two weeks of training, spokeswoman Abby Ottenhoff said.

The troops will be deployed to provide support to tollway officials patrolling the Illinois border with Wisconsin to stem the flow of illegal dairy products and their purveyors into this state.

"Illinois can recall its soldiers and equipment if a need arises to send them to Iraq," Ottenhoff said.
- Posted by Rich Miller 32 Comments


I just added WBEZ's news feed to the right side of the page, and to kick things off here's a story from the station that I haven't seen anywhere else.

Chicago may not be the only city with a so-called 'big box' rule, if one politician has his way. Illinois Lieutenant Governor Pat Quinn says he wants a state-wide living wage law for large chain retailers.

"If they think the secret to success is to drive down the wages of their hard working productive employees, and not pay them health benefits and then tell the state of Illinois, 'Well, through your Medicaid program we expect you to pay the health coverage of our workers.' There's something wrong with that, and we're not going to put up with it," he says.

Quinn says he'll speak to legislators after this November's elections to gather support for the measure.

- Posted by Rich Miller 37 Comments


Democratic congressional candidate John Laesch has almost no chance of defeating House Speaker Denny Hastert this fall, so apparently he has enough time on his hands to pick on an anonymous blogger. This is what candidate Laesch wrote on Soapblox Chicago:

It occured to me that in the wake of Joe Lieberman's loss that I should spread a little party cleansing soap and water around the 14th District.

Before we start slapping Hastert around with some amazing research generated by an amazing and anonymous blogger (digging around D.C), I thought we should spend some time outing Mr. HRC.
"HRC" publishes a blog called "50 Miles Out of the Loop." HRC has written some incredibly harsh things about both Hastert and Laesch, but Laesch claimed today when we spoke that he ordered the investigation into HRC's identity to find out if a pro-Hastert person was writing it. Laesch's statement has zero credibility. If you don't believe me, peruse HRC's blog for a few minutes nanoseconds and you'll see why.
Laesch said he wanted to "send a message to whoever HRC is." What message would that be? "It's the same message that we should be sending to Joe Lieberman that it's time to understand that the primary is over and move on."
So, what would Laesch do if Hastert used his own blog to out an anonymous blogger who was supporting Laesch? "I don't care what Hastert posts on his blog," Laesch says.
So, let me get this straight. Laesch is so riled by what some micro-blogger writes that he has an opposition researcher look into his or her identity, but he doesn't care what's on Hastert's blog?
Meanwhile, the folks who run SoapBlox were so embarassed by Laesch's post that they removed the item from the front page. SoapBlox is not exactly a hotbed of pro-Lieberman activity, to say the least, so Laesch has been essentially dissed by his own allies.
And a commenter at SoapBlox produced an e-mail from the person Laesch claims writes the blog, Mark Blackman, flatly denying the allegation. HRC also denied the claim.

For the record: I am not Mark Blackman (I don't know who that is). And I doubt this Blackman fellow is a 38C.
"If somebody is out there attacking you we're gonna put him down, it's that simple, especially if it's baseless and factless," Laesch said, claiming that HRC has written "slanderous things" about him.
In a deliciously ironic twist, it's Laesch who relied on an anonymous blogger to make what appear to be "baseless" and "factless" and possibly even "slanderous" remarks.
What a jerk.
- Posted by Rich Miller 24 Comments


- Posted by Rich Miller Comments Off



Which statewide candidate do you think will get the highest percentage of the vote this November?
Here's a list of the contenders (Greens ommitted because I doubt any of them are in the running for highest percentage) in case you need prompting. Bonus points for picking the percentage that the highest finisher will get:

Blagojevich-Topinka; Madigan-Umholtz; White-Rutherford; Hynes-Pankau; Giannoulias-Radogno
- Posted by Rich Miller 31 Comments


Chicago finishes first in one survey.

Gas prices hit a record high over the past three weeks, with Chicago leading the way.

According to the Lundberg Survey released Sunday, the national average price for self-service regular rose just over one cent to nearly $3.03 a gallon — while the Chicago average was $3.29 a gallon, the highest average in the country.

But don't blame the oil companies for singling out Chicago, says Dave Sykuta, of the Illinois Petroleum Council.

The real culprit is taxes.

While only nine states and the District of Columbia allow sales taxes on gasoline at all, "Illinois not only has a sales tax but it has the biggest one — 5 percent," Sykuta said.
But AAA-Chicago Motor Club says Chicago is Number Three.

Aurora-based AAA-Chicago Motor Club uses a different methodology to calculate area gasoline prices and puts the average at $3.26 a gallon of regular unleaded. In its survey, Chicago is behind Hawaii and New York City.
Also from the same story:

State and local governments are the real winners when prices rise. Chicago's charges amount to 9 percent of each purchase. If the purchase price goes up, so does the amount paid in taxes.

This year, the state of Illinois and local taxing bodies are ahead of last year's gasoline tax revenue by $200 million to $300 million, Fleischi said.
Meanwhile, Topinka unvelied some energy plans at the State Fair.

"I want to make Illinois the clean energy capital of the nation," said Topinka, a Republican from Riverside who is in her third term as treasurer.

Topinka claims the Blagojevich administration has lacked a commitment to agriculture.

She said Blagojevich has not been aggressive in backing an increase in the amount of ethanol produced in Illinois. And, she said, Blagojevich earlier attempted to raise taxes on certain agricultural products, such as seed and fertilizer.

If such a proposal were to reach her desk, she said, "I would veto it faster than you can say 'Blagojevich."'

Blagojevich campaign spokeswoman Sheila Nix said many of Topinka's ideas aren't new and that the governor has been a strong supporter of clean energy and farming.
UPDATE: From the Blagojevich campaign's Topinka Watch site:

As Illinois celebrated Agriculture Day at the Illinois state fair, Governor Blagojevich's campaign called on Judy Baar Topinka to explain a consistent record of voting against Illinois agriculture interests and against assisting ethanol production in our state as a State Senator.

On four separate occasions when she served as a State Senator in 1991, Topinka voted against legislation that would have encouraged ethanol production and helped Illinois farmers working to produce alternative fuels.

Topinka voted against legislation that would have required motor fuels sold in Illinois to contain a specified percentage of ethanol, cut taxes for ethanol and prohibited motor vehicle warranties from misrepresenting the effect of the use of ethanol on cars.

Topinka's opposition to legislation that would have encouraged the production of ethanol and helped Illinois farmers is a stark contrast to Governor Blagojevich's leadership in this area. Today he announced a series of grants totaling $20 million from the Department of Commerce and Economic Opportunity to aid ethanol production by building five new ethanol plants.
- Posted by Rich Miller 22 Comments


The State Journal-Register has a State Fair news page, in case you're interested. Here are today's stories:"Playing it safe"

The 2006 Illinois State Fair so far has been relatively crime- and accident-free, according to Illinois State Police. Very few arrests have been made and few disturbances reported.

The 2006 Illinois State Fair so far has been relatively crime- and accident-free, according to Illinois State Police. Very few arrests have been made and few disturbances reported.

That said, there are a few bizarre instances at every fair.

At 11 a.m. Friday, a fairgoer walked into Barn 13 to see the horses and ended up getting more than she bargained for. Karen Thies of Peoria stopped to take a look at a horse, and the horse bit her nose. According to a police report, her face was 3 feet from a bar separating her from the horse.
"Our towns"

Whether it's getting away for a night or finding the right place to locate a new business, the answer might be at this year's Illinois State Fair.
New at the fair is Hometown Pride, an area designed to showcase what the rest of Illinois has to offer.

A different city or area takes over the Hometown Pride tent in the Gate 2 area each day.

On opening day Friday, representatives of Decatur handed out boxes of chili made from soybeans processed by Archer Daniels Midland.

"We brought two pallets of the chili, and by noon, we had handed out a pallet and a half," said Jan Hooten of the Decatur Convention and Visitor's Bureau. "The crowds have been great."
How has your Fair experience been so far? Mine's been pretty good, except that for whatever reason the Fair can't seem to inform us which horse shows are going to be held each day. It's a complete guessing game and a bit frustrating.
- Posted by Rich Miller 10 Comments


[Bumped up because it was posted so late yesterday]
———————————————-
I missed this story when it came out in early February, but the Lisa Madigan campaign insists it existed and sent me a copy of it today. From the Daily Southtown (no link yet).

To avoid a potential conflict of interest, Attorney General Lisa Madigan will not endorse Gov. Rod Blagojevich for re-election. […]

"I will be taking no position in the governor's race because of the ongoing investigation. It's really common sense," she said Friday. "The decision has no relationship to the specifics of any investigation. As prosecutors, we shouldn't make endorsements of elected officials under investigation by the same office."

The Blagojevich campaign spokesman said he was not surprised by Madigan's stance.

"We know as attorney general she has certain responsibilities and obligations that prevent her from endorsing, and we support it," Blagojevich campaign spokesman Doug Scofield said. "We think it's the right thing for her and her office, given her position" […]

"The issue to endorse or not endorse has not come up," Gorman said when asked whether Devine would back Blagojevich's re-election effort. "He's taken no position thus far."
- Posted by Rich Miller 7 Comments


· "Illinois has promised National Guard troops to border states fighting illegal immigration, Gov. Rod Blagojevich's office said Monday."
· Ald. Coleman to switch big-box vote if Daley wants
· First lady helps Roskam at $225,000 fundraiser
· Quinn: State can help buy defibrillators
· Phil Hare's new website is finally up and, almost, running. Not a lot of content yet.
· Topinka to lead a week-long caravan from Springfield to Wheaton.
· Editorial: Foie gras follies
· Oak Park protesters may rebuff taxes in buff
- Posted by Rich Miller 4 Comments


I know that most of you are sophisticated enough to understand that politicians can't totally control the price of gasoline. But take a look at this article.

Mike Shteiwi pulled out the pump in disgust after buying just a few gallons of gas on a day when the price for a gallon of regular jumped a dime, to $3.09, in his southwest Ohio hometown.

"It's killing everybody," muttered Shteiwi, 54. "Whoever's in office now, I'm not going to vote for none of them."

With the country's gas prices averaging $3 a gallon, congressional and gubernatorial candidates nationwide are trying to turn pain at the pump into smart politics. […]

Candidates from both parties are paying attention to polls that show people attach the same level of concern to energy issues as they do to terrorism and immigration. About seven of every 10 Americans expect gas price increases to cause them or their families financial hardship over the next six months, and many expect it to be a serious hardship, according to an AP-Ipsos poll taken in early June. […]

While gas prices aren't likely to be the most important campaign issue, "what high gasoline prices do is make many Americans feel less good about the economy and their own economic situation," Asher said. "That creates a problem for the Republican."

Only a quarter of Americans approve of the way Bush is handling gasoline prices, according the AP-Ipsos poll.
How angry do you think people are about gas prices? And what price, if any, will Illinois politicians (state and federal) be forced to pay?
- Posted by Rich Miller 57 Comments


This could be nothing. Then again…

Weeks after he was interviewed by federal agents last year as part of a corruption investigation, Gov. Rod Blagojevich filed a rare revision to one of his ethics disclosures to include more personal gifts.

The move raises parallels to changes made by Blagojevich's predecessor, convicted felon George Ryan, who amended his ethics statements after being questioned by federal prosecutors. […]

n late February or early March 2005, Blagojevich was questioned by federal investigators. According to the governor's office, Blagojevich was asked about allegations made by his father-in-law, Chicago Alderman Richard Mell, that $50,000 campaign contributions were being traded for state appointments, an allegation Mell later recanted under threat of a lawsuit.

A couple weeks later, on March 15, 2005, Blagojevich signed off on an amended ethics statement for 2003. In the gifts of $500 or more section, he added four couples and one individual.
The gifters included Tony Rezko and Dick Mell.
- Posted by Rich Miller 18 Comments


Stories like this have apparently struck a nerve with the usually impossible to rile Gov. Blagojevich.

Questionable hiring practices that got two state workers fired by Gov. Rod Blagojevich still were going on months after the workers had been removed, the governor's own inspector general found.

The special treatment of politically connected job applicants continued even after Dawn DeFraties and Michael Casey were transferred out of the Department of Central Management Services in the spring of 2005, according to an investigative report obtained Friday by The Associated Press.
And this.

The administration's filing with the Civil Service Commission talks at length about DeFraties and Casey helping favored applicants. It says little, however, about how the pair knew the applicants merited special attention.

But at one point the filing does say that the special treatment was for applications sent over by ''the Governor's Office, Legislative Affairs, or other agency heads.''

When those applications arrived by fax, DeFraties and Casey would cut off the portion of the page showing who had sent it, according to the administration's filing.
And this.

The two CMS employees have been fired. The people working for Blagojevich who made the referrals and allegedly applied the pressure are still around.
And so the man who could not be ruffled finally cracks.

"Look, I'm modest. You want me to pat myself on the back? I'm not going to do that," he said.

Later, however, the governor compared himself to Lincoln during the Civil War, saying there have been "ups and downs" as he's attempted to reverse 26 years of Republican dominance in the governor's office.

"Not every military initiative from the Union Army was successful. It took awhile to kind of get that together and get it right. But the whole purpose of what they were trying to do was absolutely right, keeping the country together and then emancipating the slaves and providing freedom to millions and millions of people," Blagojevich said.
And then he blamed reporters for making his child cry.

As tensions with reporters mounted, the governor picked up his 3-year-old daughter, Annie. Moments later, she burst into tears, which the governor attributed to reporters' questions.

"I've got a baby crying here," the governor said angrily, as he handed the girl to wife Patti. "You guys are asking questions like that."
And then things took yet another bizarre turn.

After the tumult involving Blagojevich's child had settled, he was asked whether he thought U.S. Attorney Patrick Fitzgerald's probe into the administration will yield indictments before the November election.

Pausing, Blagojevich inquired why reporters weren't focusing on how the administration is "shaking things up and making people be held accountable. Do you ever ask a question like that?"
In fact, yeah, that's pretty much what all of these questions have been about.
A sideshow developed when the governor attempted to slam Topinka for daring to suggest that maybe he shouldn't bring his 3-yhear-old to a press conference.

"I was never one to do that with my son," she said, alluding to putting a child in the middle of a question-and-answer session with reporters. "I tried to keep him out of that stuff, but everyone does it their own way."
The guv shot back the following day.

"With regard to Topinka criticizing me," Blagojevich said. "You can ask her what she's thinking. I'm just going to keep being the best possible governor I can be and be like any other parent and enjoy the state fair with my kids."
To which Topinka replied:

"I'm not trying to be critical," said Topinka. "Just decide where you want to have your child in terms of politics. My way is I always kept my little guy out of it when he was small. It's just a rough and tumble game–not for little kids."
UPDATE: From a reporter friend:

Gov refused to take questions after his Veterans Care event - Rebecca Rausch told me he "still had a bitter taste in his mouth after what happened Friday."
- Posted by Rich Miller 56 Comments


Kristen McQueary snagged an impromptu interview with Speaker Madigan the other day. Among other things, she ribbed him about his rift with Democratic treasurer candidate Alexi Giannoulias.

"I think you're going to help Christine Radogno," I called out.

Later, Madigan made a point of saying he would not stoop that low to covertly help the Republican candidate in the race.

"I'm not going to help Radogno," he said. […]

I asked Madigan whether, as the co-chairman of Gov. Rod Blagojevich's re-election effort, he was concerned about voter backlash in House races should the corruption allegations against the governor gain momentum. After all, if Madigan is concerned about Giannoulias loaning money to a mobbed-up client, surely he must be worried about multiple investigations into Blagojevich's administration.

"We're aware there could be a problem. So as we work with (our candidates), we're prepared for that," Madigan said.

In other words, don't expect House Democrats to scurry for posed photographs with Blagojevich this fall.

As for serious damage to Blagojevich or his associates between now and November, Madigan said: "Oh, I don't know anything about that. There is nothing I know of, but there is smoke. Even people in the administration would acknowledge that."
- Posted by Rich Miller 32 Comments


· Miller: Stu Levine has flipped. Things are gonna get crazy real soon.
· Rezko's entire world appears to be collapsing in front of our eyes: Fund-raiser for gov sued over real estate deal
· Metro East leaders appear to change story about state response
· "The organizers of massive coast-to-coast immigrant marches tried to keep their growing national movement headed in the same direction Sunday by devising a strategy for influencing the fall elections."
· Kadner: Teachers can't pass test so state lowers the grade
· Topinka plays down effort to help at accident scene
· 'Veterans Care' Pre-Registration Under Way
· "The child sex-abuse allegations lodged against prominent Metro East attorney Tom Lakin this year continue to reverberate in the political world. Two Democratic judicial candidates running in closely watched races in Southern Illinois have returned donations they received this election cycle from the Wood River law firm founded by Lakin, recently disclosed campaign finance records show."
· Study: Rising property values outpace taxes
· Why did an Illinois Supreme Court justice try to change her testimony?
· Hospital probe nets millions in fines
· Tests on mysterious stone could help rewrite Illinois history
· Armadillos have migrated north
· Report from the Metro East:

[Topinka] walked to the plaza area outside the courthouse, shook some more hands and told the assembly her ideas on court reform and venue shopping. The Republicans nodded, the reporters scribbled and the young woman working for the opposition videotaped every word Topinka said.

The camcorder operator did not go unacknowledged by Topinka. When she finished her prepared remarks, she asked for any questions from the press - and asked "Gov. Blagojevich's roaming stalker" if she had any questions. No, the videotaper said.

"It's funny, the camcorder gets here and the governor doesn't," Topinka said, after she'd criticized Blagojevich earlier in the week for not showing up when the Metro East was hit hard by powerful thunderstorms last month.
- Posted by Rich Miller 14 Comments