The Republican National Campaign Committee has sent out at least two mailers recently claiming that 6th District Democratic candidate Tammy Duckworth supports "amnesty" for illegal aliens. Click on the images for larger pics.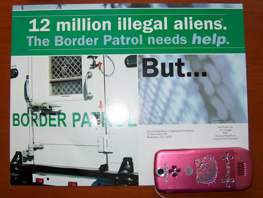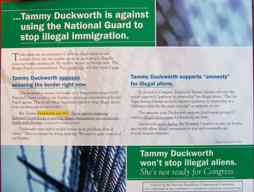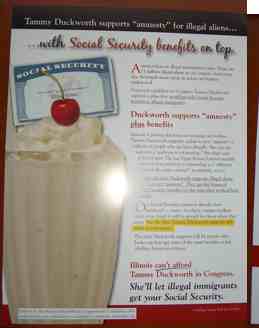 But Duckworth is responding with a very good-looking piece of mail. Again, click the pics for larger versions.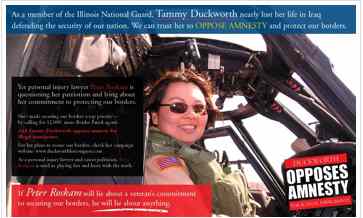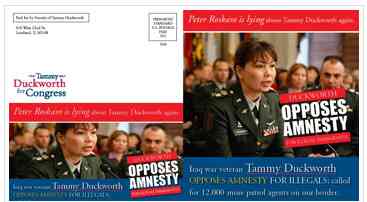 If you were wondering how the Democrats would use Duckworth's military experience to their advantage, this will certainly give you an idea.
[Hat tips (and images stolen from) all over the place: Bridget in the 6th, Moline Democratic Maverick, Austin Mayor.]
Meanwhile, the New York Times claims that Karl Rove and Ken Mehlman have settled on a national strategy for November.

They have determined that control of Congress is likely to be settled in as few as six states and have decided to focus most of the party's resources there, said Republican officials who did not want to be identified discussing internal deliberations. Those states will likely include Connecticut, Indiana, Missouri, Ohio, Pennsylvania and Washington, though officials said the battle lines could shift in coming weeks.

The White House is largely turning away from the 36 governors' races, although Mr. Rove and Mr. Bush will continue to help Republican candidates for governor raise money, party officials said. The decision has broad significance because building a foundation of Republican governors had been a main part of Mr. Rove's goal of creating a long-lasting Republican majority.

The Republican National Committee expects to spend over $60 million, which would be a record, for the midterm elections. Officials say half of that would pay for get-out-the-vote operations in the targeted states.
And then there's this.

Republicans in House races copied their party's talking points and included parts of the answers as their own for an AARP survey. The answers related to Medicare, Social Security, insurance plans and retirement. […]

Among the candidates who used the borrowed language were Andrea Zinga and Peter Roskam, both running in Illinois, Jeff Lamberti in Iowa, Chuck Blasdel in Ohio and Max Burns in Georgia.
And this.

Republican 6th Congressional District contender Peter Roskam is stepping up his campaign efforts by reserving $2 million in TV ad time for the stretch run.

The ads, which are slated to start airing Sept. 26, are designed to better position Wheaton's Roskam for the final six weeks of his nationally-significant race against Democrat Tammy Duckworth of Hoffman Estates. […]

A Duckworth spokeswoman said the campaign, which had $900,000 left as of June 30, has not reserved any ad time.

Still, voters can expect their TVs to blare negative ads in October. The Democratic Congressional Campaign Committee already has reserved $2.3 million in TV time for the race, with the National Republican Campaign Committee matching that reservation.
And this.

With the Iraq war, economy and gas prices dominating the political landscape, the traditional hot-button issues of abortion, gay rights and gun control haven't surfaced much in the 6th Congressional District race.

But that trio of thorny topics is a way for voters to quickly differentiate between Republican Peter Roskam and Democrat Tammy Duckworth.
UPDATE: Here is Duckworth's explanation for her immigration stand, which is posted on her website.

…I oppose amnesty for illegal immigrants. The immigration reform proposal that I support does not provide amnesty. Its lead sponsor, Sen. John McCain (R-Ariz.), has been adamant on that point. Instead, it requires fines, criminal background checks, and that all back taxes must be paid. Immigrants would be compelled to learn English and take courses in American culture and civics. If — and only if — an immigrant meets all of those requirements while continuing to be gainfully employed, he or she would be allowed to pursue legal status. Even then, these applicants would have to go to the back of the immigration line.
28 Comments



















































































Sorry, comments for this post are now closed.