Different outlets, very different coverage.
* Sun-Times' Oprah quote: "I would just like to say to our esteemed governor, you could sign autographs for me any time," Winfrey said when she took to the lectern. "And I love your philosophy. Thank you so much for what you're doing for the state."
* AP's Oprah quote: "You can sign autographs for me any time," Winfrey told the governor. "I pay my taxes; I help you a lot."
* Tribune's Oprah quote: There wasn't one. But the last graf was this:

But unlike Winfrey, Gov. Rod Blagojevich, State Treasurer Judy Baar Topinka and Mayor Richard Daley drew scant attention from onlookers
* ABC7:

The first debate in the race for governor in Illinois is scheduled for Monday night in Decatur. But the sparks were already flying Wednesday when the candidates crossed paths at a women's business luncheon in Chicago [where Oprah spoke].
* Decatur Herald & Review on Monday's first gubernatorial debate:

Green Party candidate Rich Whitney has not been invited to participate. Organizers said the event was scheduled before Whitney won a spot on the November ballot, and Blagojevich had said he wanted to debate Topinka alone.

Both campaigns have said they would like to hold 12 debates between Labor Day and Election Day, but scheduling conflicts have scuttled plans for at least two, including one in Southern Illinois.
IRN, the Decatur debate host, declined to invite Whitney to Monday's event after Blagojevich's campaign said it didn't want him there. "We agreed to debate Treasurer Topinka. We weren't really interested in renegotiating" to include Whitney, said Blagojevich campaign spokeswoman Sheila Nix. […]

IRN News Director Jim Anderson said Blagojevich's stance prompted debate organizers to ask Topinka's campaign about possibly debating just Whitney, but that her campaign declined.

Whitney also has been barred, so far, from the Oct. 26 Chicago debate, said WTTW spokeswoman Mary Field. She said Whitney's exclusion wasn't requested by the campaigns, but was a decision of the television station, based on his low showing in polls. Field said the station could still reconsider inviting Whitney if his standing in polls improves.
* AP coverage of the debate:

The Associated Press on Wednesday withdrew its invitation to host a debate between the candidates, saying their inability to agree on a date HAD left the news organization without enough time to make arrangements for the event.
Rich Whitney may have surpassed several obstacles to get himself on the November ballot as the Green Party gubernatorial candidate.

But now, he may have a bit more campaigning to do in order to be included in the Southern Illinois gubernatorial debate tentatively scheduled for Sept. 26.
* And what the heck is this?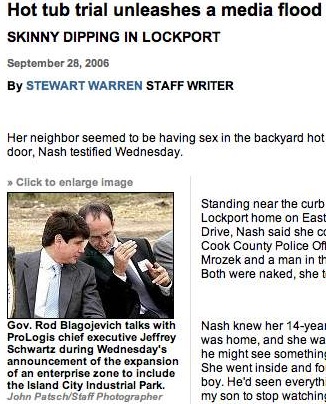 * Tribune:

Hoping to stimulate development and create jobs in Will County, Gov. Rod Blagojevich announced Wednesday an expansion of the Joliet Arsenal enterprise zone that will provide an industrial park developer tax incentives to convert 770 acres within the former arsenal site into a bulk distribution center.
*** UPDATE *** FYI, the hot tub couple were found not guilty.
34 Comments





































































































Sorry, comments for this post are now closed.