The governor's campaign has uploaded his new TV ad to its website. I wrote a little about the spot earlier this week.
And here's another new spot.
See lots more ads, interviews and raw footage by clicking the image below.

- Posted by Rich Miller 46 Comments


[Bumped up and updated]
My YouTube page is now up and running. The permalink is at the right.
I see Illinois-related videos quite often, so now I'll just add 'em to the YouTube page so you can see them, too.
You can see the page here, and if you're already registered at YouTube, you can subscribe to the videos that I post here.

*** UPDATE *** I forgot to say that I have a few new videos on the "video log." Congressman Jerry Weller and his Dem opponent speak at a candidates' forum and are asked questions by the audience. [There are now more.]
- Posted by Rich Miller Comments Off


We'll use Stu Umholtz's comments in the Peoria paper today to get things going.

Illinois lawmakers need to decide whether the state should resume executions because "we cannot simply allow the status quo to continue," Stewart Umholtz, the Republican nominee for attorney general, said Wednesday.

Former Gov. George Ryan, a Republican, halted all executions in 2000 because of concerns about a flawed capital punishment system that sometimes put innocent people on death row. Just before leaving office in 2003, he emptied death row of more than 100 inmates and commuted their sentences to life in prison.

Ryan's moratorium on executions has remained in effect during the tenure of Democratic Gov. Rod Blagojevich.

Umholtz said that as attorney general, he would advise the governor to lift the moratorium and review each death penalty case individually.
Should the moratorium be lifed? Explain.
- Posted by Rich Miller 28 Comments


This little nugget was buried way down in the piece but is more than just a little bizarre.

During an appearance Wednesday in front of the Peoria Journal Star editorial board, [Attorney General Lisa] Madigan also was asked about her campaign's investigation into [Republican opponent Stu] Umholtz's office. This summer, a Democratic Party staffer requested documents from the Tazewell County state's attorney's office.

When asked what was found, Madigan shrugged her shoulders, smiled and said, "Stu's been very nice, and we hope none of that has to be used."

She declined to elaborate.
I wonder if Umholz realizes that Madigan's statement makes him look like a tool.
- Posted by Rich Miller 13 Comments


The Daily Herald looks beyond the hot-button "old guard" patronage issues today and examines whether Todd Stroger and Tony Peraica are making valid claims. Here are two examples. There are more. Read the whole thing.

Todd Stroger claimed that "homeowners are going to pay higher taxes" if Tony Peraica is elected. It seemed a strange claim, given that Peraica, as a county commissioner, was at the forefront of beating back tax hike attempts by Todd Stroger's father, John H. Stroger, when he was president.

The claim, it turns out, is based on a June interview Peraica did for WBBM's At Issue, where he suggested altering the way properties are assessed. Currently, homes are assessed at 16 percent of market value while businesses are assessed at 33 percent. […]

During the debate, Tony Peraica claimed "our (Stroger and Peraica's) views on abortion are identical."

Not quite. Peraica is firmly opposed to abortion, while Stroger supports abortion rights. But Peraica vows that if elected, he will not change or restrict abortion in any way at county hospitals and clinics. Todd Stroger said that requires you to trust that Peraica won't issue an executive order changing access to abortion, which is true.
This is very good reporting, but nothing like it is being done by anyone else in the county board president's race.
- Posted by Rich Miller 27 Comments


Supposedly, Peter Roskam used the Tribune editorial board debate to back away from his "cut and run" comments he uttered at the last debate. But that isn't in the Trib's story.

Republican Peter Roskam and Democrat Tammy Duckworth disagreed Wednesday about everything from the Iraq war's effect on national security to airport expansion, highlighting stark differences in their campaigns in the 6th Congressional District. […]

The candidates accused each other of overstepping with negative attacks in the hard-fought race for the west suburban congressional seat of retiring Rep. Henry Hyde (R-Ill.). […]

"I have a great deal of respect for her [military] service and I have a great deal of respect for her sacrifice, [but] I don't sign on to the world view that she's adopted that somehow it's the United States that's causing a jihadist mentality," said Roskam, a state senator from Wheaton. "I don't buy it and I don't think the 6th District does either."
Meanwhile, Bob Dole is forced to climb down a bit from effusive comments he made about Duckworth.
Former Republican presidential nominee Bob Dole took issue Wednesday with Democratic congressional candidate Tammy Duckworth's use of his image and statements in a campaign flier.

The ad uses a Dole photo and quote from the March 2006 edition of Glamour magazine in which Dole said Duckworth will be "an excellent candidate for Congress."

Dole, however, said he's actually endorsing Duckworth's 6th Congressional District foe.

"If Tammy is an excellent candidate, so is Peter Roskam," Dole said in a statement. "I am supporting Peter Roskam."
Bob Dole said "I"? He didn't say "Bob Dole is supporting Pete Roskam… That's his name, 'Pete,' whether he likes it or not, it's 'Pete'"?
And Rahm Emanuel lays out the national Democratic GOTV strategy.

Key to the Dems' House strategy is picking up a hot political market segment — drop-off voters. They are sought-after micro- targets for Democrats in 2006. They are the voters who turned out in the 2004 presidential year but may well stay home in November.

"And the entire focus of our effort, God willing there are no reporters in here to make sure the NRCC [National Republican Congressional Committee] hears about it, and that means that is to focus on those people who do vote presidential but don't vote in non-presidential years,'' Emanuel said.

"And our entire resources of mail, telephone, door knocking and person-to-person contact is to that universe. . . . That's what we are doing.''
That isn't gonna be easy.
*** UPDATE *** The video of the debate can be found here. The Tribune being the Tribune, there's no way to download it.
*** UPDATE 2 *** Roskam said "cut and run" was "admittedly not" Duckworth's position.
- Posted by Rich Miller 14 Comments


I'm sure this has nothing to do with electoral politics at all.

The administration of Gov. Rod Blagojevich this month issued contracts to video and still photographers that could combine to cost the state $945,000 for the year beginning Oct. 1.

The contracts are split among eight businesses that were among 15 bidders for the work. The largest of the contracts is for up to $250,000 with Video Replay of Chicago - a company that already has been called out many times to tape the governor at public events. […]

The vendors, with their maximum yearly contract amounts, include: Video Replay of Chicago, $250,000; Tillis & Tillis of Chicago, $175,000; Plus One AV of Frankfort, $200,000; Imaginatics Inc. of Springfield, $175,000; Karen Hoyt Photography of Chicago, $75,000; Powell Photography of Chicago, $25,000; Squires Photography of Springfield, $25,000; and Heidi Brill of Chicago, $20,000. […]

News reporters control their own video. If they take it from the state without letting the public know its origin, they become just another part of the governor's public relations network.
Exactly.
*** UPDATE *** Lee Newspapers also had a story today on this subject.
- Posted by Rich Miller 16 Comments


Different outlets, very different coverage.
* Sun-Times' Oprah quote: "I would just like to say to our esteemed governor, you could sign autographs for me any time," Winfrey said when she took to the lectern. "And I love your philosophy. Thank you so much for what you're doing for the state."
* AP's Oprah quote: "You can sign autographs for me any time," Winfrey told the governor. "I pay my taxes; I help you a lot."
* Tribune's Oprah quote: There wasn't one. But the last graf was this:

But unlike Winfrey, Gov. Rod Blagojevich, State Treasurer Judy Baar Topinka and Mayor Richard Daley drew scant attention from onlookers
* ABC7:

The first debate in the race for governor in Illinois is scheduled for Monday night in Decatur. But the sparks were already flying Wednesday when the candidates crossed paths at a women's business luncheon in Chicago [where Oprah spoke].
* Decatur Herald & Review on Monday's first gubernatorial debate:

Green Party candidate Rich Whitney has not been invited to participate. Organizers said the event was scheduled before Whitney won a spot on the November ballot, and Blagojevich had said he wanted to debate Topinka alone.

Both campaigns have said they would like to hold 12 debates between Labor Day and Election Day, but scheduling conflicts have scuttled plans for at least two, including one in Southern Illinois.
IRN, the Decatur debate host, declined to invite Whitney to Monday's event after Blagojevich's campaign said it didn't want him there. "We agreed to debate Treasurer Topinka. We weren't really interested in renegotiating" to include Whitney, said Blagojevich campaign spokeswoman Sheila Nix. […]

IRN News Director Jim Anderson said Blagojevich's stance prompted debate organizers to ask Topinka's campaign about possibly debating just Whitney, but that her campaign declined.

Whitney also has been barred, so far, from the Oct. 26 Chicago debate, said WTTW spokeswoman Mary Field. She said Whitney's exclusion wasn't requested by the campaigns, but was a decision of the television station, based on his low showing in polls. Field said the station could still reconsider inviting Whitney if his standing in polls improves.
* AP coverage of the debate:

The Associated Press on Wednesday withdrew its invitation to host a debate between the candidates, saying their inability to agree on a date HAD left the news organization without enough time to make arrangements for the event.
Rich Whitney may have surpassed several obstacles to get himself on the November ballot as the Green Party gubernatorial candidate.

But now, he may have a bit more campaigning to do in order to be included in the Southern Illinois gubernatorial debate tentatively scheduled for Sept. 26.
* And what the heck is this?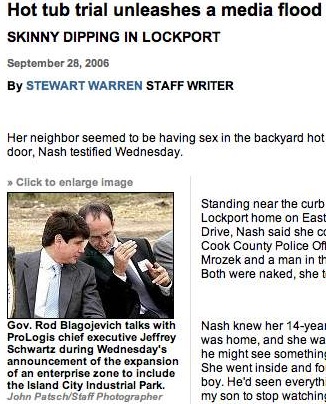 * Tribune:

Hoping to stimulate development and create jobs in Will County, Gov. Rod Blagojevich announced Wednesday an expansion of the Joliet Arsenal enterprise zone that will provide an industrial park developer tax incentives to convert 770 acres within the former arsenal site into a bulk distribution center.
*** UPDATE *** FYI, the hot tub couple were found not guilty.
- Posted by Rich Miller 34 Comments


* "A prominent Arlington Heights landscaping firm could lose millions in Chicago Public Schools contracts after district officials alleged that the company used a black-owned trucking company as a front to secure work intended for minority-owned businesses, officials announced Wednesday… The company is owned by Aidan Monahan, who since 1999 has donated tens of thousands of dollars to Democratic Party officials, including Mayor Richard Daley and Gov. Rod Blagojevich."
* Tribune's letters to the editor section gets a bit bloggy.
* Topinka press release: What's the Governor Hiding?
* Get your 2006 Election Day Advent Calendar
* Editorial: Chicago aldermen, it appears sometimes, sure have a funny idea about why businesses are in business. The latest evidence is the call by some aldermen to stop buying groceries at all Jewels, to protest the fact that not enough people are buying groceries at one Jewel.
* Another unannounced public appearance by Gov. Blagojevich: "Illinois Governor Rod Blagojevich was in Galena, Illinois Tuesday, hosting a "Going Global" roundtable discussion on foreign trade."
* Birkett touring to close campaign gap
* Open road tolling lanes to debut at 2 more plazas
* 183rd's new mission still unknown - Air Guard's chief says many units in the same situation
- Posted by Rich Miller 4 Comments