Neil Steinberg asks a question that pretty much every insider has been mulling recently.

So when do we start viewing the gubernatorial race as being not so much between Judy Baar Topinka and Gov. Blagojevich as between Topinka and Lt. Gov. Pat Quinn, who would take over the job should his boss find it necessary to, ah, spend time elsewhere?

Quinn strikes me as an affable goof, a view formed during his grass-roots consumer and environmental activist days. The sort of do-gooder who usually never gets within spitting distance of public office. He might surprise us. I have a good feeling about Quinn. Wouldn't it be ironic if both Judy and Rod end up in history's Dumpster, digging for chicken bones with meat still on them, while Quinn is putting his feet up in the governor's mansion? Stranger things have happened.
Marie from Disarranging Mine sent me this photo last week, which she snapped somewhere in Springfield. Other people are getting the idea as well.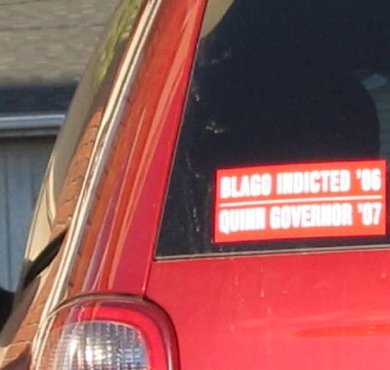 Meanwhile, the Northwest Herald has endorsed Pat Quinn for reelection. Trouble is, the paper based the endorsement at least partially on the completely false assumption that the lt. governor is elected separately.

Lieutenant governor is an independent office, and we are confident Quinn could work with a Republican or Democratic governor.
Oops.
*** UPDATE *** The meme spreads. Monday's editorial in the Belleville News-Democrat is entitled "Look beyond Blagojevich."

Quick, who's the Illinois lieutenant governor?

A lot of people probably don't know. But anyone thinking about re-electing Democrat Rod Blagojevich ought to find out.

If for any reason Blagojevich couldn't finish his term, his lieutenant governor would take over. And as the federal corruption investigation into the Blagojevich administration expands, the idea of Blagojevich being forced out of office increasingly seems a possibility. […]

Blagojevich's running- mate is Pat Quinn, a politician with a reputation for integrity. He likely would do a fine job as governor.

But do people really want to vote for a candidate who could be on his way out before he's even in? That's another question would-be Blagojevich voters need to answer.
And, perhaps reflecting his greater importance in Illinois politics, the Sun-Times put LG Quinn on Monday's front page.
68 Comments











































































































































































































Sorry, comments for this post are now closed.