Constituent Dynamics has released two new polls for the 6th and 8th Congressional Districts.
* Three weeks ago, the polling firm had Peter Roskam slightly ahead of Tammy Duckworth, 47-46. Now, they've got Duckworth edging Roskam 48-47. Crosstabs here. Click below for a larger image.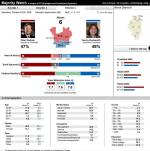 * Two weeks ago, they had Congresswoman Melissa Bean neck and neck with Dave McSweeney, 47-44. Now they've got Bean ahead by a more comfortable 50-45.
However - and this is a big however - for the second time in a row the organization has failed to poll the third candidate in the race, rendering this poll useless — The Archpundit has convinced me that the third party candidate is probably picked up in the "other" category. I'd still like to see the candidate in, but the poll is not totally useless. Crosstabs.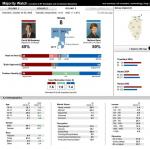 If they can't even figure out that there are three candidates in this race, you gotta wonder whether they can be believed on anything else.
15 Comments












































Sorry, comments for this post are now closed.