Our old buddy Tim Nieukirk was interviewed by CBS2 today. Click the pic for the report.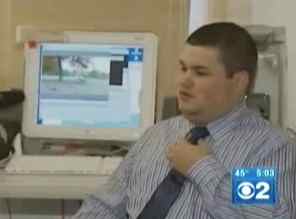 Meanwhile, Nieukirk's recently energized campaign has posted two new videos.
* "Your baby tastes horrible"

* The Man, The Myth, The Legend:

Join hands, y'all, let's all Get Nieuked.
See all of Nieukirk's "campaign ads" here. His MySpace page is here. And you can buy Get Nieuked gear here.
The nets or CNN need to step in and take this thing to the next level.
*** UPDATE *** Well, that was fast. From comments: "Brit Hume just ran the clip 'in bed with yer sister' on FOX news."
The perfect fit here would be The Daily Show.

19 Comments
























































Sorry, comments for this post are now closed.