Mayor Daley, up for re-election in a few months and doing all he can to lock up as big a majority as possible, jumps into the Obamarama fray.
Mayor Daley has decided to abandon his long-standing tradition of remaining neutral in Democratic primaries and endorse Barack Obama over Hillary Clinton in the 2008 presidential race, City Hall sources said Tuesday.

"Here you have not only an Illinoisan, but a Chicagoan who is a major contender for the highest office in the land. . . . When in our history have we ever had a favorite son this close to [the White House]? Why not get on board early?" said a Daley confidant, who asked to remain unnamed. "Hillary Clinton has been a great senator, a wonderful civic leader. But logic dictates that a Chicago mayor would be behind the Chicagoan who has taken the world by storm. Beyond that, this man has tremendous potential. The world sees that. It stands to reason that the mayor sees it." […]

As Chicago Sun-Times columnist Michael Sneed reported this week, Bill Daley has signed on as a senior adviser to Obama, who is expected to formally enter the presidential race next month.

Sources said the mayor's decision to embrace Obama was made before his brother reserved a seat on the senator's bandwagon. The mayor and Obama have been meeting about the subject for months, huddling for 2½ hours at City Hall as recently as last week.
No word yet on whether Senator Obama will be endorsing Daley.
Meanwhile, Obama's sister says a decision will be made soon.
Sen. Barack Obama will decide this week in Hawaii if he'll seek the Democratic presidential nomination in 2008, his sister said Tuesday.

"He's going to make his decision here and announce it to us. Then he's probably going to officially announce his decision once he returns," Maya Soetoro told The Associated Press.
I just got my Obama "holiday card" via e-mail.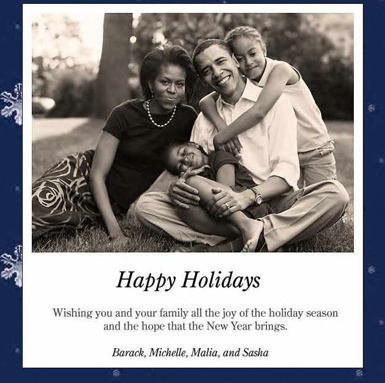 23 Comments




































































Sorry, comments for this post are now closed.