The State Journal-Register's online comment section has been a joke for quite a while. They've allowed way too many cranks and morons to post and now the place is way out of hand. In frustration, the online editor has announced a stand-down day.
…So, in celebration of the holiday spirit, here's the plan: For one day — Wednesday — sj-r.com will host the first-ever "Peace and Goodwill Reader Comments Day."

From 7 a.m. Wednesday through 7 a.m. Thursday, the only comments that will make it onto the site will be ones that follow that old saying from mom: "If you can't say anything nice, don't say anything at all."

That means no being critical, cynical, sarcastic, whiney or otherwise Scrooge-ish. We'll still allow some debate on the issues, but you're going to need to be really, really nice to each other. As always, the decisions of our screeners will be final.

Depending on how this goes, we may host more of these "Peace and Goodwill" comment days throughout the year. I'd be happy to hear your feedback — as long as you're nice about it.
Question 1: Since they didn't open comments on the declaration, I'll let people comment here. What do you think of this idea?
Question 2: We've managed to run off most of the really strange ducks from our blog, but we still get pretty intense in debates. So, would you like to see a similar one-day event like this here?
…Let's add another one.
Question 3: Should I delete more of the aggressive-type comments?
54 Comments


Click here to help buy presents for LSSI foster kids!
Rep. Paul Froehlich's item about the future of the Republican Party set off quite a debate here yesterday. Today, the Green Party responds.
Rep. Paul Froehlich in Tuesday's commentary piece, "Map to the future of the Illinois GOP" (Dec. 19) rightly calls for the Illinois Republican Party to focus more on issues of justice and equality. However, when he refers to these ideals in terms of attracting the increasing minority vote, I suspect he is talking more about a branding initiative than adopting deeply held values. And that I find disturbing.

Justice is not something that can be merely portioned out to a target audience of desirable voters, such as the Latinos or African Americans. Justice and equality are deserved by everyone, regardless of who they vote for or if they vote at all. This includes equal marriage, equal wages, access to health care for everyone, and fairness in education funding. It also means each person having a voice in our political system that is not drowned out by wealthy corporate interests.

Rep. Froehlich, justice and equality begin not with a party, but with an individual. And you can demonstrate your commitment to these ideals by throwing your weight behind bills like HB 750, which would reform education funding, and personally refusing corporate campaign contributions.

Fortunately, Froehlich and others needn't wait for the Illinois GOP or the Democrats to change their ways. The Illinois Green Party, which was created because the two major parties had largely abandoned their commitments to social justice and equality, earned enough votes in the last election to automatically be placed on the ballot in 2008. So many Illinoisans WILL have the opportunity to vote for candidates committed to these values running under Green Party banner.
Thoughts?
23 Comments


Click here to help buy presents for LSSI foster kids!
JBT was appointed to the RTA board yesterday. I like this quote.
"It is a step up," maintained Topinka after Cook County suburban commissioners voted her into a spot on the Regional Transportation Authority. "Transportation is no step down. It is what drives this economy."
More from the Tribune:
"I sat on the Senate Transportation Committee for many years," Topinka said in a brief interview. "I think it's a very interesting appointment."

Topinka has had a long friendship with former Rep. Bill Lipinski (D-Ill.), who headed the House Transportation Committee and who ensured funding for several area mass-transportation projects, including the CTA's Orange Line to Midway Airport. Lipinski now serves as a transportation lobbyist.

Topinka said it was too early to say how her appointment would affect efforts to make the RTA more Chicago-focused in relation to suburban transportation needs.

"I'm just really new at this and I'm going to look at this all over," she said.
As a former legislator, Ms. Topinka "has knowledge of state government that will be helpful" as lawmakers consider plans to boost RTA funding, said County Commissioner Tony Peraica, one of those who voted to select her for the post. "I wanted someone who would be more actively engaged. I think Judy will be," Mr. Peraica said.
Meanwhile, Gary Skoien and David Harris are vying for a seat on the Metra board.
12 Comments


Click here to help buy presents for LSSI foster kids!
Apparently, the 2002 attorney geneneral's race has never quite ended.
DuPage County State's Atty. Joseph Birkett said he is prepared to go to court within weeks to try to revive a 1995 state law that bars minors from obtaining abortions without notifying a parent.

Three months ago, the Illinois Supreme Court issued key rules that had been needed for the Parental Notice of Abortion Act to take effect.

Since then, Atty. Gen. Lisa Madigan has reviewed the issue, but has not yet tried to overturn the federal court order that has left the law dormant for 11 years.

"She's got to take a stand," Birkett said this week. "The law is now complete, so we need to move to lift the injunction. … It's not a complicated issue. It's relatively simple and straightforward."
Might this be the first shot in the 2010 AG campaign?
16 Comments


Click here to help buy presents for LSSI foster kids!
Mayor Daley, up for re-election in a few months and doing all he can to lock up as big a majority as possible, jumps into the Obamarama fray.
Mayor Daley has decided to abandon his long-standing tradition of remaining neutral in Democratic primaries and endorse Barack Obama over Hillary Clinton in the 2008 presidential race, City Hall sources said Tuesday.

"Here you have not only an Illinoisan, but a Chicagoan who is a major contender for the highest office in the land. . . . When in our history have we ever had a favorite son this close to [the White House]? Why not get on board early?" said a Daley confidant, who asked to remain unnamed. "Hillary Clinton has been a great senator, a wonderful civic leader. But logic dictates that a Chicago mayor would be behind the Chicagoan who has taken the world by storm. Beyond that, this man has tremendous potential. The world sees that. It stands to reason that the mayor sees it." […]

As Chicago Sun-Times columnist Michael Sneed reported this week, Bill Daley has signed on as a senior adviser to Obama, who is expected to formally enter the presidential race next month.

Sources said the mayor's decision to embrace Obama was made before his brother reserved a seat on the senator's bandwagon. The mayor and Obama have been meeting about the subject for months, huddling for 2½ hours at City Hall as recently as last week.
No word yet on whether Senator Obama will be endorsing Daley.
Meanwhile, Obama's sister says a decision will be made soon.
Sen. Barack Obama will decide this week in Hawaii if he'll seek the Democratic presidential nomination in 2008, his sister said Tuesday.

"He's going to make his decision here and announce it to us. Then he's probably going to officially announce his decision once he returns," Maya Soetoro told The Associated Press.
I just got my Obama "holiday card" via e-mail.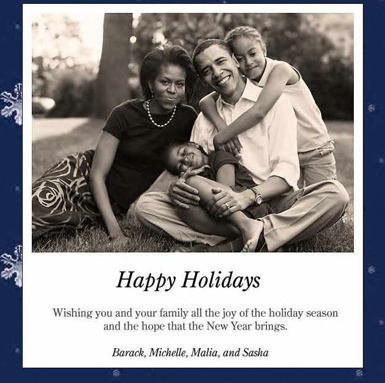 23 Comments


Click here to help buy presents for LSSI foster kids!
* Headline of the week: Iraqi with ties to Rezko escapes Baghdad jail
* Much more here
* 245 to vie for council, but 1 race in spotlight - Beavers, Jackson families facing off in 7th Ward battle - Daley to help Beavers
* Kass: Questions over bar license put on ice
* Calabrese Jr. wore wire, mob boss warned
* Daley has a beef with calorie counts - Mocks proposal for menu details at restaurants
* Sneed: Is a shakeup at McCormick Place just around the corner? Is Gov. Blagojevich poised to make some changes?
* CTA vows track repairs - Morning rush to be on time after `L' derailment
* Artworks stand alone as cameras lose perch
* Kadner: Odelson a sure winner in Jackson vs. Beavers
* Lincoln campaign banner back on display at Old State Capitol
* Cook clout watcher says she has 'lot of work to do' on county hiring
6 Comments


Click here to help buy presents for LSSI foster kids!