As I always say, a committee vote usually means little in the House, but this might be another exception to the rule. House Bill 750 - the income/sales tax increase - cleared the House Education Appropriations Committee this morning on a vote of 12-3 with six abstentions.
Here are the services that would be taxed for the first time under Amendment One of the bill, which is the version the committee approved…
* Arts entertainment and recreation.
* Personal and laundry services.
* Personal and household goods repair and
maintenance.
* Travel arrangement and reservation services
* Investigation and security services.
* Services to buildings and dwellings.
* Other support services.
* Employment services.
* Car washes.
* Landscaping and architectural services.
* Specialized design.
* Lessors of miniwarehouses and self-storage units
* Rental and leasing (not auto).
* Nonscheduled air transportation.
* Taxi and limo.
* Scenic and sightseeing transportation.
* Navigational services to shipping and salvage
* Motor vehicle towing.
* Couriers (air and local).
Senate President Emil Jones has said he won't call any tax hike for a vote except the governor's gross receipts tax, so this definitely sets up an intercameral showdown. As of a few minutes ago, Senators were still waiting on an actual GRT bill, and it's not known if they'll see one this week.
The governor, of course, has said he will veto any income and/or sales tax increase.
*** UPDATE *** Two Republicans voted for the bill in commitee, Rep. Jerry Mitchell (R-Sterling) and Rep. Roger Eddy (R-Hutsonville).
*** UPDATE 2 *** A group of gross receipts tax supporters has sent a letter to House Speaker Michael Madigan…
(W)e do not see the merit of HB 750 compared to the Governor's plan. […]

HB 750 is not an alternative to the Governor's proposal. HB 750 fails to provide funding for health coverage, and it does not guarantee funding for school construction needs.
The signatories include SEIU, the IEA, the IFT, Illinois Hospital Association and Illinois Planned Parenthood Council, among several others.
The full letter is below. Click it to see it…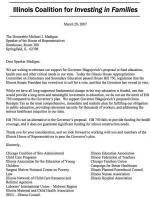 *** UPDATE 3 *** Madigan's office refused comment on the letter. HB 750's sponsor, Rep. David Miller, did have some things to say and those comments will be included in tomorrow's Capitol Fax.
*** UPDATE 4 *** Details of the governor's statewide bus tour next week have been released. [Hat tip: My dad, who was somehow sent the link.]
39 Comments




















































































































Sorry, comments for this post are now closed.