Phil Kadner had a very good column over the weekend. I say that at least partly because he beat me to this angle.
What happened was the Illinois Education and A+ Illinois have organized a Statehouse rally this week. Originally, the rally was supposed to tout the governor's gross receipts tax proposal to fund education. But the groups got some push-back, particularly from longtime tax swap supporters, and now it's just a general "let's fund education" to-do….
"We're not choosing sides here," said a spokesman for the Illinois Education Association, which actually did choose sides earlier this year by supporting the GRT. "This is a citizens rally to tell legislators the time has come to get something done." […]

Voliva said the IEA agreed to a more generic rally in support of increased school funding. It also agreed not to allow any politicians to speak.

So her organization [Better Funding for Better Schools] — which includes the Illinois PTA, League of Women Voters and a number of grass roots education advocacy groups — agreed to participate.
Here's the original IEA flyer on the rally and a close-up of the GRT language [click for larger pics]…
And here's the new IEA statement and the new A+ Illinois info on the rally…
Needless to say, this is not good news for Gov. Blagojevich's tax and spending plan. The guv's office has tried its very best to stamp out all mentions of the tax swap, but it keeps coming back up. The Illinois Federation of Teachers is currently withholding support from the spending component (along with the Illinois AFL-CIO).
There is little if any momentum for the governor's plans at the Statehouse right now. A generic education funding rally is definitely not something he wanted.
* Meanwhile, a couple of pro-business think-tank types take after both the GRT and the tax swap in an op-ed entitled "Blagojevich's tax plan is bad … Meeks' is worse"
Both proposals would have adverse, if not devastating, effects on the Illinois economy. But taxpayer advocates should hand it to the governor. His is only the second-most reckless plan on the table this spring.
And a Rockford Register-Star article includes this line about the competing proposals…
But chances of either plan passing appear slim as the plans compete for political support.
*** UPDATE *** The IEA has a new TV ad that makes no mention of the GRT. Entitled "Someday" it ends with the tagline "Tell your state Senator and Representative to support school funding reform." Click the pic to watch [.mov file]…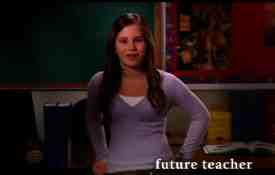 33 Comments


































































































Sorry, comments for this post are now closed.