* I told subscribers about this letter in an "extra" yesterday afternoon. The Tribune had a piece today…
Fifteen Democratic senators on Thursday demanded that lawmakers tackle school funding reform this session while gambling advocates renewed their pitch that more casinos would help solve the state's budget problems.

Sen. Kimberly Lightford (D-Maywood), who leads the Senate Education Committee, is among the coalition of black, white and Hispanic lawmakers from across the state who signed a statement saying that any talk of a "no-growth budget is off the table."
* The letter is below. Click the pic for a larger image…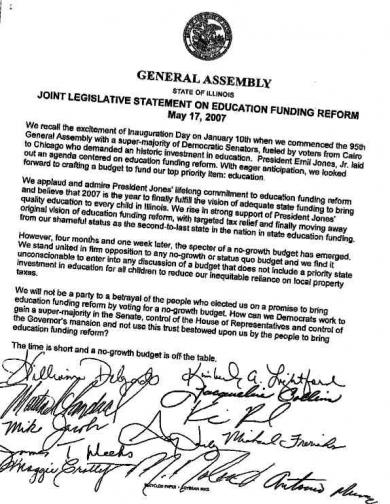 * Excerpt…
We will not be party to a betrayal of the people who elected us on a promise to bring education funding reform by voting for a no-growth budget. How can we Democrats work to gain a super-majority in the Senate, control the House of Representatives and control the governor's mansion and not use this trust bestowed upon us by the people to bring education funding reform?
* Sen. James Meeks circulated the letter yesterday. Southtown columnist Phil Kadner has some quotes…
Meeks also said the governor would be breaking a personal promise to him if he supported such a scheme.

"When I withdrew from the governor's race (in 2006), Gov. Blagojevich promised he would pass school funding legislation if re-elected," Meeks said.

"If he signed a no-growth budget, I would consider that a betrayal of his promise to me and the people of Illinois."
* Meeks also told Kadner that he is against expanding casino gaming in Illinois, saying "We may as well legalize brothels."
"Brothels are legal in Nevada, just like gambling," Meeks said. "They would bring in a lot of tax revenue, if that's the intention. Then every little school girl in Illinois could one day aspire to becoming a prostitute."
* We also have some raw audio of Meeks talking about the letter and gaming, courtesy of the fine folks at Metro Networks…
* Excerpts…
"It doesn't even have to be an income tax… Let's put all the combs that [Blagojevich] combs his hair with on eBay." […]

"He said during the summertime he was going to sell the Lottery for education. That plan seems to be gone off the table." […]

"We're at the point where somebody should start discussing how absurd the system is of waiting until the last 15 days to get serious. We've been here now for four months? Why would be just down to the serious discussion of the budget?"
* Back to today's Tribune story for a moment…
Speaker Michael Madigan (D-Chicago) is sifting through surveys aimed at determining whether his caucus would support any type of tax increase and how much his troops believe should be spent in next year's budget.
I also wrote about this survey in yesterday's Capitol Fax. Since the Tribune reported on it, here's a copy of the survey for your perusal…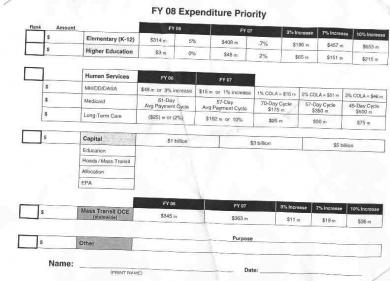 Notice that there's no category in the survey of House Democrats for the governor's health insurance proposal.
* The funniest item of the day has to be the Tribune's mockery of Gov. Blagojevich in an editorial that compares him to a Monty Python character.
36 Comments











































































































Sorry, comments for this post are now closed.