From a press release…
[Audio is now located in "Update 4″]
Deputy Governor Sheila Nix stood with other top gubernatorial staff today to announce next steps the Blagojevich Administration will take to work with the General Assembly and leaders in order to reach a budget by the end of the state's fiscal year, June 30th. The Governor wants to avoid relying on last minute budget negotiations, such as those that took place in the end of May that resulted in no budget bills reaching his desk by the end of session.

To help move the process forward, the Governor will call for meetings with all four legislative leaders at the start of each week, with additional meetings throughout the week as needed. He will also call for meetings with all caucuses at the end of each week and regular meetings with the budgeteers. He has already called for a leaders meeting tomorrow, Tuesday, June 5.

"The Governor and his top staff want to be helpful over the next few weeks to keep the dialogue going. We will all be assembled here, as we have been throughout session, to assist legislators and leaders in any way we can. It's our hope that by beginning the month of June with an aggressive schedule, the General Assembly can avoid dealing with tough budget choices too late in the process. We don't want a repeat of what happened at the end of May," said Dep. Gov. Nix.

Nix said that the Governor and top staff responsible for the budget, health care, capital and education will be on hand throughout the month of June to help legislators and leaders address any questions and issues in these key policy areas.
*** UPDATE 1 *** Rep. John Fritchey posted this graphic and the following over at Illinoize…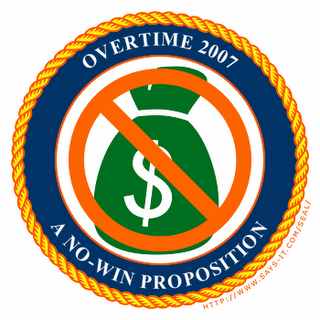 This overtime was avoidable.

The Governor attempted to lead by edict, with a plan that was doomed from the start no less. I can count on one hand, with fingers left over, the number of colleagues that feel that they have a positive working relationship with the man. It didn't have to be that way.

And style aside, he is attempting to foist an $8 billion dollar increase upon the Legislature, and the people of the State, to support programs that many experts feel are substantively unworkable.

Here is a math equation for future Governors to remember:

Bad funding plan + Unproven massive fiscal expenditure + alienated legislators + Complete unwillingness to compromise = Overtime
*** UPDATE 2 *** I haven't checked yet to see what the hotel situation is, but I imagine it might be tough to get a hotel room tonight or tomorrow…
As many as 4,000 high-end performance machines are expected to roll into the Illinois State Fairgrounds on Tuesday as part of the Hot Rod Magazine Power Tour, a seven-day, seven-city tour that is one of the largest of its kind.
*** UPDATE 3 *** Blogger Dan Curry makes this observation about Nix's announcement…
After more than four years in office, there's an exciting announcement from Illinois Governor Rod Blagojevich: He's going to keep a regular work schedule, just like the other 49 chief executives.
Curry also posts this suddenly relevant ad from the 2002 campaign…

*** UPDATE 4 *** Audio from Deputy Gov. Sheila Nix's press conference…
Make sure to listen to the end of the audio. It sounds like Ray Long of the Trib is getting mighty impatient.
*** UPDATE 5 *** A brief AP story is now up…
Let's get to work. That's the message today from Governor Rod Blagojevich's office. […]

The governor's office says frequent negotiations now can prevent another deadlock at the end of June.

But Blagojevich didn't attend the news conference announcing this proposal. And his aides would not answer questions about the governor's heated argument last week with a state senator.
*** UPDATE 6 *** I've been meaning to link to this for days, but considering Nix's press conference it seems a good fit here. Eric Zorn's Gov. Nocommentevich
*** UPDATE 7 *** Fritchey has another post up about the Nix presser, and it's quite something. "Is Rodacity a Word?"
Do NOT make the mistake that I made of listening to the Sheila Nix press conference, posted at Capitol Fax. Unless of course, you will feel encouraged by the Governor's position that we 'really need to get to work' and that we can't 'just engage in 3 day workweeks' as the Speaker has proposed.

Does the Governor's office really think that it is smart and/or productive to continue to antagonize the very people that he claims to want to work with? And especially on the issue of how much time we spend working in Springfield of all things?!
He ends with this cryptic passage…
All I know is that none of my constituents have been calling complaining about seeing me jogging in the neighborhood in the middle of the day. (Although I could definitely use the exercise.)
Zing!
90 Comments













































































































































































































































































Sorry, comments for this post are now closed.