Yet another loyal Capitol Fax Blog reader has taken his "Overtime in Hell" button on vacation. This time, to Hyannisport, Massachusetts. The reader was a guest of the Kennedy family, believe it or not, and took the photo with Sen. Ted Kennedy's sailboat Mya in the background.
I was going to ask Ethyl Kennedy to pose with the button, but I failed you there. I hope you enjoy this.

P.S. MYA is the Native American Indian word for "wind."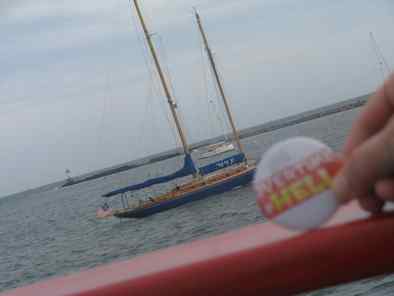 One never knows when this overtime might end, so you probably need to get your OT in Hell swag soon. All proceeds benefit Sojourn Center in Springfield.
No Comments
Be the first to comment.
Sorry, comments for this post are now closed.