* 12:57 pm - From the AP…
A group of disabled protesters is blocking access to elevators and escalators in a government office building in downtown Chicago.

A wall of wheelchairs is preventing occupants of the James R. Thompson Center from exiting or entering their offices, although people are being allowed into the building.

The protesters from the advocacy group ADAPT made a similar effort Monday, blocking the entrances to the American Medical Association in Chicago for more than three hours.

The group wanted the AMA to push for legislation that could lead to more housing options for people with disabilities.
Thanks to a commenter for the tip. For readers at the Thompson Center, is this over yet? I'll make some calls as well.
* 1:07 pm - Yep. It's still going on. I'm told it's pretty loud there, too.
* 1:10 pm - I'm told that security isn't allowing people to reenter the building, so you might want to stay in your office.
* 1:12 pm - If you were going to the Secretary of State driver's license facility on the lower level, you should make other plans. The entrance is blocked.
* 1:14 pm - Apparently, they have a permit and the coppers are allowing them to block the entrances, which is bizarre if you ask me.
* 1:38 pm - Quote of the week (public blog) is from John Laesch, a Democrat running for the second time for Congressman Denny Hastert's seat. Laesch's heavily favored Democratic opponent, Bill Foster, was just endorsed by Treasurer Alexi Giannoulias…
Laesch shrugged off Giannoulias' endorsement, calling him "just a wealthy guy who bought himself an office."

"I don't think it's a big endorsement of any kind," he said.
[Hat tip: Bridget]
* 1:53 pm - This protest may not end soon. An e-mail from a higher-up who checked out a rumor for me…
Apparently there is no timeframe. Yesterday they were at the AMA for three hours. Last time they were at the jrtc, they stayed until the building closed at 6 pm and that's what building management expects they'll do here today as well.
* 2:15 pm - Here's a photo of yesterday's action by this group, called "ADAPT," taken from the organization's website. They sealed off the entrance to the AMA…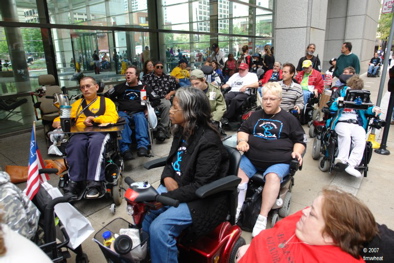 And here's some info about what the group wants, also taken from its website…
ADAPT, the nations leading direct action disability rights organization, gathers in Chicago to put the brakes on people flooding into institutions and nursing homes. Illinois ranks 41st in providing options to expensive facilities and has a history of being one of ADAPT's ten worst states at providing home and community alternatives. Rather than progress toward integration and choice, Illinois Governor Blagojevich has failed to reasonably support Money Follows the Person legislation and is planning to reopen an institution for people with developmental disabilities.
* 4:16 pm - An e-mail just arrived from the US Attorney's office…
Please find attached the Answer of the United States to Petition for Rehearing or for Rehearing En Banc in U.S. v. Warner and Ryan that was filed today in the 7th Circuit U.S. Court of Appeals.
* 4:19 pm - From a higher-up at the Thompson Center…
Illinois State Police is requesting that employees use emergency stairways to exit the building. And, protesters just got a second wind.
Irony of all ironies, this means that disabled employees may be trapped.
* 5:24 pm - The protesters are still outside, but are no longer blocking the entranceways, so state employees can leave without using the stairs now.
* 5:28 pm - From the Not Dead Yet blog, which has also been covering the protests today…
Latest news: This just in from Diane Coleman:

The negotiations were a success.

1. The governor has agreed to meet with ADAPT by no later than October 17th.
2. There will be no re-opening of Lincoln Developmental Center as a residence for people with disabilities during the present administration.
3. Rahnee Patrick will be an ADAPT liaison on the Governor's "Money Follows the Person" Advisory Committee.

(caveat - I got all this in a rushed phone call with lots of background noise so there might be some details slightly off that will be edited later.)
68 Comments











































































































































































































Sorry, comments for this post are now closed.