* An investigation of a "major fundraiser" for Gov. Rod Blagojevich who was also a member of the governor's transition team came up empty. But the investigation came under investigation…
A state Medicaid fraud probe into a major fundraiser for Gov. Rod Blagojevich was fraught with complaints from career investigators that they were hindered by political interference during their three-year case, a Tribune investigation has found.

The first investigator on the case reported that he got a call from his boss, the state's top pharmacy regulator, asking him to do a favor for the fundraiser, a Joliet drugstore owner who helped get the regulator his job.

In the months that followed, other investigators complained that a proposed audit was scaled back, that an investigative subpoena was stalled and that they suspected the pharmacist was forewarned of their strategies, according to the former senior assistant attorney general who oversaw the Medicaid probe.
* Harish M. Bhatt is the pharmacist in question…
As a member of the governor's transition team, Bhatt said, he put forth the names of Indian-American professionals suggested from within that community to fill state posts. Two of those he recommended became members of the state's Board of Pharmacy, and another became the director of drug compliance for IDFPR, the state's top pharmacy regulator.
* That regulator recommended by Bhatt is apparently Yashwant Amin, who the Tribune claims "took over the top regulator's job in September 2003 with the responsibility of overseeing the agency's staff of seven pharmacy auditors."
A month after Amin was appointed…
"[Veteran auditor James F. Thorns] stated that on Friday, Oct. 3, 2003 Thorns received a phone call from Amin, Thorns' boss," State Police Special Agent Mario Mollo wrote in an investigative report obtained by the Tribune. "Amin told Thorns that he had a 'good friend' and Amin wanted to know what Thorns could do to help his friend.

"Thorns asked Amin what friend he was alluding to and Amin told Thorns his friend's name was Harrish [sic] Bhatt. Amin told Thorns that he talked to Bhatt after Thorns' visit to Basinger's Pharmacy on Friday, Sept. 5, 2003."
* Amin flatly denies that statement by Thoms, who died in 2006. This is the response from the Blagojevich administration…
"It sounds to me like all you have is some unsubstantiated allegation from a dead guy," [IDFPR spokeswoman Susan Hofer] said.
Actually, no. As the Tribune article notes, some people who are still very much alive are not happy about the way that whole thing went down.
* Related…
* The Association of Indian Pharmacists in America recently held their 14th annual banquet at the Holiday Inn Express in Elmhurst. This event was attended by well-known celebrities, including Gov. Rod Blagojevich and spiritual leader Sri Sri Ravi Shankar, along with over 600 members and invited guests., according to an organization press release.

"AIPhA has made significant gains in the political arena, having earned newfound respect and co-operation with a plethora of state representatives," the release added. "Through its efforts, AIPhA has brought government officials to the table and has opened dialogues never before possible. Even now, AIPhA is preparing itself to work with the state on many issues including measures to: increase access to pharmaceutical care to every citizen of Illinois; enact legislation that will properly monitor and control Pharmacy Benefits Managers' irregular and incoherent policies that have financially crippled the state and pharmacies alike."

* "The Association of Indian Pharmacists in America (AIPHA) supports Illinois Covered as the most comprehensive plan proposed to date to provide health insurance to all Illinoisans, and the Gross Receipts Tax proposal to provide the funding necessary to successfully implement the program," said Harish Bhatt, Executive Director of the AIPHA.

* Three days of lavish festivities will ring in the 57th Indian independence day on Aug. 15 in Chicago with the Indian American community inviting Bollywood stars Sanjay Dutt and Madhuri Dixit as Grand Marshals.

Federation of Indian Associations (FIA) president Raghu Nayak said the two stars will join Illinois Governor Rod Blagojevich. […]

Harish Bhatt, parade chairman, said this year the FIA expected 40 floats showcasing India's traditions, culture, costumes, religions, languages, music, dance and cuisine.
* And a photo of Blagojevich with Bhatt…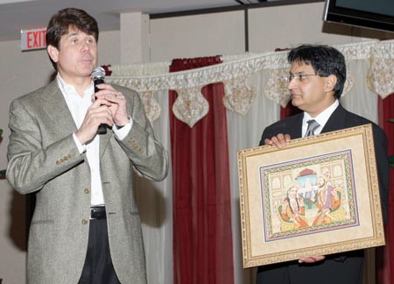 23 Comments




































































Sorry, comments for this post are now closed.