I was in an auto accident Saturday afternoon. We were heading to Chicago to see the 50th anniversary concert for the Old Town School of Folk Music during that big ice storm. Just north of Pontiac, I hit the slickest patch of ice I've ever seen and wound up in the median ditch. Oops.
We were both wearing our seat belts so neither of us was hurt beyond some minor bruises, even though I did total the car. Five minutes after our wreck, a car driving south on the frontage road hit an ice patch and flipped four times. The driver was apparently not wearing his belt and he was thrown from his vehicle and died almost instantly.
Usually, I like to keep my private life private. It's really none of your business what I do or what happens to me when I'm not working. But I've been thinking all week that maybe if I show you a photo of my car, it'll convince some of the recalcitrants out there to wear their freakin' seat belts, so here it is…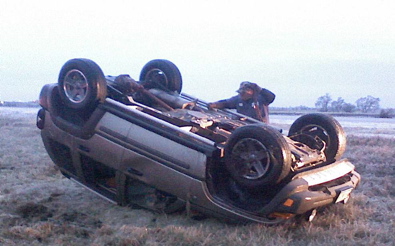 Again, we weren't hurt other than a bit of soreness. It could have been much worse if we were stupid enough not to wear our belts.
So, on to the question: Do you ever go beltless? Why? Also, do you have any friends or family members who refuse to wear their belts? What's their excuse?
138 Comments





























































































































































































































































































































































































































Sorry, comments for this post are now closed.