* Remember during the 2001 holiday season when Corinne Wood was running for the GOP nomination for governor? She ran a TV ad of her sitting in what I remember was her beautifully decorated home, wearing a red dress. I don't remember all she said, but she ended with something like: "And have a merry Christmas"
Pundits jibber-jabbered over the appropriateness of wishing voters "Merry Christmas" in a political ad. Some were shocked, as I remember it, some were underwhelmed with Wood's presentation.
Well, the extremely early Iowa caucuses have prompted several presidential candidates to run their own holiday season ads. Let's look at some of them, shall we?
…Adding… As I write this, there's a slight problem with YouTube. Just hit the "play" button and the videos will load.
* There's something about Mike Huckabee that I really like. Yeah, I know there are issues with his background, but the man is a born communicator. Still, anyone who knows anything about bigtime television ads knows that every tiny detail is taken into consideration. So it bothers me that Huckabee would so obviously lie that there is no Holy Cross in this spot when his TV Cross is as visible as that gigantic Cross near Effingham off of I-57. Anyway, here's the spot…
* Giuliani wishes for "Peace with strength" and "secure borders" in his ad, which is a bit weird, but here it is…
…Adding… I used the wrong ad. LOL. Oops. Here's the "real" one, sans pentagram…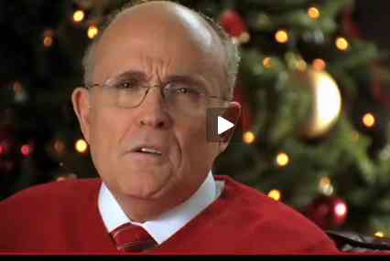 Sorry about that, and thanks to a commenter for setting me straight. That ain't always easy. :)
* Obama's is next. Is that the word "Christmas" in a liberal Democrat's ad? What will the atheists say?
* And, finally, Hillary Clinton, alone with her presents…
Thoughts?

55 Comments




































































































































































Sorry, comments for this post are now closed.