Christmas should be a joyous occasion, but sometimes life throws you a nasty curveball.
* My brother Doug lost one of his best friends this week. I feel terrible for my bro. I wish I could hug him right now, but he lives in Texas.
* Rockford Mayor Larry Morrissey just had a baby, but the little guy had all sorts of problems…
The baby boy born prematurely 10 days ago to Mayor Larry Morrissey and his wife, Stacy, suffers from a rare heart defect and a chromosome disorder that likely will result in moderate to severe mental disabilities and other physical challenges for the child.

Michael Joseph Morrissey has a rare heart defect known as Ebstein's Anomaly, the mayor said Monday in a letter to the City Council. The tricuspid valve on the right side of the heart is misplaced, making it difficult for blood to be properly pumped through the heart, oxygenated and distributed through the infant's body. After performing genetic tests, doctors also discovered the baby has a chromosome abnormality called an "18q deletion."

"Right now, baby Michael is hanging in there, but he is in a very tough fight, and he has already been through a tremendous struggle," Morrissey said in the letter. "We appreciate and cherish every moment we have with our baby."
This is a photo of Michael and his mom…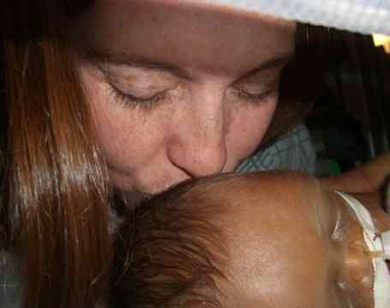 * And then there's my friend Brian Cross. Brian's wife Sandy died shortly after giving birth to their baby girl, Kennedy Catherine. KC is doing fine, and Brian is doing his best to carry on, but his heart is broken. So is mine.
Here is little KC…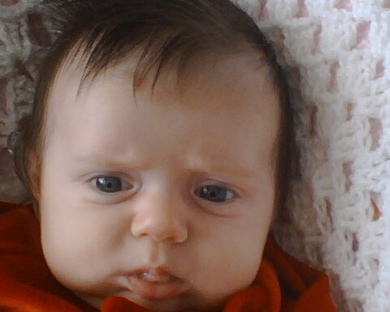 Info on KC's trust fund…
Kennedy Catherine Cross Trust Fund
c/o Chase Bank
11211 Cermak Road
Westchester, IL 60154
* And then there are my friends at the Daily Southtown, including my longtime editor Ed Koziarski, who are facing the grim reality of unemployment in the new year because of staff cutbacks, and my friends at the Sun-Times who might get laid off next year. Chin up, everybody, and don't hesitate to call if you need help.
I'd also like to say that it's been an honor to work with Koziarski over the years. He's a great guy and I'm gonna miss him terribly.
Sorry to be such a downer on Christmas, but keep all these people in your thoughts and prayers, please. Thanks.
No Comments
Be the first to comment.
Sorry, comments for this post are now closed.