* 1:17 pm - AP: Kelly to remain free and was ordered to get treatment…
Gov. Rod Blagojevich's chief campaign fundraiser pleaded not guilty to federal tax charges Friday and was allowed to stay free on bond provided he gets treatment for his gambling problem.

Christopher Kelly, 49, a roofing contractor who was Blagojevich's chief fundraiser in both of his campaigns for governor, appeared before U.S. Magistrate Judge Sidney I. Schenkier to enter his not guilty plea.

* 1:39 pm - Kelm & Kirk at WMAY radio have recorded one of the songs that won Eric Zorn's parody songwriting contest. "Get packin', Rod Blagojevich" was written by John McHugh and is sung to the tune of "God Rest Ye Merry, Gentlemen"…
[audio:KELMKIRK.mp3]
Get packin', Rod Blagojevich
The state's in disarray
The Tribune wants you unemployed
At least by Christmas Day.
The TV pundits want your head
Could there be pay to play?
Oh, tidings of comfort and joy
Save Illinois!
Oh, tidings of comfort and joy.

Good riddance Rod Blagojevich
Your Elvis look's inane,
The Senate's mad, so's Lisa's dad.
You drive us all insane.
Our transit's broke, the state's a joke,
The Tollway's one big pain.
Oh, tidings of comfort and joy
Save Illinois!
Oh, tidings of comfort and joy.

Good luck old Rod Blagojevich
The feds have quite a place.
Fitzgerald's poked his nose around
And if he has a case,
George Ryan's moving stuff around
Creating extra space.
Oh, tidings of comfort and joy
Save Illinois!
Oh, tidings of comfort and joy.
* 1:52 pm - 3rd Congressional District Democrat Mark Pera has a new mailer that whacks incumbent Dan Lipinski for siding with "Big Oil." Click the pic for the full mailer…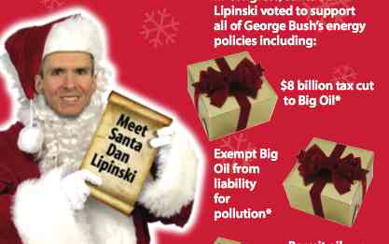 By the way, some of the Daley people are much more worried about Jerry Bennett's Democratic candidacy in this district than Pera's. Bennett has lined up a ton of suburban mayors and that's grabbing plenty of attention.
* 2:17 pm - The IL GOP has announced the schedule for its "Governor For a Day" contest winner, Mike Messuck…
GOVERNOR FOR A DAY SCHEDULE
Wednesday, December 26, 2007

9:40am
Arrive Kiva Day Spa
196 East Pearson Street, Chicago

10am
50 minute Deep Tissue Massage for Mike Messuck
Manicure for Ms. Messuck

11:30am
Lunch at RL – Ralph Lauren Restaurant
115 E. Chicago Ave., Chicago

Free time to browse Michigan Avenue

2pm-5pm
Metropolitan Limo Tours
Driver will meet Messucks at the Wrigley Building circle
410 N Michigan Ave., Chicago

7:30pm
Chicago Black Hawks vs. Nashville Predators game
United Center, 1901 W Madison St., Chicago,
They've included Messuck's daughter in the festivities, which may end up being characterized as an unnecessary cheap shot at the guv's family.
UPDATE: From a pal at the IL GOP…
We allowed Mr Messuck to bring a guest - he chose his daughter. Simple as that.
28 Comments



















































































Sorry, comments for this post are now closed.