[I've bumped this to the top and made it the QOTD. Instead of a question today, let's send Rep. Watson our best wishes and our hopes for his speedy and safe return. Thanks.]
* Rep. Jim Watson sent me an e-mail frome Iraq this week and he told me yesterday that I could post it here. Watson is with the U.S. Marine Corps 3rd Civil Affairs Group in Fallujah.
Bethany Jaeger did a brief update on Rep. Watson at Illinoize this week. Watson was intending to blog at Illinoize himself, but he explains why that may not be possible…
Greetings from beautiful Fallujah. Things are going well here. I don't think I will be able to blog because I doubt I will have the time to do it justice, but I sincerely appreciate the offer. Seems like most of my spare time is spent on e-mails from the office or calling in to check on things.

I also couldn't blog because of the classified nature of the information that I handle. What I can tell you is that I am working on governance… I analyzed the three key pieces of legislation that recently passed the Council of Representatives: the FY08 budget (which is about $45-50 billion, yet only 12 pages long), the Amnesty Law, & Provincial Powers Law (which defines relationships between different governing bodies). Have given briefs to Marine Commanding General and that was certainly interesting.

Attended the Fallujah City Council meeting yesterday … felt like I was back in Springfield. Actually they have made amazing progress when you consider that 8 months ago the Marines had to repel an insurgent attack on the council meeting and the previous two council leaders were assassinated. Yesterday could have been a council meeting anywhere (with the exception of the Marine presence). Hope all is well in Springfield & I appreciate your website as it helps keep me abreast of the scene. Take care, Jim
Stay safe, man.
* Bethany also had this photo of Watson…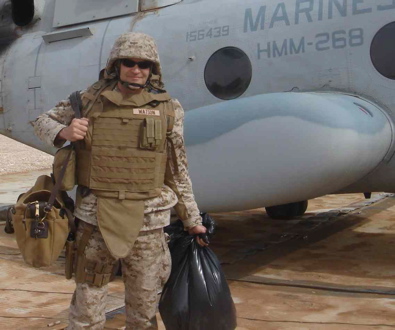 * And this explanation…
What's in the bag? Watson said it held some of his gear. [Ben Jackson in Watson's legislative office] said Watson replied, "Hey, you have to work with what's available around here!"
As Rep. Watson said, he's checking the blog. So you can use this opportunity to wish him well in comments.
68 Comments











































































































































































































Sorry, comments for this post are now closed.