* One thing I hear a lot from the governor's allies and flaks is, "I don't know why you don't trust us." I usually just chuckle and walk away, but they do need to be reminded of the depth of mistrust they sow on an almost hourly basis…
Earlier this year, lawmakers passed a mass transit funding law that promised more money for downstate bus and public transportation systems.

They are still waiting on the money.

As part of the Chicago transit bailout law approved in January, lawmakers also threw in $50 million in new funding for downstate systems with the goal of boosting the amount the state reimburses them for expenses from 55 percent to 65 percent.

The increase would allow some existing downstate transit systems to expand their routes and services and would enable other communities to create new systems in areas that aren't served by public transportation. […]

When asked on Tuesday about the status of the proposed funding, Katherine Ridgway, a spokeswoman for Gov. Rod Blagojevich's Office of Management and Budget, would only say the administration is reviewing the numbers.
* The Blagojevich administration has been pulling stuff like this since Day One. Last year wasn't the first time a budget deal was broken. Blagojevich broke one in the summer of 2003 - his first year in office. The governor negotiated and agreed to a budget and then vetoed out a bunch of stuff after the GA had passed the legislation and left town.
It's been all downhill since then.
* The big issue now is the capital plan. Last year, the governor vetoed almost all House Democratic line items from the budget, and, as you are well aware, the Senate refused to override the vetoes. Now, the governor believes that the House Dems should just trust him to sign a capital bill without changes and distribute the funds in an even-handed manner.
"Oh, sure we'll do it," they always say, with a dismissive wave of the hand. "He'll have our word."
And that word means what, exactly?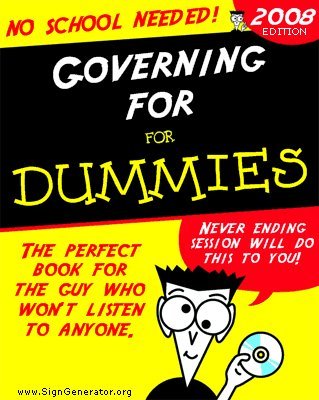 25 Comments










































































Sorry, comments for this post are now closed.