* Here are a couple of photos courtesy of Metro Networks' Ben Yount from the tunnel under the Capitol Complex during last night's tornado evacuation…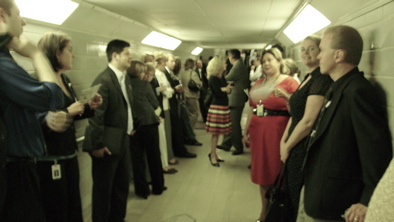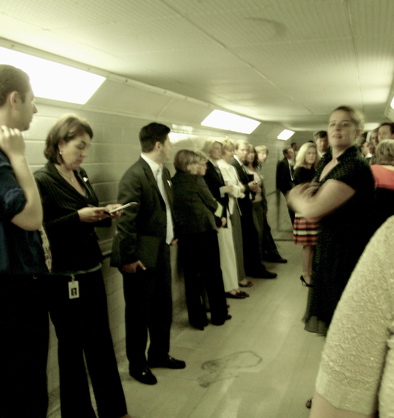 * Bethany Jaeger had this onsite report….
We all had to head to the basement of the Statehouse, where tunnels connect buildings on the Capitol complex. Amanda Vinicky, reporter for WUIS public radio station out of the University of Illinois at Springfield, caught up with House Speaker Michael Madigan in one of the tunnels. We listened to her audio file. She asked the speaker about the status of the budget, the leadership style of the governor and the lack of trust plaguing the democratic process.

Madigan's advice for others was to consider the past five or six years — and to "prepare for the worst."
* Bethany's photo….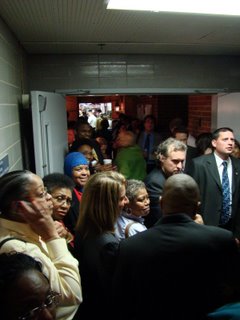 * Listen to Amanda's recording of the impromptu Speaker Madigan interview by clicking here.
* The governor stayed in his office during the evacuation…
Blagojevich joked about staying in his office during the tornado warning saying, "Well, with all those lawmakers downstairs, I was a lot safer up here."

The governor was actually in a safe area when the tornado warning occurred, said his spokeswoman, Rebecca Rausch.
* And some complained…
Rep. Bill Black, R-Danville, announced that he was glad everyone was safe.

"But if we are to use the tunnels in the future for an evacuation because of severe weather, I would urge those responsible to study what went on tonight. It was extremely hot down there. … There was no water, there was no ventilation," he said.

"I appreciate the fact that we were safe, but I was concerned about some people being overheated. No water. No automatic external defibrillators. No nurse. No medical attention if it'd come to that, and quite frankly, I'm not even sure who was in charge," Black added. "I think we can prepare a little better than what we were today."
* Related…
* Tornado sirens halt lawmakers in Springfield

* State Capitol evacuated due to tornado threat

* Storm sweeps through Ill.; lawmakers run for cover
13 Comments






































Sorry, comments for this post are now closed.