* 10:23 am - Uh-oh…
Levee breaks in Lawrence County near the Indiana line in southern Illinois are forcing evacuations.

Officials tell the Lawrenceville Daily Record that an early morning levee failure along the Embarras River is forcing the evacuations of portions of eastern Lawrence County.

The evacuation apparently involves about 200 homes, and the flooded area so far is mostly farmland and prairie.

Officials also say another levee broke along the Wabash River near Westport.
Track the events at the Lawrenceville Daily Record and at the local TV news outlet.
* 10:46 am - Tomorrow's leaders meeting is scheduled for 10:30 at the Thompson Center. Kevin will be covering this one, so we won't have to wait around for updates.
* 11:19 am - From a press release…
Governor Blagojevich says state supporting flood response in southeastern Illinois after levee breaks

IEMA, IDNR and ISP on site in Lawrence County to assist local response agencies, ensure public safety

SPRINGFIELD – Gov. Rod R. Blagojevich today directed the Illinois Emergency Management Agency (IEMA) to coordinate with local emergency management officials in southeastern Illinois to ensure public safety after levee breaks along the Embarras and Wabash rivers forced the evacuation of people in the Lawrenceville and Westport areas.

"I've directed the Illinois Emergency Management Agency to work closely with local officials to make sure they get whatever assistance necessary to protect people in this area," said Gov. Blagojevich.

Early Tuesday morning, levees on the Embarras and the Wabash River broke sending flood waters into areas east of Lawrenceville and the Westport area. IEMA dispatched a regional coordinator to the area to work with local emergency management officials and determine if state assistance is needed. Conservation police officers from the Illinois Department of Natural Resources (IDNR) assisted with the evacuation of 14 people yesterday in Lawrence County and conducted welfare checks throughout the night and this morning. In addition, officers from the Illinois State Police (ISP) are assisting with safety issues, and an ISP airplane was used this morning to conduct a flyover of the area to assess the extent of the flooding.

Following heavy rains over the past week, floodwaters have risen along several rivers in Illinois. IEMA officials are in close contact with emergency managers in several counties to determine needs for state assistance. In addition to the assistance provided in Lawrence County, state emergency response assets have been provided to the following counties to aid in their flood assistance efforts:

o Cass County – a crew of six inmates from the Illinois Department of Corrections (IDOC) sent to assist with sandbagging.
o Mercer County – pumps from the Illinois Department of Transportation (IDOT).
o Menard County – pumps from IDOT
o Douglas County – 30 barricades to assist with traffic control.
* 11:29 am - More serious flooding on the way…
The National Weather Service is predicting crests of 10 feet above flood stage and higher over the next two weeks in Hannibal, Canton, Louisiana and Clarksville in northeast Missouri and at Quincy and Grafton in Illinois. That's considered major flooding and would near record levels reached in 1993.
Oy.
*** 11:52 am *** State Rep. Roger Eddy (R-Hutsonville) is not usually one to pop off, and he mostly kept his cool when we talked a few minutes ago. But he's becoming ever more frustrated that the flooded areas of his southeastern Illinois House district are not getting the same attention from the state that the folks across the border in Indiana have received.
Flooded areas of Indiana have already obtained a federal disaster declaration. In contrast, Illinois has yet to declare its side of the border a disaster - a step that has to be completed before the feds can step in.
Also, Indiana's governor has personally toured the impacted areas on his side of the border. But when Eddy talked to an official with the Illinois Emergency Management Agency he was told that it "doesn't make any sense for the governor to be down here at this time."
"The people down here are going to perceive that he just isn't engaged," Eddy said of Gov. Blagojevich.
Eddy did say that some localities were getting some much-needed help with immediate concerns, and he said he was very grateful for that. But he added that the paperwork process needs a thorough review. Too much emphasis was being placed on getting local officials to sign off on documents when they were out on the front lines battling the flooding, Eddy said.
"We have a flash flood," the legislator said, "We need flash paperwork."
"I don't know why Indiana can have a declaration in less than a day and now we're three or four days ino this and we're just seeing this paperwork."
*** 12:36 pm *** Rep. David Reis sent in this photo of a levy break just beyond his back yard…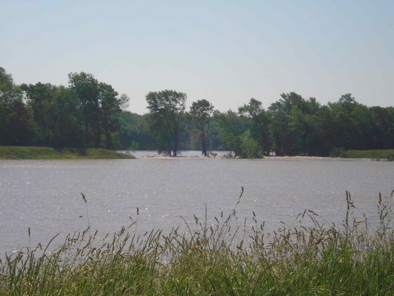 *** 2:12 pm *** For some perspective, I phoned Mike Van Dorn, the editor of the Lawrenceville Daily Record.
Van Dorn wasn't much impressed with Rep. Eddy's comments about Blagojevich, claiming that's his usual schtick back in the district - to blame the guv for everything.
The editor said that about 200 families have been evacuated from their homes, adding, "As far as i know the state response has been excellent." Van Dorn hasn't been out and about himelf, but has been getting reports from his reporter on the beat.
The Illinois Emergency Management Agency "is on top of it," Van Dorn said, claiming, "They're doing everything they can." However, he did say that IEMA is "short of manpower."
*** 3:07 pm *** Sen. Dale Righter has been out all day dealing with the flooding in his district, but from what I gather the worst is yet to come. A couple of rivers in the area could flood over each other and cover an area of around 50 square miles, Righter said. Yikes.
Now, much of that is agricultural land, but that's still pretty darned huge. The local airport is expected to be underwater this week, and one town's water treatment plant is already totally submerged.
Sen. Righter credited local agencies and the local IEMA people for working very hard.
But, Righter said, the further up the ladder you get, the less contact and involvement there is. He said there was a problem getting answers out of Springfield, and that the response out of IEMA headquarters "could be more prompt."
With flood warnings along the Mississippi River and the deteriorating situation in Southeastern Illinois [and elsewhere], IEMA and the rest of the Blagojevich administration certainly has a lot of work ahead. I hope they're up to it.
* Also, we're working on figuring out how people can donate to flood victims or lend a hand in other ways.
*** 3:55 pm *** A state disaster has finally been declared…
Gov. Rod R. Blagojevich today declared six southeastern Illinois counties state disaster areas due to widespread flooding and severe storms that have forced evacuations and closed roadways. The state disaster declaration makes available a wide variety of state resources that can help affected communities respond and recover from flooding. Counties included in the Governor's declaration are Clark, Coles, Crawford, Cumberland, Jasper and Lawrence. […]

"While we're very fortunate that Illinois hasn't been hit as severely as some other Midwestern states, the flooding in southeastern Illinois is devastating to everyone affected and we're prepared to provide these counties with any state assets and personnel they need to respond and recover from this event," said IEMA Director Andrew Velasquez III.
77 Comments






































































































































































































































Sorry, comments for this post are now closed.