* Cokie and Steve Roberts praise governors…
In a welcome relief from the politics of blaming the other party for the inaction that infests Washington, the men and women who occupy the nation's statehouses are noticeably more interested in finding solutions, many of them wonderfully wonky, to the problems facing their citizens.
* As is typical for DC types, they visited a meeting of the National Governors Association and declared governors to be superior. Well, they really need to visit Illinois…
After eight years of helping homeless and drug-addicted mothers, A Safe Haven sits on the brink of oblivion. Eighty women and 40 children may be kicked out of their apartments beginning Thursday if lawmakers don't restore money taken away by Gov. Rod Blagojevich. […]

"This is the first time I've ever experienced anything like this. The cuts have been so drastic," said Sterling Gildersleeve, executive director of the Alsip facility, which may begin separating families as soon as Thursday. […]

Repeated calls to the governor's office for comment weren't returned.
The story concludes with a quote from a former addicted mother who was hired by the center…
"We're citizens, and we need help. It's like our lives (aren't) important."
Those lives aren't important. Not to the people who run Illinois, anyway.
* A rally yesterday attempted to draw attention to this particular issue…
More than a thousand demonstrators gathered at the James R. Thompson Center on Tuesday, calling for state lawmakers to override Gov. Rod Blagojevich's veto of $43 million in funding for alcohol and substance abuse recovery services. […]

Protesters hoped to get the attention of Senate President Emil Jones (D-Chicago), who is ultimately responsible for re-convening the Senate in Springfield and following the House's suit in casting an overriding vote.

Jones was not immediately available for comment.
The Blagojevich administration Tuesday continued to say little publicly about how it plans to deal with cuts to the state budget.
* Nobody wants to talk to the press, but they're still ginning up the hatred. Check out a couple of photos from yesterday's protest rally. Gee, I wonder who might've sponsored these guys?…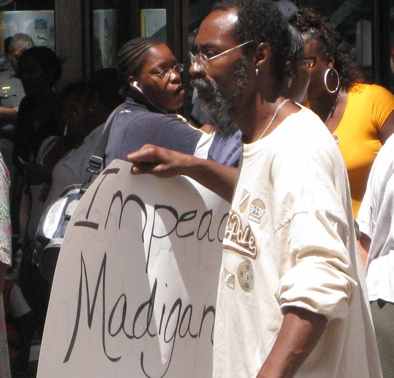 So helpful. Seriously. Way to go, guv.
* More about the cuts were in a letter from TASC Inc. Belleville….
The Senate can sit idle as 42,000 people are kicked out of care, as current waiting list of 7,500 is doubled and as public safety decreases. Or, the Senate can restore the state's budget for treatment, and avert the costly consequences to families, communities, and taxpayers.
Methinks they'll sit idle.
* Meanwhile, Gov. Blagojevich has never been to a state park in his entire life, and it shows…
A coalition of conservation and environmental groups called Tuesday for Gov. Rod Blagojevich to put off implementing $14 million in budget cuts for the Illinois Department of Natural Resources. […]

"We're calling on the governor not to make any cuts until after (the Nov. 4 election) and to keep the budget where it is right now," said John Gaudette of the Illinois Environmental Council. […]

"The Department of Natural Resources is already at a skeleton level," he said.
It's a hollow shell. We have a DNR in name only…
The cuts will bring the department's budget to $52 million, down from $108 million in 2004, Osmond said.
* Mothers and children are about to be kicked out of treatment centers, DNR is in meltdown mode, and this is all we have to show for the past month and a half…
Construction will start back up today on several local projects after state officials fixed a mix-up in the current budget.

Gov. Rod Blagojevich on Tuesday signed into law Senate Bill 1130, which lawmakers approved two weeks ago. It clarifies state budget language that his administration said had stalled 39 construction projects statewide.
Hooray for progress!!!
* Related…
*** UPDATE *** Senate President Emil Jones talked to some reporters today. Of course, nobody apparently asked him about the no-growth budget bills still sitting idly in his chamber…
"We have to have a balanced budget," Jones said. "I'm not going to get involved in playing silly games and giving false hopes to people when the money isn't there. I support many of the programs that cut. But we in the Senate also supported the revenue to support the budget. That's why we passed the revenue to support the budget in May. Now, if the House was genuinely sincere about passing those programs, then they in turn would pass the revenue to support it."

Jones compared the House's approval of the budget without enough revenue to support it to "check kiting."

"The House is good at check kiting. Send them a big check, knowing dog-gone well the check is going to bounce. And that's where we stand right now."

Jones also insisted the Senate's absence from Springfield to deal with the budget had nothing to do with having to confront the pay raise issue head-on if he returned. The Senate has two legislative session days left to reject a raise that would boost the salaries of lawmakers and many other state officials salaries by about 7.5 percent by next summer.
81 Comments


















































































































































































































































Sorry, comments for this post are now closed.