[This post was bumped up from last night to today.]
* The governor was in Dallas, Texas yesterday. NBC 5 Dallas reporter Omar Villafranca fills us in…
So why is the highest elected official of Illinois and an admitted Chicago Bears fan visiting Dallas Cowboys practice?

Money.

The Governor was in town for a fundraiser in Texas and decided to swing by Texas Stadium.

I chatted the Gov up about his trip. We talked sports and then the Chicago Cubs came up. I mentioned that Dallas Mavericks owner Mark Cuban was very interested in buying the North Side's Team…just to see what he'd say.

Get this….Governor Blag said he met with Cuban Tuesday! What did they have to talk about? Why would the acting Governor of Illinois talk to Cuban? We all know Cuban doesn't waste his time, so something productive had to have come from that meeting. What? I don't know. […]

It'd be interesting to see, when the filings come out, if Cuban donated to Governor Blag's campaign. Greasing the wheel for ownership maybe?
* They appear to be courting each other. Set the Wayback Machine to just a couple of weeks ago…
The biggest draw at the Kerry Wood Strike Zone fund-raiser Wednesday night wasn't one of the star athletes — it was Mark Cuban.

Fans swarmed outside 10Pin Bowling Lounge, 330 N. State, and when Cuban stepped outside they rushed him for autographs. "I can't really say anything," he told reporters when asked about his bid to buy the Chicago Cubs. "I just love Chicago." […]

Gov. Blagojevich came with his 12-year-old daughter Amy, a major fan who likes to call pitches when she watches games with her dad. […]

The party raised about $360,000, which is being matched in a state grant by the governor, to benefit the Organic Food Project. The money will go to supply healthy lunches to students at Louisa May Alcott Elementary School, 2625 N. Orchard, for a year.
So, to add to Villafranca's question, I'm wondering if Cuban repaid the taxpayer-funded kindness at the Dallas fundraiser.
* The Dallas TV reporter also posted a photo of our "acting governor"….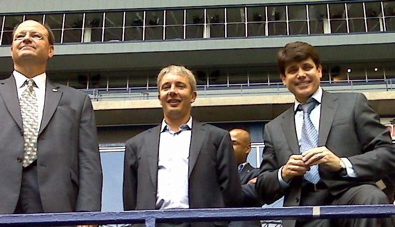 That appears to be Blagojevich pal and fundraiser John Wyma standing in the middle. I've posted Wyma's lobbyist client list here, but if you want the links to work, you'll have to look him up here.
* Since he was in Dallas, I also can't help but wonder if he remembered to bring his Sun-Times cowboy hat…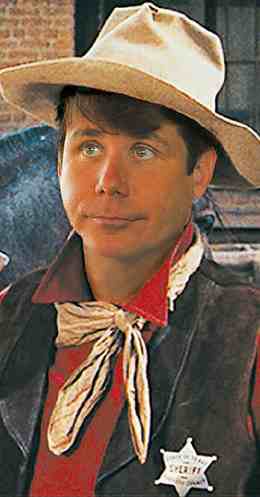 30 Comments

























































































Sorry, comments for this post are now closed.