* I think I made a mistake by not going to the convention…
An emotional U.S. Rep. Jesse Jackson Jr. called on warring Democrats to unite Wednesday at their national convention and said he wouldn't be satisfied unless Gov. Rod Blagojevich and House Speaker Michael Madigan hugged.

On a makeshift stage at the hotel where the Illinois delegation is staying, Madigan got up and walked toward Blagojevich and the two hugged.

The moment came after Jackson teared up when he hugged Mayor Richard Daley, saying he had tried to get to know the mayor for 14 years. Just two years ago Jackson was incessantly criticizing Daley as he explored and then backed away from a potential challenge in the 2007 mayor's race.
Jackson also hugged Debbie Halvorson, with whom he's been sparring publicly, and Bobby Rush.
* More from this morning…
Jackson was overheard saying, "I won't be satisfied until the governor and Michael Madigan hug too."

Then… Blagojevich and Madigan actually did hug, and a standing ovation followed, with the room erupting in cheers.
Wow.
*** VIDEO UPDATE *** From Chicago Public Radio…
*** VIDEO UPDATE 2 *** The Tribune has another video posted.
*** VIDEO UPDATE 3 *** The governor talks about the morning's events…
* From CPR's blog…
What a morning at the IL delegation breakfast at the Denver Marriott! Congressman Jesse Jackson, Jr. talked about reconciliation and bringing the IL democratic party together. He pointed out Congressman Bobby Rush and jumped off the podium to reconcile. They hugged on the floor which was a very powerful moment. He then called out Michael Sneed of the Sun-Times and reconciled with the media. In the video below, he starts by asking if there is anyone else he should reconcile with since he's on a roll. Mayor Daley surprisingly steps forward and hugs Congressman Jackson Jr. That's just the beginning of one of the biggest stories of the IL delegation here at the DNC.
* Some were skeptical…
Following the rousing speech by Jackson, Madigan declined to comment.

Senate President Emil Jones Jr. seemed skeptical.

"It all remains to be seen, you know," said the Blagojevich ally. "So I don't know whether it is genuine or not."
*** PHOTO UPDATE *** From the Daily Herald…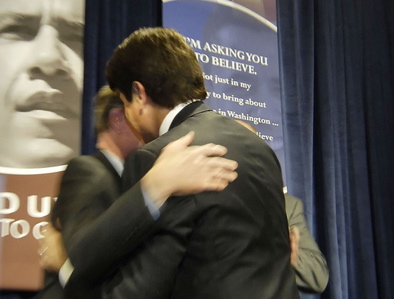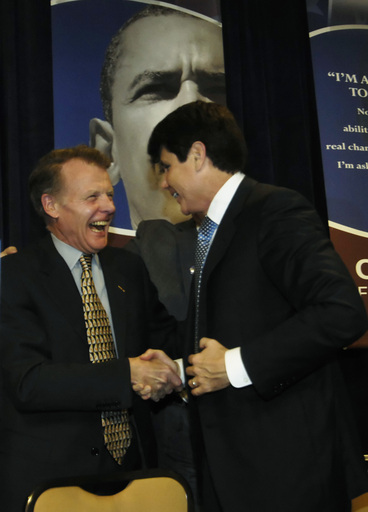 * The goodwill started yesterday, apparently…
Illinois delegates have been wondering how the tension between Gov. Rod Blagojevich and House Speaker Michael Madigan will play out when both of the state party leaders showed up in the same room at the Democratic National Convention.

But they were all smiles and yucking it up Tuesday afternoon during a long private chat after the governor arrived fashionably late at an Illinois reception hosted by Chicago Mayor Richard Daley. […]

The speaker's 22-year-old son, Andrew, may have played the role of intermediary or at least a neutral topic of discussion as the governor asked about his new career in real estate with Mesirow Financial Corp.
Andrew is a born conciliator. The governor has told me before that the thing he respects most about Mike Madigan is the way he's raised his son, Andrew, and the relationship the two have with each other.
* It turns out that Gary LaPaille, who has long been estranged from Madigan, may have played a major role…
Mr. Madigan and Mr. Blagojevich were, typically, in separate corners of the room when Mr. Madigan's former chief of staff, Gary LaPaille, went and talked to each man and then, eventually, pulled them together.

Messrs LaPaille and Madigan themselves have feuded for years. But according to sources who asked not to be named, Mr. LaPaille told his ex-boss that if the two of them could talk together, so could Mr. Madigan and Mr. Blagojevich. In that conversation, sources said, the speaker agreed to take a second look at the governor's proposed capital program, which has been stalled in Mr. Madigan's House.
A Madigan-LaPaille rapproachment is even more unlikely than a Madigan-Blagojevich truce, so this was truly something out of the ordinary.
* After yesterday's private meeting…
Blagojevich also acknowledged that [he and Speaker Madigan] discussed the possibility of meeting, as early as Wednesday, on a proposal put forth by Sen. James Meeks to provide about $40 million to a pilot program of giving extra help to some schools in high poverty areas in Chicago and around the state.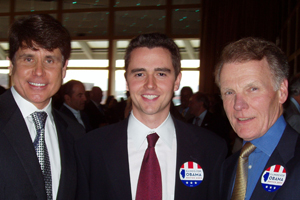 *** UPDATE 4 *** Rep. David Miller and Senate President Emil Jones have been on the outs for years. But the on-stage hugging was apparently contagious. From a Rep. Miller press release…
This morning Illinois Senate President Emil Jones and I put aside our political differences and embraced. I witnessed the coming together (and embracing), of Congressman Jackson and Mayor Daley. And, most notably, Governor Blagojevich, and Speaker of the House Mike Madigan, who have been at odds, embraced one another after hearing Jackson's compelling call for Party unity. It was a symbol that goes beyond description.
*** UPDATE 5 *** Ben Calhoun has a great play-by-play of this morning's activities, and so does Lauren Fitzpatrick.
* The Sun-Times has more on the future…
Does it mean Illinois Democrats will move forward on a road and infrastructure construction bill and other other issues gridlocked in Springfield since Blagojevich and Madigan stopped communicating?

Maybe not.

Madigan huddled with Blagojevich for 20 minutes at a Daley party Tuesday — the first talk between the two in a while — then Madigan huddled with Meeks at this morning's breakfast. But after the celebrated hug, Madigan left the breakfast refusing to take any questions.

Madigan's spokesman threw cold water on the idea of reading anything substantive into the "symbolic gesture" of a hug.

Meeks said he had no word on whether a lengthier meeting would happen. He said his first-day-of-school boycott will go ahead Tuesday unless state leaders agree to free up $120 million for schools in poorer districts.

Blagojevich doubted an agreement could be reached by Tuesday and urged Meeks to call off his boycott anyway.

"Notwithstanding the love fest you just saw, and all the hugging and kissing, I can't commit Speaker Madigan or Senate President Jones to something," Blagojevich said. "I don't know that it's physically possible to round everybody up."

But Blagojevich said he was optimistic the hug might turn out to be more than just a symbolic gesture. The governor at first refused to discuss what he and Madigan said to each other at Daley's party.

"I did ask him, 'I hear that you're prepared to meet with us and Rev. Meeks,' and he said he would," Blagojevich said.
* As does the AP…
It remained to be seen whether Wednesday's reconciliation would survive the delegation's return to Illinois.

"I just wonder if it's the altitude," Blagojevich said later, referring to Denver's thin mountain air. "We'll find out when we get back home."
*** UPDATE 6 *** If you're watching tonight's convention coverage, you'll see that as of 6:10 pm, Speaker Madigan and Gov. Blagojevich are sitting next to each other at the convention. Dan Hynes is next to Blagojevich on the other side.
Strange days
* Related…
* School Boycott On or Off?

* Blagojevich to run again. In Denver he says, "I love my job."
- Posted by Rich Miller Comments Off


* You can read the governor's amendatory veto message of HB824, the ethics bill, by clicking here.
* Unrelated, but the Sun-Times has a late afternoon convention report with some interesting quotes…
Mayoral brother Bill Daley has arrived at the Democratic National Convention, adding a fifth (at least) potential candidate for Illinois governor to the mix here. […]

"January" he said, trying to get back to his breakfast. "I'm going to talk about it next year in a serious way." […]

"It's certainly something I'm thinking about," [Lisa] Madigan said of the governors race. "I'm not going to be supporting Gov. Blagojevich for a third term. I think we need better leadership in the state of Illinois. … It's not news."

Asked about Blagojevich's criticism of her father, House Speaker Mike Madigan, for not attending an Illinois delegation event with Blagojevich, Madigan replied, "I'm not part of their fight, so go find them."

Giannoulias denied the speeches by himself, Madigan and Hynes on Monday night were a "test run" for the 2010 Democratic governor's primary.
* More on Bill Daley from Sweet…
*He talked to potential donors, asking one I chatted with to stay neutral and not take sides in what could be a crowded primary field.

*He's already polled statewide and found that he could sell the Daley brand Downstate.

The big question is will voters–especially south of I-80 in Downstate Illinois–not want to vote for Daley because his brother Richard is Mayor of Chicago, his brother John is Finance Chair of the Cook County Board and his father was the longtime legendary Chicago mayor. Daley found that the name Daley is respected in government.

*He's tested his names against all the players–Gov. Blagojevich, Attorney General Lisa Madigan, Comptroller Dan Hynes and Treasurer Alexi Giannoulias and found nothing in the results that would discourage him from running.
- Posted by Rich Miller Comments Off


* National Review's Freddoso points out some hypocrisy…
Denver — "[E]thics reforms means getting officials to limit gifts to themselves." Those are the words of Emil Jones, president of the Illinois senate, in his speech at the Democratic Convention Monday.

Jones would know. He is Barack Obama's political mentor, and he can now give himself a $578,000 gift. It is a perfectly legal and completely corrupt arrangement that he made ten years ago, with just a little help from Obama.
* And so does Sweet…
Democratic Party of Illinois Chairman Michael J. Madigan is hosting a Coors Field reception Wednesday honoring Barack Obama bankrolled by corporations with interests often before the Illinois General Assembly. Madigan is also the powerful Illinois House Speaker.

While Obama's campaign does not accept contributions from federal lobbyists and political action committees–and Obama bemoans on the campaign trail the influence corporations have over Congress– the Democratic convention here which will hand Obama the Democratic presidential nomination is being underwritten by a variety of corporate sponsors.
* More bickering in Denver…
Some Illinois state legislators are furious with Democratic Gov. Rod Blagojevich for airing the state's dirty laundry yesterday, while other top Democrats from Barack Obama's home state took the Democratic National Convention stage to tout their former Springfield colleague.

The controversial Blagojevich was left off Monday's program – and then he picked that day to announce, back in Chicago, that he was rewriting a major campaign ethics bill that the Legislature passed unanimously this year. Key lawmakers have said they'll fight him on it. […]

State Rep. Careen Gordon, D-Coal City: "He couldn't stand not getting attention when we were all out here.''

State Rep. Lou Lang, D-Chicago: "It was purposefully done on a day that most Democratic elected officials in Illinois were out of town . . . I think the reception here will not be warm.''

Illinois Attorney General Lisa Madigan: "It's more antics.'' Lt. Gov. Pat Quinn: "It's somewhat petty to pick that particular day to try and take away attention.''

State Rep. Jack Franks, D-Woodstock: "He was trying in some desperate way to make himself seem somewhat relevant . . . He's not wanted here.''
* Rep. Jack Franks, Hillary Clinton's Illinois co-chair, on Don & Roma…
On Blagojevich claiming that he wasn't snubbed by the convention: "Well, why would that surprise you? He still denies he's Public Official A."
* Comptroller Dan Hynes is a bit too optimistic…
"I think this week the unity and the common purpose we have of electing Barack Obama is overwhelming, so I feel very confident that the Illinois Democrats are going to be united this week and throughout the election season," Hynes said.
* It only took them two months, but the Tribune finally noticed that Bill Daley is considering a run for governor…
William Daley, the brother of Chicago Mayor Richard Daley, did not dismiss talk Tuesday that he might become one of an array of Democrats seeking the job of Illinois governor in 2010, a post Gov. Rod Blagojevich may try to keep.

Daley, a former Commerce secretary in President Bill Clinton's administration and the 2000 campaign manager of former Vice President Al Gore's presidential campaign, told reporters at the Illinois delegation's meeting that it would not be wrong for them to mention him as a potential candidate.

Daley, who is now an executive with J.P. Morgan Chase, briefly considered making a bid for the governor's office in 2002, the year the embattled Blagojevich became the first Democrat in more than a quarter century to win election to the post.

Daley has said little about his interest in seeking the governor's office in two years, when Blagojevich's second term ends. But Daley acknowledged he has been receiving encouragement for a run for the post and mentioned the Democratic Party's problems in Springfield, where infighting has kept government at a standstill. […]

He told reporters that he would "talk about next year in a serious way" in January 2009.
* Sweet has more…
Today is the 88th anniversary of women getting the vote and former Commerce Sec. Bill Daley, a top Obama advisor is at Day Two of the Democratic convention co- hosting a reception for the nation's female Democratic governors, wearing his bankers' hat. The event is sponsored by JP Morgan Chase; Jamie Dimon, its CEO and chairman and Daley, the vice chairman. Governors attending are Janet Napolitano of Arizonia, Kathleen Sebelius of Kansas, Jennifer Granholm of Michigan, Christine Gregoire of Washington and Ruth Ann Miner of Delaware. Daley is contemplating running for governor in 2010.
* Speaker Madigan downplayed the Emil Jones "Uncle Tom" imbroglio…
llinois House Speaker Michael Madigan (D-Chicago) isn't worried about a spat among Illinois Democrats in Denver this week. Delmarie Cobb, a delegate for U.S. Sen. Hillary Clinton (D-N.Y.), claims that Illinois Senate President Emil Jones (D-Chicago) called her an "Uncle Tom" for not supporting U.S. Sen. Barack Obama (D-Ill.). Jones says he called her a "Doubting Thomas."

Madigan says it's not a big deal. "Democrats are Democrats," he said. "There are different people among Democrats. But as we move to the general election, we're all being to be brought together, and we're all going to working for the same direction, which is to change the direction of this country."
* Carol Marin…
But in this history-making week when the first African American in the nation's history accepts a presidential nomination, we are reminded that race and gender are unequal conversations in the view of many in my generation of women. And those women felt stung again, just as Clinton delegate Delmarie Cobb did this week when she was accused by Obama's mentor, state Senate President Emil Jones, of being an "Uncle Tom."
* Emil Jones this morning…
* Lisa Madigan on Don & Roma…
"The social person in my family is really my mom. They're like polar opposites… They couldn't do your show. My mom could, but not my father."
* More mid afternoon convention stuff…
* Patterson: Illinois delegates' first-day reviews of the convention logistics were not exactly glowing. When a bus ride from the hotel to the Pepsi Center (which you can see from the hotel) takes 90 minutes, patience quickly evaporates. Then, there's a significant hike to get into the center's limited access gates and a thorough pat down by security. "Next time … I'll bring my lunch," Illinois Secretary of State Jesse White said of the bus ride.

* Duckworth to speak on veterans issues at convention

* Gun charges expected in Obama plot: Three men who authorities initially feared were plotting to assassinate Barack Obama at the Democratic National Convention are facing only gun charges—signaling they never posed a real threat.

* Impressions from Monday's Convention

* Daley: OK to like McCain, don't vote for him

* Congressman Jesse Jackson, Jr: "Barack Obama has the capacity to hit," Jackson said a breakfast panel just before the opening of the Democratic National Convention. "But he is in the situation where he can't hit back, which Jackie Robinson could not do. … He had to be able to run the bases, even though the crowd was jeering the first African-American on the field."

* City clerk given night's toughest job

* Lisa Madigan defends honor of Cubs fans after White Sox fan Barack Obama insults their baseball integrity on ESPN

* Sun-Times: Illinois Democrats have the best seats in the house this week at the Democratic National Convention. And they're hoping to come home and pick up the best seats in the House, boosting the Democratic majority in Congress.
- Posted by Rich Miller Comments Off


* Senate President Emil Jones continues to deny that he called Hillary Clinton supporter Delmarie Cobb an "Uncle Tom," and there's even a disagreement over how, exactly, he apologized to Cobb…
"He came over, sat down. A couple of people obviously had something to do with it," Cobb said, without elaborating. "He sat down at the table with me. He said, 'I apologize and let's move forward.' I accepted his apology and said, 'OK, we will.' It was never my intention to continue things that would hurt Barack Obama."

Jones, however, offered a much less apologetic version of his Monday conversation with Cobb.

"I said 'If that's what you think I said, I don't want to have no hard feelings, so I apologize. We've known each other too long.'"

Describing the latest encounter to a Sun-Times reporter on the convention floor Monday evening, Jones still insisted he never called Cobb an "Uncle Tom," saying "But that's not what I said"
* And one of the witnesses to the alleged event backs up Sen. Jones…
Latasha Thomas, Chicago City Council 17th Ward alderman, called the Daily Herald to say she witnessed the event and never heard Jones say "Uncle Tom."
Another aldermanic witness, Freddrenna Lyle backed up Cobb's version.
* Mayor Daley wasn't exactly helpful to Jones…
"I think it's a misuse of words. There's no 'Uncle Toms,' anybody supporting Hillary, Obama. It's just a mischoice of words," the mayor said.
Translation: Daley believes Jones said it, but "mischose" his words. Daley has not been all that pleased with Jones lately, so this flap had to make him smile just a wee bit.
* Roland Burris wasn't all that helpful, either…
Roland Burris, the former attorney general and the first black man to win a major statewide office, minimized the importance of the incident. He didn't condone using the phrase "Uncle Tom" but said it was probably made in jest.
* And Rep. Monique Davis piled on…
Rep. Monique Davis, D-Chicago, offered one possible solution, at least when it comes to Jones.

"I think Barack Obama would be wise to keep him locked up in the basement until the election is over," said Davis, who, like Jones, is black.
* Meanwhile, the Obama-controlled convention allowed Sen. Jones to give his speech yesterday to the assembled crowd despite the controversy, but the DNC's web masters pulled a George Orwell on Jones…
Senate President Emil Jones Jr., a Chicago Democrat, gave a brief speech at the convention, one of several Illinois officials. CSPAN ID'd Jones as an Illinois state senator, omitting the president title.

And the convention Web site has yet (8:26 p.m. Denver time) to post his speech. Those before and after are posted but not his.
Several hours later, the speech still wasn't posted.
Jones was apparently "disappeared."
* Senate Majority Leader Debbie Halvorson, a Tier One level congressional candidate, was reportedly apopleptic about Jones' comments.
"She was talking to Jones outside the breakfast [meeting Monday morning for Illinois Democrats] and I overheard something about this destroying her career," e-mailed a reporter pal.
* Related…
* Arrests made in possible plot against Obama

* Sleeper statewide candidate in 2010: Miguel del Valle

* EricV: One interesting little comment is that since Illinois is, of course, front and center they're having a little problem with the seating. Apparently Illinois always does assigned seating and they've got Mayor Daley, Gov. Blagojevich, Mike Madigan, Dick Durbin, and all the big names in the front row. Usually these are the best seats in the house, but this year they're like the first row in a movie theater. Or maybe a better simile is that of a concert because there's plenty of fans standing at the base of the stage making those front row seats really bad… They're trying to redo the seating behind me right now…

* At the convention, Illinois delegation split by racial, gender discord

* Alice Palmer didn't want to be photographed

* Land of Lincoln is a house divided

* Audio of Lisa Madigan's speech to DNC

* DNC Botches Alexi's Name

* Lisa Madigan transcends nepotism

* Obama: "Oh, that's easy. White Sox. I'm not one of these fair weather fans. You go to Wrigley Field, you have a beer, beautiful people up there. People aren't watching the game. It's not serious. White Sox, that's baseball. Southside."
- Posted by Rich Miller Comments Off


* Breaks common at affluent schools are rare in impoverished areas…
All 10 affluent schools offered at least 20 minutes of daily recess, usually tacked on to a lunch period of at least 20 minutes. Most of the impoverished schools offered no regular recess and a 20-minute lunch, though two of the schools did squeeze in 10 minutes of recess daily.

The typical affluent school featured far more phys ed than the one period a week usually found at the impoverished schools. And both art and music were common at advantaged schools, while impoverished ones mostly offered art and no music, though one had both and two had neither.
* Meeks Offers to Call Off School Boycott
* Multi-Million Deal Could Prevent School Boycott
* Meeks has new school pilot project - Plan ties funding to performance…
A Democratic state senator and a former Republican candidate for governor on Monday proposed a three-year, $40 million pilot project aimed at proving that better funding and more resources would give low-performing schools a lift.

The proposal could lay the groundwork for the long-sought statewide overhaul of public school funding, possibly including a tax increase, once the 2010 race for governor is over.

Sen. James Meeks (D-Chicago), who outlined the proposal with GOP businessman Ron Gidwitz in a meeting with the Tribune editorial board, also tied the proposal to his call for Chicago Public Schools students to boycott the first day of classes Sept. 2.

Meeks said he will rescind his boycott plan if three fellow Chicago Democrats, Gov. Rod Blagojevich, Senate President Emil Jones and House Speaker Michael Madigan, would publicly back the pilot proposal. Meeks said he hoped to meet with them in Denver during the Democratic National Convention.
* Officials awaiting word on IDNR budget cuts
* Blagojevich: Ethics bill will get complete overhaul…
Gov. Rod Blagojevich said Monday he's following through on his promise to "rock the system" by drastically changing an ethics-reform measure to target lawmakers while cracking down on campaign contributors with large state contracts.

Blagojevich, at a news conference in Chicago, said he'll use both his executive-order and amendatory-veto power to rewrite the measure the legislature sent him in May.

The announcement drew an immediate rebuke from reform advocates and lawmakers, who promised to try to overturn the changes.
* Ethics bill vetoed, sent back
Quinlan said the governor cut the provision of the bill that would restrict donations from people bidding for contracts because it could be an unconstitutional restriction of free speech. Quinlan said the governor strengthened the bill in other ways, such as prohibiting lobbyists and lawyers from donating on behalf of state contractors they represent.

Asked why he did not sign the bill as passed and seek to improve the law later, Blagojevich put the blame on lawmakers for not acting sooner on ethics legislation.
* State Lawmakers Strike Back at Governor
Rather than push legislators to write his "improvements" into law, he'd rather grandstand for the cameras, make noise about reform, and hope that—with public attention focused on the Democratic National Convention in Denver—nobody is paying much attention to the culture of political sleaze back home in Illinois. For those of you reading from Denver: Nothing has changed. The culture of political sleaze is as virulent as ever.
* Eastern budget avoids governor's slash
* Mounds supporters call for federal takeover…
Pauketat and other archaeologists have written letters to state and federal officials urging an agreement. They say the federal government is far better funded to take care of the 2,200-acre property, home to the world's largest prehistoric earthworks and the centerpiece of a village that once housed 10,000 people.
- Posted by Rich Miller Comments Off