* Mark Kirk's campaign is floating some new poll results. Keep in mind that this has a margin of error of +/- 5.6 percent. From the executive summary…
In a September 10-11 poll by McLaughlin & Associates, Rep. Kirk maintains a 22-point lead (51/29) in a rematch against Dan Seals. In IL-10, Senator Obama's favorability rating has dropped from 67/26 in June to 59/32 in September. Kirk continues to be more popular than Obama with a fav/unfav rating of 63/20 while Dan Seals struggles at 40/22. A number of key Democratic-leaning groups endorsed Kirk including Planned Parenthood, the National Education Association, the National Wildlife Federation and the Human Rights Campaign. […]

Additionally, with the conviction of Tony Rezko and a possible indictment of Illinois Gov. Rod Blagojevich looming, Seals must fight a strong local anti-Democratic headwind with Blagojevich's fav/unfav sinking to a record low of 13/68.
If you're above 50, you're in decent shape. 51 isn't completely safe, however. Negative attacks are flying (see below).
Also, I'm not convinced yet that Rod Blagojevich brings down Democrats all that much because RRB is not seen as a "normal" Democrat. He fights with his party so much and is so, well, bizarre at times that other Dems may not pay the price, along the lines of how Republicans didn't really suffer from Alan Keyes' presence in 2004. I could be wrong, but that's my take so far. Argue this in comments and I'll make sure to listen.
* And this is from the polling memo…
Since our last poll three months ago, Dan Seals gained no ground on popular incumbent Mark Kirk in the general election for US Congress in Illinois' 10th Congressional District, still trailing by a daunting 22 points. Kirk's favorability rating (63%) is still very strong. Independent and Ticket Splitters who vote for the person not the party are in control of the race. The majority of voters in the district are very thoughtful and independent and demonstrate that by supporting both Senator Barack Obama and Congressman Mark Kirk.
Congressional Ballot: If the election for US Congress were held today and the candidates were Mark Kirk, the Republican candidate, and Dan Seals, the Democrat candidate, for whom would you vote?

Mark Kirk 51%
Dan Seals 29%
Undecided 21%

Congressional Ballot Among "Ticket-Splitters"

Mark Kirk 56%
Dan Seals 9%
Undecided 35%
* More…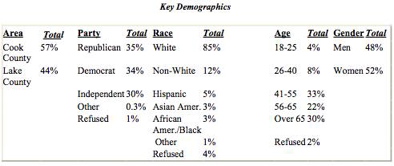 * Methodology…
This Illinois 10th Congressional District survey was conducted among 300 likely general election voters between September 10 and 11, 2008. All interviews were conducted via telephone by professional interviewers. Interview selection was random within predetermined election units. These units were structured to correlate with actual voter turnout in a statewide general election. This survey of 300 likely voters has an accuracy of +/- 5.6% at a 95% confidence interval.
* Meanwhile, as mentioned above, the DCCC has released an ad blasting "rubber stamp Congressman" Mark Kirk…

21 Comments






























































Sorry, comments for this post are now closed.