* According to Google News Search, there have been 3,351 uses of the phrase "perfect storm" in news reports during the past two weeks.
That's a lot of perfection.
* It would be nice if we had a complete list, but I'll keep looking for it…
Voters in 14 Illinois counties will have a chance next month to let Springfield know what they think about citizens' right to carry concealed firearms, including those in Saline, Franklin and Union counties in Southern Illinois.

The referendum will ask whether the state should enact so-called "concealed-carry'' legislation.

The referendum is advisory only. Voters will not be deciding whether individual counties should adopt those rights, but whether state legislators should bring the issue to a vote.
* Charlie Cook has moved Democratic Congresscritter Bill Foster's race against Republican Jim Oberweis from Lean Democratic to Likely Democratic. [h/t: Larry]

* Martin Ozinga lashes out at his Democratic opponent Debbie Halvorson via press release…
New research reveals that career politician Debbie Halvorson took to the floor of the Senate in March 2006 to promote her husband's two lobbying clients:

"In the gallery today, we have members of the Lincoln Foundation, which is an excellence – a performance excellence-based initiative, and with them is two of the recipients, and they happen to be from St. James Hospital. I just would like the Senate to recognize the importance – and the people that we have here from the Lincoln Foundation. So, if we could have them all rise, they're in the gallery behind me."

The politics of cronyism is nothing new for Halvorson.

As hundreds of longtime civil service agents were being laid off, Halvorson got her 23-year-old daughter a $40,000-per-year job in the Blagojevich administration.

Halvorson was also the chief Senate sponsor of Blagojevich's widely-ridiculed "family feud" bill, which the Governor used to personally target his father-in-law, Chicago Alderman Dick Mell.
* Halvorson has a new YouTube video that zings Ozinga for bringing Vice President Dick Cheney to the district…
* Republican congressional hopeful Aaron Schock campaigns against… who else?… Rod Blagojevich…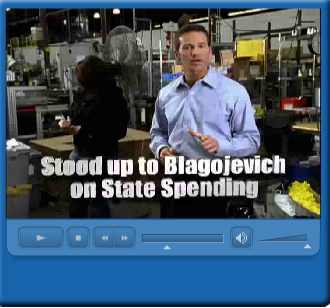 Says Dave, with tongue planted firmly in cheek…
At the end, [Schock] suddenly makes the leap of logic, "Washington is just like Springfield" or some such. Really? I think that's a bit naïve. I mean, you can't sell nukes to Taiwan from Springfield.
* Team America turns one today. Happy blogbirthday!
16 Comments















































Sorry, comments for this post are now closed.