* Chris Cillizza of the Washington Post thinks GOP freshman Congresscritter Peter Roskam is one of a new batch of Republicans "in real races" because the bottom has dropped out on the Republicans.
If Roskam really is in trouble, then we're in for a landslide of epic proportions - like 1932 or 1936. In which case, there's nothing much that Republicans can do except pray.
* Progress Illinois has funded a new poll in a different, much more pro-Obama district, and found the Republican incumbent is leading…
Dan Seals (D): 41%
Mark Kirk (R): 47%
Undecided: 12%
More…
In the middle of last week, the Washington D.C.-based polling firm Bennett, Petts & Normington conducted the above survey for Progress Illinois in the 10th Congressional District. The results are very similar to the Daily Kos/Research 2000 poll conducted two weeks earlier, which also found Democratic challenger Dan Seals down by six points (44-38%).
A few toplines…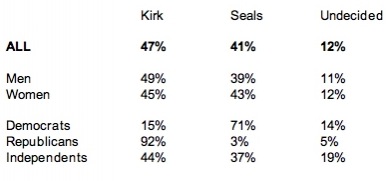 Presidential results…
Barack Obama (D): 56%
John McCain (R): 35%
Undecided: 9%
400 likely voters, conducted from October 15-16, 2008, MoE plus or minus 4.9 percentage points.
*** UPDATE *** PI has a new poll in the 11th Congressional District, which for whatever reason didn't include the Green Party candidate…
Debbie Halvorson (D): 50%
Martin Ozinga (R): 29%
Undecided: 22%
More…
The 11th Congressional District poll conducted for Progress Illinois by the Washington D.C.-based polling firm Bennett, Petts & Normington found a 21-point lead for Democrat Debbie Halvorson, similar to the 19-point gap in the internal poll she released on Friday (which included Green Party candidate Jason Wallace).

Republican Marty Ozinga 's unfavorables (30%) continue to outweigh his favorables (20%), which certainly spells trouble. Independents made up 42 percent of the polling universe in our poll and they also appear extremely wary of Ozinga, with only 14 percent saying they support him and 41 percent still on the fence.
Some toplines…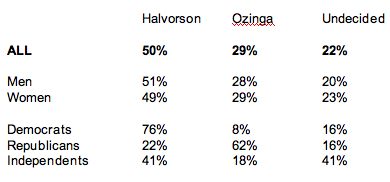 Presidential…
Barack Obama (D): 49%
John McCain (R): 38%
Undecided: 13%
45% said "The economy and jobs" was the most important problem.
* More congressional stuff…
* NEW: Joliet Herald News - Halvorson will best represent our interests

* Kirk, Seals spar over Iraq, women's rights

* Kirk, Seals debate in 10th District race

* Conaty calls Kirk's drilling claim "a bit disingenous"

* Immigration a Key Issue in Congressional Race

* Oberweis hopes to connect with voters on economy

* Foster running at a frantic pace - at home and in D.C.

* Thousands turn out to vote early in Peoria

* Morgenthaler "Won't Commit to Moving" to IL6
24 Comments







































































Sorry, comments for this post are now closed.