* There's a whole lot to go through in a new, comprehensive poll released by the Paul Simon Public Policy Institute, but let's start with the media coverage. Daily Herald…
A new poll of Illinois voters finds support for balancing the state budget through cuts rather than tax increases, just so long as the things voters support aren't on the chopping block.

And that favorites list includes school funding, police and prisons, state parks, help for the needy and a litany of other big-ticket programs that make up the overwhelming majority of state spending.

The head of the Southern Illinois University think tank that commissioned the statewide poll said the findings show people are uninformed about state finances and unable to grasp the depths of budget problems.

"The public really has no idea what the scale and the scope of this crisis is," said Mike Lawrence, director of the Paul Simon Public Policy Institute.
* Pantagraph…
Absent cuts to those programs, Lawrence, a former Statehouse reporter and top aide to Republican Gov. Jim Edgar, said Illinois will need some kind of tax hike to climb out of its budget hole.

"We need to have a reality check," Lawrence said.

When it comes to raising money, the poll found that voters supported a graduated income tax, in which wealthier people would be taxed at a higher rate.

But, because such a change in tax policy would likely require a change in the state constitution, it could not serve as a quick fix to the state's current financial challenges.
* SJ-R…
Sales and income tax increases were soundly rejected, and expanding gambling and selling or leasing state assets such as the lottery were turned down.

Lawrence blames that on voters not understanding how big the budget problem is.

For example, he said respondents want to cut legislative salaries or those of high-paid state employees but noted that would cover only a tiny piece of a budget facing billions of dollars in debt and deficits.

"There's no painless way out of this budget situation," Lawrence said. "We need to have a reality check."
* Now, let's get to the poll itself.
Voters were asked what sort of value they were getting for state services…

Not great.
* They were also asked whether they thought their area was getting its fair share of state services…
* Respondents rated the quality of several individual state and local services, including these…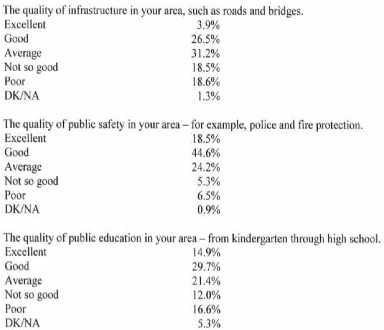 * Most have been following the state budget process and don't like what they've seen. Here's how they rated the efforts…

* The governor's ratings are abysmal, of course…

* As are the General Assembly's…
* Senate President Emil Jones' numbers aren't good at all…

* Speaker Madigan's are better, but not exactly spectacular…


* CONCLUSION:
Given all that, hostility, is it any wonder that Illinoisans aren't thrilled with raising their own taxes?
* One more quick point. Here's what respondents said about revenue generators…
Add income tax brackets with a higher rate for higher incomes? 66% support

Raising the state sales tax? 17% support

Taxing services? 28% support

More gambling? 47% support

Sell or lease the lottery or other assets? 38% support
Discuss.
38 Comments

















































































































Sorry, comments for this post are now closed.