* No offense intended, but I'm not sure that this new study applies to a huge number of Illinois races…
Seventy-three people — 35 men and 38 women — were asked to rate pictures of male and female congressional candidates on a seven-point scale for how competent, attractive, approachable and dominant they seemed to be. Then they were asked if they would vote for the candidates for president.

Both the male and female voters were more likely to say they would vote for women whom they considered attractive. The male candidates? Attractiveness was not an issue for either male or female voters.

Studies have shown that women with thin eyebrows, round faces and small chins are generally considered most attractive. Men considered good-looking tend to have thick eyebrows, square faces and large chins
* Despite outspending her Republican opponent on every level, Democratic congressional hopeful Debbie Halvorson is now complaining that Marty Ozinga is spending more money on himself. From a press release…
Yesterday, Marty Ozinga contributed another $100,000 to his campaign, bringing his total to $570,000 for the cycle to date (i ii iii). This is in direct opposition to his numerous declarations to the public that he would not self-fund his campaign. Legally, nothing prohibits Marty Ozinga from contributing to his own campaign, however, he has now violated the public's trust on numerous occasions, telling the public one thing on one hand, and doing something completely different on another. […]

"I won't be writing big checks for my own campaign, I just don't believe in it" [Ozinga told the Tribune].
She has a point, but things change when you're losing a race and it seems like the whole world is financing your opponent.
* In other congressional news, Republican Peter Roskam has a new mailer touting his ties to Barack Obama…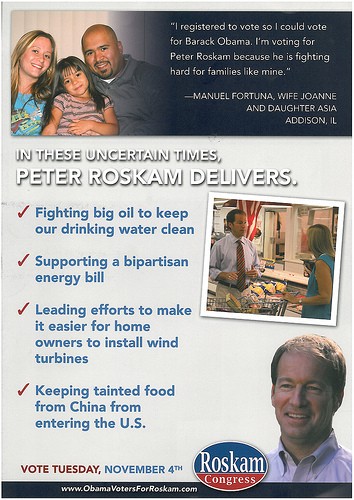 That's the same family and the same quote featured on Roskam's "I'm with that Obama guy" website.
You can find more Roskam mail and some harsh partisan diatribes at this link.
* Mark Kirk's new TV highlights his endorsements from every major area newspaper…
* Related…
16 Comments















































Sorry, comments for this post are now closed.