* Yesterday, the much-celebrated Illinois blogger OneMan set up a "Bill for US Senate" FaceBook page. The idea is to get Bill appointed to Barack Obama's US Senate seat, which Obama is vacating on Sunday.
The longtime Capitol Fax Blog commenter, who unceasingly defends our embattled, unpopular governor here has proved to be something of an Intertubes phenomenon. Since yesterday afternoon, the Bill for Senate FaceBook page has attracted 131 members (as of 10:15 this morning).
It's a movement!
* When you think about it, appointing Bill to Obama's seat is truly the smart move. Congressman Jesse Jackson, Jr. has been working the DC commentariat circuit to make himself appear inevitable. It's Obama vs. Clinton all over again! Do we really want to revisit that long nightmare?
Plus, Jackson has constantly fought with Blagojevich, mainly over the third airport. The bottom line is Gov. Blagojevich just can't trust Jackson, but he can trust Bill!
* Sneed has this report today about the Obama vacancy…
Sneed hears Gov. Blago, who will choose Obama's replacement in the U.S. Senate, privately feels there may be only one choice that makes sense: His buddy, outgoing Senate President Emil Jones.

• • To wit: Jones is this/close to Blago, who may pay his pal back for being such a staunch ally. Jones would also be a strong ally in the Senate for his political godson — Obama.

• • Hmmm: Isn't it true Gov. Blago, who truly believes a federal indictment is not in his future, is hoping Jones would be a placeholder until 2010 — when Gov. Rod could opt for a Senate seat or another run at the governorship? Is someone smoking posies?
Emil Jones? Please. When it comes to Blagojevich loyalty, Jones is a fair weather fan compared to Bill.
* The Sun-Times reports today that Tammy Duckworth's star is on the wane…
But her odds of landing Obama's seat appear to be dimming because of her closeness to Sen. Dick Durbin, who has an icy relationship with the governor, yet has sought input into the selection process. This week, Durbin identified Duckworth as being on his list of hopefuls for the Obama seat.
Dick Durbin probably doesn't even know who Bill is. Yet another outstanding advantage.
* From today's Tribune…
The stakes are high for Blagojevich, who has become increasingly isolated from other top Democrats. His pick could help him create a positive legacy in the face of record-low job approval and ongoing corruption scandals.
What could be more dramatic than appointing an anonymous blog commenter to the seat? It would be huge news all over the world. Blagojevich's ratings would go through the roof. Jackson may have some poll numbers that show he's the best pick, but he didn't test Bill's name, so the poll is worthless.
Plus, I know Bill. He's a great guy. Not exactly telegenic, but whatever.
* GateHouse has a story today with the hed: "Former Lincoln library director explains Obama-Lincoln connection."
Well, I have it on good authority that Bill once rode in a Lincoln Town Car. So, he's got that going for him, too.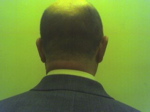 * You should definitely join the Bill for Senate movement today! If nothing else, do it for your own self interest. Obama inauguration tickets are in short supply in a high demand market, so Bill could snag us all tix!
* If you're not a FaceBook member, just go to Bill's page and sign up. It's free, so it's definitely worth every penny.
If you are a FaceBook member, make sure to invite your fellow FB friends to join the movement. Let's get this thing rolling, people!
* Bill's FaceBook followers almost outnumber those of Senate wannabe Jan Schakowsky, and we're rapidly closing in on Congresscritter Jackson's crowd [sorry, but there will be no FB links to the competition].
* For the rest of my life I will regret not mentioning Bill's candidacy during my National Public Radio interview, which is airing this morning.
Don't let the same thing happen to you! Join the Bill for Senate movement today!
Noted Illinoisans, including some famous media personalities, politicians, even Republicans, are already signing up. Just go over there and scroll through the membership list to see for yourself. It's simply astounding. For crying out loud, Bill has support from Utah. I'll bet Jackson can't say that!
There's even an Obama campaign guy on our side. Could that be a signal from on-high? Probably not, but we'll take it!
* Bill is not an African-American and he's not an Hispanic. He's a balding, kinda aging white guy. I admit, that could be a political problem. But isn't it time we moved beyond that sort of thing? Has Obama's victory taught us nothing?
* OneMan has even created a couple of TV ads. Henry ain't exactly David Axelrod, but he's all we've got at the moment and I don't see JJJ posting stuff on YouTube, so we've one-upped that media hound. Here's one of OneMan's spots, which has the eloquent title: Bill for Senate Two…
Brilliant!
* OneMan even set up a Bill for Senate blog. It misspells Capitol Fax on the main page, but no worries. The important thing is we're using high technology to our advantage just like Obama himself!
* Bill for Senate, baby! Some people may look at this and ask "Why?" Our reply: "Why the heck not?!"
There are no comments on this post. Instead, I want you to go over to the Bill for Senate page and leave your testimonial. Time is short and the stakes are high, so get over there now!
No Comments
Be the first to comment.
Sorry, comments for this post are now closed.