* Rep. Fritchey responds to a story we broke yesterday that SEIU will spend $250,000 on TV ads for Rep. Sara Feigenholtz, plus another $24K in phone-banking…
"It's obvious that [SEIU] thinks this is an election that can be decided by dollars rather than by issues," Fritchey said. "But it's the same strategy that they used to elect Rod Blagojevich twice."
That's mild compared to the acrimony behind the scenes in this race. It's pretty intense. Just hang around the comments section here for a tiny taste. And it's not just the candidates. Unions battling unions is always entertaining theater because labor unions often view themselves as an almost religious entity, so the fights are sanctimonious and brutal.
But what everyone seems to forget in this circular firing squad bloodbath is that the election is over in a week. People will have to go back to working together at the Statehouse, city hall, etc. In some cases, bygones will be bygones. In others, I'm not so sure the wounds will heal in the foreseeable future, considering what's been happening and the threats I've been hearing. Watch for trouble on the labor front, for instance.
* SEIU's TV ad is up and running today. I haven't seen it yet, but I'm told that it's a positive ad for Feigenholtz.
*** UPDATE *** Here's the ad…
* Mike Quigley was on Don & Roma's show this morning. Listen here. One of the first questions is about Feigenholtz's weeks-old refusal to acknowledge that she ran a poll which had some negative and false questions about both Quigley and Fritchey. Quigley slammed both Feigenholtz and Fritchey for voting for a sales tax hike to bail out public transit, which is the subject of a recent Quigley mailer…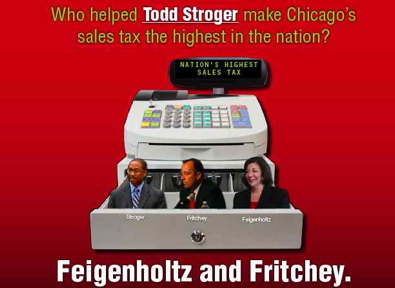 The full mailer is here.
* Two more unions have split with the Illinois AFL-CIO's endorsement of Fritchey and are backing Feigenholtz. The United Steelworkers District 7, which represents 40,000 Illinois workers, and the University Professionals of Illinois both announced endorsements within the past 12 hours. UPI is a branch of the Illinois Federation of Teachers, which is a major Fritchey supporter, so that one is quite fascinating…
"At this difficult time in our nation's history, there is no better qualified or dynamic leader on the issues that UPI cares about than Sara Feigenholtz," UPI President Sue Kaufman said. "Rep. Feigenholtz's record of supporting Illinois' public universities, expanding health care and fighting for the needs of working men and women make her the right candidate at the right time to partner with President Obama in getting our economy back on track."
* Charlie Wheelan seems to be spending a lot of money on things that nobody watches…
* Berkowitz has interviewed a few of the candidates, and I keep forgetting to link to them…
64 Comments































































































































































































Sorry, comments for this post are now closed.