*** UPDATE *** Burris hires new staff. From a press release…
Brady King, interim chief of staff], a Capitol Hill veteran since 1992, has served Representative Chet Edwards (D-TX) as Appropriations Advisor, Representative Allen Boyd (D-FL) as Legislative Director, and Senator Edward Kennedy (D-MA) as Defense Policy Advisor. King holds degrees from Texas A&M University and Baylor University, and he is completing a PhD at Temple University.

[Jim O'Connor, Communications Director] is a veteran of Chicago and Illinois politics. O'Connor has served as Press Secretary for US Senate candidate Blair Hull, Political Director at the firm of Wilhelm & Conlon, and has most recently been based in San Francisco as a political commentator for Bay-area evening news station, KRON4.
[ *** End of Update *** ]
* He isn't leaving and he's talking about running again…
"Roland is going to stay in the Senate, going to stay until the people of Illinois decide if he should leave," [Burris media and political adviser Delmarie Cobb] said.

Meaning what?

"Petitions will begin to be circulated in September," she responded. "Then we'll see."
Announcing that he wouldn't run in 2010 would've forced Sen. Burris to give up his only remaining leverage.
* Cobb clearly intends to use the race card…
Now, Cobb says, Burris' enemies are trying to bloody him up and weaken him with mounting legal bills.

"And then it won't be called racism," said Cobb.
Oy.
* Dick Durbin ramps up the pressure, but there's only so much anyone can do…
Durbin said he would not support Burris if he ran.
* Speaking of doing nothing…
A plan to change the way Illinois fills vacant US Senate seats faces a tough road in the state Legislature.
* This is strange…
Durbin said Burris told him he was under some financial pressure. Burris has said he now owes at least $400,000 for lawyers.
Burris said his legal bills were $400K three weeks ago, before the latest round of madness. Maybe he just hasn't received the new invoice, or he's just clueless or not telling the truth. The law firm he's using is his own, so they're really piling up the bills on the guy, or he's just making stuff up.
* The congressman didn't respond, but he could've said the same thing right back to Burris…
Burris approached fellow Illinois Democrat Rep. Jesse Jackson Jr., and while shaking his hand, said, "I did nothing wrong, Jesse. I did nothing wrong."
* Burris was given a taste of the "DC diss" during the president's speech last night…
Members of Congress have special public rituals for pariahs who cannot, for various reasons, be ejected. At best, they show a distinct lack of made-for-TV enthusiasm for the scorned. At worst, they'll stare into the middle distance as if through Those Not to Be Acknowledged.

More commonly, they smile, but not warmly; hug everyone else and issue a polite nod or maybe back-pat to the undesirable before moving on. Rarely, they'll turn their backs or be rude. Particularly not on live television.
Oooo. That's so… not gonna work at all. Whatta buncha goofs.
And, horror upon horrors, he had to walk alone…
U.S. Sen. Roland Burris walked alone to President Barack Obama's address tonight, while other senators walked in pairs.
* Brutal? Really?…
After the speech, Obama went around shaking hands. When Obama came near the area when embattled Sen. Roland Burris was standing — alone at this point and looking a little forelorn — Burris waved at him a few times.

Obama appeared not to respond. And the president certainly did not reach out. I don't know if this qualifies as a snub, but it was a brutal reminder of the tough time Burris has ahead now that he has decided not to resign in the wake of controversies stemming from his appointment by ousted Gov. Rod Blagojevich.
I really don't think he cares…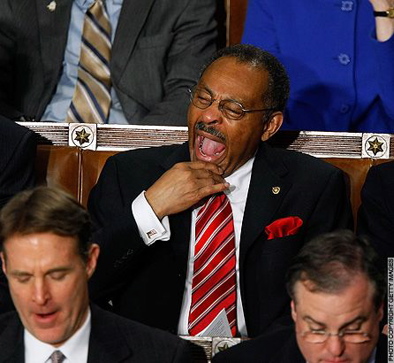 Caption?
* Related…
72 Comments























































































































































































































Sorry, comments for this post are now closed.