*** UPDATE 1 *** Tribune…
A federal judge has denied permission to former Gov. Rod Blagojevich to travel to Costa Rica to participate in a reality TV show.
No surprise there.
*** UPDATE 2 *** CBS2…
Judge James B. Zagel also said in court that Blagojevich is broke, and public funds will have to be used for his criminal defense.
The judge ruled Blagojevich to be a flight risk and also tried to warn the former governor that he wasn't facing up to reality…
The judge also said Blagojevich has not done his homework, and has not come to full understanding of what he faces.
Nothing new there.
*** UPDATE 3 *** Yep. It was a media circus. From Natasha Korecki's Twitter page…
blago emerges from dunkin donuts. giant grin on face. pace bus almost runs over media
*** UPDATE 4 *** Sun-Times…
"I don't think this defendant in all honesty … fully understands the position he finds himself in," said U.S. District Judge James Zagel.
"It's just another day," Blagojevich said after the hearing.
[ *** End of Updates *** ]
* The Pew Research Center's Project for Excellence in Journalism publishes a weekly study of various aspects of news coverage, including leading newsmakers. Here is an item from this week's report…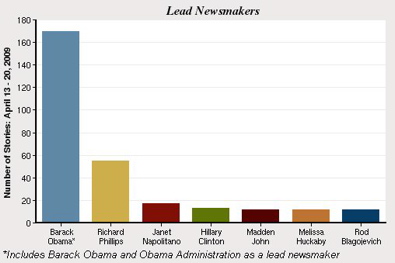 From the narrative…
The battle for fifth-leading newsmaker (1%) was a tie between three very different types of celebrities. They included retiring pro football announcer John Madden; Melissa Huckaby, the woman charged in the murder of eight-year old California girl Sandra Cantu; and indicted former Illinois Gov. Rod Blagojevich, who reportedly plans to ask a judge to allow him to travel to Costa Rica in order to be a contestant on the TV show, "I'm a Celebrity…Get Me Out of Here!"

With Blagojevich, reality is even stranger than reality television.
Tell me about it.
Blagojevich's rating may go up this week, depending on the judge's decision today. As you probably already know, Blagojevich has a court hearing today…
Tuesday's hearing in Chicago comes one week after the ousted former governor said he wants permission to go to Costa Rica to take part in a reality TV show set in the jungle.

A more pressing matter is how much of his campaign fund U.S. District Judge James B. Zagel will let him use to pay his lawyers.
Apparently, they're having yet another media circus at the federal building. More later.
41 Comments


























































































































Sorry, comments for this post are now closed.