*** UPDATE *** Live-blogging ain't easy so mistakes are common. The SJ-R has corrected its story to read…
Radogno added that Quinn won't have meetings of all four legislative leaders because Madigan would not attend. Cross would not confirm this. Quinn has said he meets weekly with Cullerton and Madigan. [emphasis added to show the change]
That's a lot different.
* The SJ-R editorial board met with Senate Republican Leader Christine Radogno and House GOP Leader Tom Cross this morning. Thanks to an alert commenter, we have this strange little snippet…
Radogno added that Speaker Madigan will not even talk to Gov. Pat Quinn. Cross would not confirm this. Quinn has said he meets weekly with Cullerton and Madigan.
Madigan was meeting with Quinn about the budget as Radogno was saying that. He also met with Quinn last week to talk about Quinn's proposed tax hikes, among other things.
More from Cross…
Cross's main complaint was that Madigan does not allow votes on as much legislation as Cross would like – particularly legislation that would allow Illinoisans to vote in a primary election without having to declare a party preference.

"To bottle stuff up and let one guy have all this power to not let an idea get voted on and discussed is ridiculous," Cross said.
Almost every day, the House Repubs have asked that bills be let out of Rules Committee, even though the passage deadline expired weeks ago and some of the bills were only just recently introduced. The Dems routinely refuse, the Repubs demand a roll call, the Dems vote with their party and the Republican political organization then blasts robocalls into targeted districts. It's quite a fun little game, but it means almost nothing, except politically.
* Here's an example of that game from yesterday…
Legislative Republicans want to change the Illinois Constitution to give them some say in any decision to increase taxes.

But that and other GOP-sponsored plans are bottled up in the General Assembly so Republicans, who hold scant power in state government, roared in a protest that included a fleeting expletive and walked off the House floor Wednesday to protest their treatment at the hands of Democrats. […]

"If he wants have more opportunities on the floor of the Illinois House," [Majority Leader Currie] said, "he better do a better job of electing Republicans."
* The Repub "protest" even featured tea bags…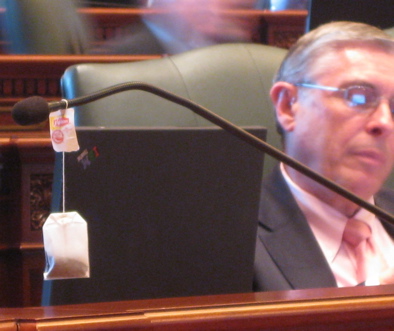 * Meanwhile, I think this problem may be resolved…
About $1 billion worth of mass transit improvements recently approved under the state's mini-capital bill may be in jeopardy, but Chicago-area transit agencies are not yet shelving projects, officials said Wednesday.

Gov. Pat Quinn put a freeze on the transit projects — but not on road and bridge repairs — by holding back on the bonding necessary to finance the transit piece, said state Sen. Martin Sandoval (D-Chicago), chairman of the Senate Transportation Committee.
Sandoval had some unkind words for the governor, however…
"We had a major signing ceremony for the mini-capital bill a few weeks ago with the governor — and now he's doing a head fake," Sandoval said, adding that Senate Democrats agreed to support the mini-capital bill based in part on the transit element. "This tells me Gov. Quinn still has his running mate's playbook that he has dusted off the shelf."
Ouch.
And…
The Senate president also put Quinn on notice Wednesday. Any backpedaling on the mini-capital bill will "breed some distrust as we move forward" on longer-term capital-funding legislation and passage of a new state budget, said Rikeesha Phelon, spokeswoman for Senate President John Cullerton (D-Chicago).
That would be a warning shot across the bow, if it wasn't already clear to you.
* And speaking of the capital plan, organized labor and construction groups are plunking down big bucks to run this TV ad across the state…
Rate it?
* Related…
* Taxpayer Unrest Growing Against Quinn Tax Hike Plans (Press Release)

* Ill. House GOP call for bills to face debate

* Republicans and taxes: somehow don't recall Rep. Black pushing this more-votes-for-tax-hike plan when he was co-sponsoring Republican Gov. Jim Edgar's tax increase to fund schools back in the late 1990s.
16 Comments















































Sorry, comments for this post are now closed.